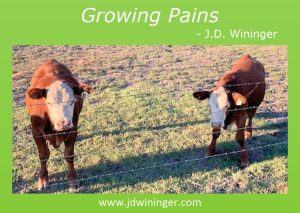 Growing up can sometimes be a noisy affair. With calves, that's the first week of weaning season. Separated from their mamas, these little ones, and their mamas, have been bawling themselves hoarse for the past few days. Neither mama cow nor calf are hungry, but both are experiencing separation anxiety and the discomfort that often accompanies maturation.
Pictured above, Federico (left) and Dante (remember how sick he was in March) are best friends and half-brothers. Dante is also Federico's uncle; same sire (Mavric), as Dante's mama (Francesca) is Federico's grandmother. In the next few weeks, these two rascals will be on their way to a new adventure elsewhere. Until that time, they've got a little more growing up to do. When weaning calves, I remember the words of 1 Corinthians 3:1-4 and Hebrews 5:12-14, and the purpose of understanding the need to transition from milk to meat.
At birth (or our new birth as a Christian), we seek milk for nourishment, as it is imperative to get the basics (nutrients, antibodies, etc.) we need to enable growth. Our dependence upon others for sustainment highlights this early stage of life. Parents, be they human, bovine, or spiritual, provide what's needed with a goal of future maturity and growth. As children grow, parents teach them the basic skills needed to succeed in life.
All parents seek to see their children grow, prosper, and mature. #SpiritualGrowth #MilkToMeat
Click To Tweet
In those Scripture verses, I recognize how analogous our Christian life is to the human, and yes, a calf's lifecycle. In a calf's case, this is learning to forage for food and water, be a part of the herd, and how to ruminate and rest. And like all children, calves learn how to protect themselves and recognize potential dangers (discerning good from evil). While not an exact science, good ranchers know to look for signs of maturity to determine which calves are ready to wean and which aren't. When I see mine wandering further away on their own, demonstrating a robust appetite, and comfort being away from their mama, it's time for the next stage.
An important consideration in weaning calves must be how you do it. Since I'm not raising dairy cows to produce copious amounts of milk, I shared-fence wean my beef calves. Weaning is always a stressful event, and I minimize their stress by allowing the calves and their mamas to see, touch, talk to, and smell one another, but not nurse. An interesting fact is that cow-calf operations that either don't have a herd bull or AI, where they keep calves as replacements, mamas will sometimes wean their own calves. They seem to know the right time naturally and will prevent the calf from nursing. When that doesn't happen, some ranchers will insert an anti-suckling device (nose flap) onto the calf to prevent nursing.
Weaning is stressful for both cow and calf, but the stress is temporary as their natural instincts take over and they begin to drift away from one another. For the mama cows, this means they get to dry up and rest during their crucial second and third trimesters, before the cycle begins again. For calves, they begin to grow and mature at a faster pace, no longer dependent upon another for their growth.
The goal of discipling others is to grow them into disciple-makers. #SpiritualGrowth #Discipleship
Click To Tweet
Growing (maturing) in our faith means we must not depend on others to feed and care for our souls, but we must seek nourishment and grow for ourselves. The milk of God's Word, provided by others, teaches us the basics of our Christian faith; we find the meat of God's Word when we begin learning for ourselves. As calves must grow to become productive members of the herd, so must Christians grow to become productive members of the family of faith.
Our impact for God's kingdom is commensurate with the maturity of our faith. The less we mature and grow in our Christian life, the less impactful we will be. The question then becomes, How do we do this? How do we grow in our faith? The best answer I know is to spend time in God's Word for yourself. While devotions and other written materials are helpful, as they often provide insight, direction, and invite reflection, they are not a replacement for God's Word. It is through study, reflection, and prayer that the Holy Spirit reveals the truth of His Word in our spirit and hides it within our soul.
Like my little calves, we Christians must sometimes endure some growing pains so we might mature into the productive, effective, and fervent disciple-makers we are called to become. My prayer is that we each take a moment to ask God to show us what things we need to wean ourselves from so we might become more effective servants.
God's blessings,