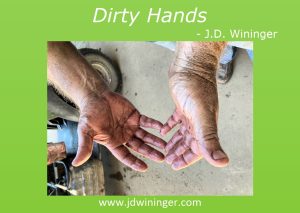 When God wants to make a point, He can use anything He chooses when He has a willing audience. Case in point, the dirty hands of an old rancher who just finished oil changes on all the equipment. Before cleaning up and returning all the tools where they belong, it's best to get all the grit and grime off you. Having just rolled around on the ground greasing the tractor, it was GoJo™ time. Invented long before I learned to mechanic from my adopted dad, GoJo remains my go to hand cleaner when I get really grimy.
Working the liquified cleaner around grease-covered hands and forearms, my spirit paused to take note of the commonplace. My only thought was, Sometimes, you must do the work and get your hands dirty. As a farmer and rancher, I can't think of a single day that goes by that I'm not getting dirty. I wasn't sure why this was a learning moment, but I accept that I don't have to understand. I just need to pay attention. If God is speaking to you, He'll provide the understanding.
Like young Samuel, my heart said, Speak Lord, your servant is listening. As I listened, the words of Mark 2:16-17 sprang forth.
'And when the scribes and Pharisees saw Him eating with the tax collectors and sinners, they said to His disciples, "How is it that He eats and drinks with tax collectors and sinners?"
When Jesus heard it, He said to them, "Those who are well have no need of a physician, but those who are sick. I did not come to call the righteous, but sinners, to repentance."' (Mark 2:16-17, NKJV)
Dirty hands? Chapters 2 and 7 of Mark came to mind. Hoping I don't go on a rant here, but that sometimes we need to get our hands dirty is resonating with me this week. I've always thought the phrase getting your hands dirty meant getting involved or engaging in something to achieve a goal. As often happens, and maybe this is a writer thing, I filed the thought away to think about later and went on about my day.
Those nagging thoughts. When God wants your focus, He can be relentless. An earworm of sorts, my thoughts kept returning to those Scripture verses. After supper, I "turtled" away to my den and began contemplating what God wanted me to learn this day. My conversation went something like this.
Me: God, I'm forever getting my hands dirty in doing things for You. What am I missing? What am I not doing, Lord, that you want me to do?
God: Not everything is about you son. Lots of my children get their hands dirty, doing the things I've called them to do. Yet many more have clean hands and cold hearts.
Me: I'm responsible for my thoughts and actions, Lord. I'm just doing my best not to mess up too bad.
God: Will you never learn? Don't you realize that each one of my children is supposed to be living examples of me so that others might see me in your lives?
Me: Yes, but we are not supposed to say "Look at me" either.
God: You're right, that's My job. I'll show people what I want them to see in you and others. Your job is to do My will and engage in this world as I send you. You focus on your job, and I'll take care of everything else.
Me: Yes Lord, You're right. So help me understand how I'm supposed to interpret Mark 2 and Mark 7.
God: Finally, you're asking the right question. Let's get to work.
Not the most eloquent of conversations or dialogue, but you get the point. I'm not sure how everyone else does it, but when I need to gain understanding of God's Word, I start with prayer. Prayer is that tool that makes a spirit-connection between my physical world and God's spiritual world. It is that connection that enables us (me and God) to communicate directly with the other.
In reading and praying through Mark 2, I thought about how Jesus Christ spent much more of His time on earth focused on the sick, infirmed, poor, lost, and hurting. Clearly, He spent more time around them than He did with the Scribes, Sadducees, and Pharisees, who were lost in their own way. Recognizing the importance of what Christ replied about who needed the physician, I understood that among the brethren, we, the church, are supposed to take care of ourselves (Proverbs 27:17). It's when we are all working together toward Christ's common goal (the Great Commission) that we are most effective.
How willing are you to get your hands dirty by carrying out God's work in your life, church, and community? #DirtyHandsFullHeart #InGodsService
Click To Tweet
Dirty hands in the church doesn't mean that we must all knock on doors and evangelize the neighborhood, but it means this. We must ALL engage within the church to support those who are called for different ministries of the church. It's important that we get our hands dirty by doing whatever work God has equipped us for, using the spiritual gifts He provides. Whatever that support and encouragement you can give to help further God's work in your church is, seek God's guidance on how you can best accomplish His goal.
Another thought, and it's something I see too much of in God's house today, is how divided and fractured some churches have become. There will always be groups of friends who are closer among themselves than others, but we the church, should never be exclusive of others in our "family of faith." Not pointing any fingers here, because I would have to (like the Apostle Paul) claim myself "chief sinner", but here's one example. Can you name everyone within 50-feet of you at church on Sunday morning and state something about them? We don't always engage with other church members and visitors to show any genuine interest in them or their lives. If someone is missing from church, do we call or at least ask about them?
In my study around Mark 7, my heart centered on the idea that it isn't how we react to what's going on around us that matters most. What matters most is how we react to what's going on within us. What I discovered about myself here is that while I must know what is happening in the world around me, it's more important I check my heart. It is how I react internally to the external forces around me that show my true heart condition. Do I allow myself to be controlled by the circumstances of the moments in my life, or do I control them? If I stop to consider/weigh what is happening around me against God's Word, I'll find I react differently.
Sometimes, we get our hands the dirtiest when we are working on ourselves. We all have areas that God can work on. I hope that by sharing a few of mine, you might be encouraged to seek God's guidance in your lives this week too. Praying that God can use my brokenness to help someone else.
God's blessings,