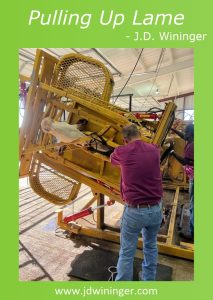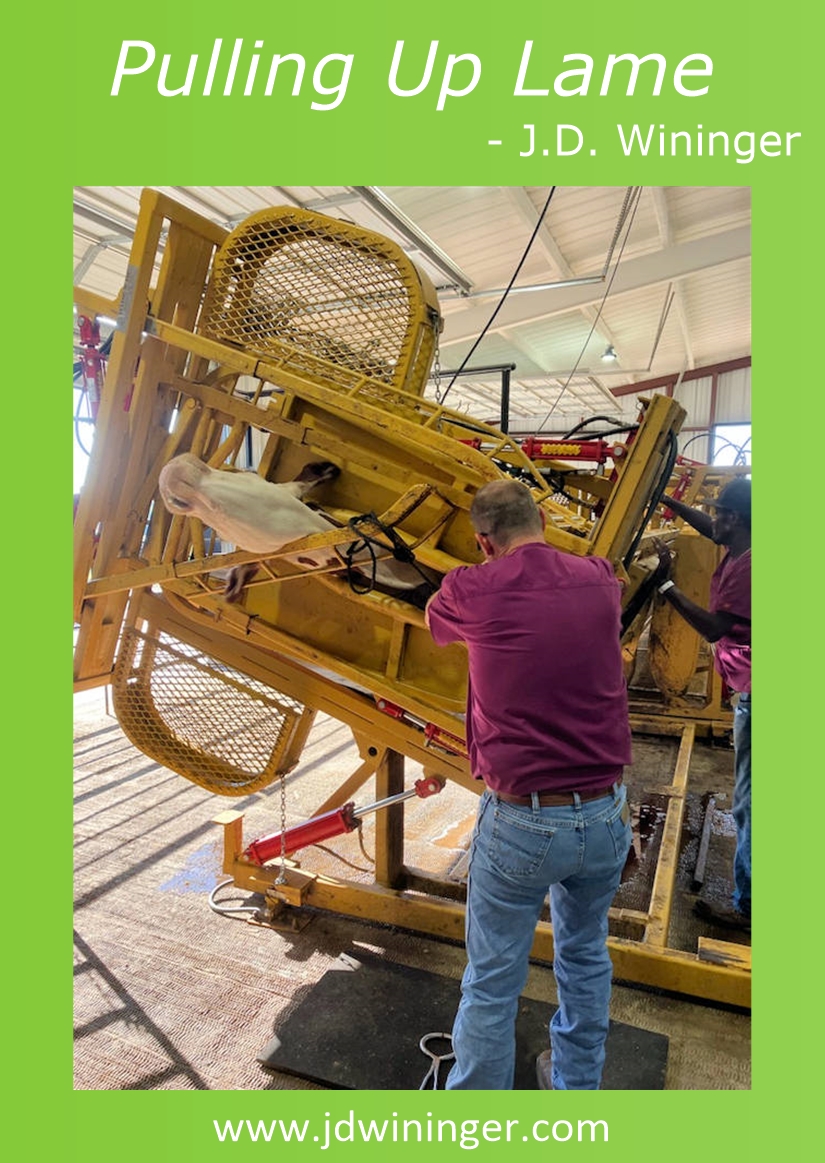 I don't like gophers, armadillos, possums, skunks, and every other pasture digger who adds to my already busy days. I know they don't mean harm, but when they dig holes or burrows in my pastures, one of my livestock friends invariably pulls up lame. This is what happened a couple of weeks ago. During morning feedings, I realized one of my best mama cows, "Aunt Yolanda," didn't come to feed.
Part of my herd since 2016, when "Yo-Yo-Landa" isn't one of the first to come to the feed trough or mooch a cube from my hand, something is up. As I approached her, she stood, and I noticed she was lame, front-right. At three months pregnant, I knew it wasn't from my amorous bull "Mavric", so I sent Mr. John for some extra feed and hay. While he was gone, I could manipulate her leg to examine her.
I always check first for foot rot (between their toes), then look for hoof cracks or signs of white line disease. It's best to rule these out early, as infection can cause lots of other issues the longer it goes. Seeing no signs of these, I next check for stones in her sole. With that clear, and no heat in the joint, I treat general lameness with rest. When a cow pulls up lame, it can affect gain and overall health because they're not moving, which means they're not grazing and drinking.
With mobility issues, I try to limit how much they travel, so when she came near, we guided her into the feedlot. Later, we brought in her calf "Sophia" (still nursing); giving them a luxury stay for a few days in hopes it was a bruise. Her stay over the Labor Day weekend didn't result in much improvement, so a trip to the vet was in order. One of my more gentle but noisy girls; she loaded easily and I carefully drove my three-legged baby to the vet.
With part of one toe tore off, although that happened after her lameness, both I and the vet thought perhaps an infection inside the foot. Using a hoof tester (a large pair of blunt pinching pliers), he checked for soreness. With little swelling, no tenderness in the foot, etc., the vet ruled out infection and we decided we were dealing with a sprain. If you will, think of it as a sprained ankle (although I don't think cows have ankles). Treatment is a $100 vet bill for the tilt table exam, a shot of banamine (an NSAID for cows), and 10 days of confined rest and prayer.
Lameness can happen easily and is costly in many ways. #SpiritualHealth #NoStumbling
Click To Tweet
Driving home and placing "Yolanda" back in the feedlot, I started thinking about how the injury was most likely caused by a burrow entrance. Back to my original statement, "I hate, or at least strongly dislike, burrowing animals in my pastures." These pasture diggers, mostly armadillos and pocket gophers in these parts, will make holes in the ground that lead to their burrows a foot or more underground. Inevitably, a cow, horse, or donkey will step in the hole and injure their foot. The result, lameness.
While I always look for these burrow entrances and fill them in when I find them, they're not always visible. I thought about how these holes are a form of stumbling block for my livestock and how costly they can be. This led me to remember verses from Romans 14 and 1 Corinthians 8. Here, God's word cautions Christians against becoming stumbling blocks for our brothers and sisters in Christ.
How can we keep ourselves from being a stumbling block to other Christians? #SpiritualHealth #WalkingWithChrist #NoStumbling
Click To Tweet
That night, I re-read Mark 9:38-50 and considered ways I can cause others to stumble in their faith walk. I also thought about ways I can encourage them to keep growing in Christ and in their ministry (Mark 9:41). Some ways I might cause other Christians to stumble, especially less mature Christians, include being judgmental, placing doctrinal beliefs over faith lessons, and selective Christianity. That last one is my term, but I'll define it as my only choosing to associate with those that think, look, and act like me. We all sometimes forget that there are no "cookie-cutter Christians", and God can use all His children to carry out His kingdom work in whatever way He chooses. As my pastor loves to remind us, "all means all."
One way I can support other Christians who may differ from me is to encourage their walk with the Lord. There are many ways we can do that. We can offer to help them refine or improve their ministry effectiveness, join with them in prayer for God's direction, and support their efforts. A kind word of encouragement often helps new believers take those first timid steps in serving God.
I've seen (and perhaps contributed to) older Christians cause younger ones to stumble in their faith journey because older Christians become too set in our ways to try anything different. I think resistance to change is human nature, and we can all fall victim to thinking in that way. Recognizing how easily, and sometimes inadvertently, we can cause others to stumble is the best way I know to defend against it. We find a most wonderful gift of our Christian faith in Psalm 37.
"The steps of a good man are ordered by the Lord,
And He delights in his way. Though he fall, he shall
not be utterly cast down; For the Lord upholds
him with His hand." (Psalm 37:23-24, NKJV)
Whether we cause another's stumbling or stumble ourselves, our faith in God reassures us He will never let us go. I often form a mind picture of God's large hand wrapped so tightly around mine that mine is not even visible. It reminds me that God is holding my hand. I'm not holding His—and God's word promises He will never let go. I pray my cow's lameness helps you remember both that we can cause someone to stumble and pull up lame, but we can also prevent it.
God's blessings,