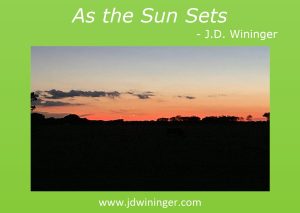 All of us have a favorite time of the day; I have two. For me, sunrises and sunsets hold a special fascination. Displaying the beauty and majesty of God's created world, these moments always bring Psalm 19:1-4 to mind.
"The heavens declare the glory of God;
And the firmament shows His handiwork.
Day unto day utters speech,
And night unto night reveals knowledge.
There is no speech nor language
Where their voice is not heard.
Their line has gone out through all the earth,
And their words to the end of the world.
In them He has set a tabernacle for the sun,"
(Psalm 19:1-4, NKJV)
Sunrise, which often greets me as I lift my head from my "God time", gives me pause for two thoughts. One is a reminder to thank God for another day in His service. The second is a prompt to look forward to the promise of the coming day. That last one is really a mindset. We each must make a choice about how we start our day. I can either greet the day with promise by saying, "Good morning God" or with dread by saying, "Good God, morning."
I try to make time to bring my day to a close at sunset. Oh, I'll still have chores to do in the house or some writing to finish up, but I use sunset as the period at the end of my day's sentence. Making time to walk outside and observe the last vestiges of light serves a dual purpose. First, I stand silently before God and review my day. Often, I seek His forgiveness for something I thought, said, or did, or sometimes failed to do that day. It is during these silent few moments I thank Him for being with me through the day.
The second is to remember the words of Psalm 4:8 as I offer a prayer for my family and all who dwell here at the Cross-Dubya. "I will both lie down in peace, and sleep; For You alone, O Lord, make me dwell in safety." (Psalm 4:8) As darkness falls, I listen as the mama cows call their calves to rest within the secure confines of the herd. With a pat on the head, Bubba the chocolate lab walks into the garage and settles onto his rug by the back door. With one last look westward, I softly utter, "Into Your hands Lord. If it be Your will, we'll all awake to greet the new day."
How we start and end our days greatly affects how we spend them. #Praise #Gratitude
Click To Tweet
What I've learned as the years have gone by is that my attitude is my choice. I can allow others to impact it and turn it into a "bad day" or allow the Holy Spirit control of my thoughts and emotions. Only I can determine who and what my life reflects. That is part of the free will that God created us with. I can either reflect this world through sorrow, dissatisfaction, and lament, or I can choose to reflect God's presence in my life. We each must make that choice.
As the sun sets on my life, I pray I can look back across the decades and see days where I reflected God more than the world. I pray you can do the same. Here's to enjoying more sunsets and finding great rest in God's protection this week my friends.
God's blessings,

Please join me this Thursday evening at 9:30 Eastern as host Coach Mark Prasek and I take a trip Around the Cross-Dubya on PJNET TV. We discuss this week's blog post, offer insight about the lessons learned, and enjoy the fellowship of friends in the live chat room.