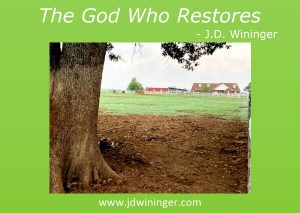 The photo doesn't do justice to the wonder of God's goodness that surrounded me while filling a water tank in the south pasture this past week. As the water ran into the 100-gallon trough, I looked up from my task and noticed shoots of green grass emerging from the bald spot under the large oak tree. I smiled, remembering how I had placed a bale of hay there this past winter.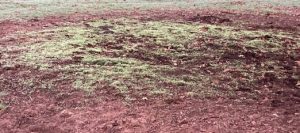 It isn't strange to see grass sprouting up where hay had once been but given the year of drought we have been suffering through, seeing anything green was a treat. Realizing the grass was growing where grass seldom does, I smiled at seeing some green and resumed my chore—knowing the fresh growth wouldn't last long. That's when I felt the nudge in my spirit to "look around". Turning my head to the right, the sea of green laying in front of me was overwhelming. My pasture was green again! There were signs of growth and life. It didn't take long for the words of Exodus 15:25-26 to come to the forefront of my mind.
"There He made a statute and an ordinance for them,
and there He tested them, and said, "If you diligently
heed the voice of the Lord your God and do what is
right in His sight, give ear to His commandments and
keep all His statutes, I will put none of the diseases
on you which I have brought on the Egyptians. For I am
the Lord who heals you." (Exodus 15:25-26, NKJV)
Jehovah Rapha, the God who heals or the God who restores. While I didn't make an altar near the water trough, I did thank God again for His restoring rain of the past week. The three inches He blessed us with won't end this year's drought, but it was enough to breathe life back into my pastures. God reminded me in vivid color of His promise in 1 Peter 5:10, that while we might suffer for a little while, He will restore us. What I realized was how God was restoring my soul as much as He was the land.
What restoration work is God doing in your life? #Restoration #SpiritualGrowth
Click To Tweet
I never lost faith that God will see our Cross Dubya ranch through this drought. God showed me this day how my soul was getting as dry as the cracked ground beneath my feet. Grateful for His blessing of rain, I was so consumed with the added chores of battling this extra hot summer, I hadn't even noticed the green up happening before me. In my soul, my spirit was still dry, brown, and showing little signs of life. With the splash of color He added to my landscape, God was restoring my joy; He was refilling my cup.
Leaning on the fence, I basked in the glory of His love as He refilled me with peace, joy, and hope. As a tear of gratitude rolled down my cheek, I knew I was nearing the full tank mark. Is God preparing me for the next challenge? He always does when I allow Him to. Will I face it with a stronger faith, increased hope in His word, and less trepidation and worry? I pray so.
My prayer for you this week is that you make a few moments to get away to that secret place where you commune best with the Father. There, ask Him to restore whatever in you that needs refilling, so you too are ready to take that next step in your journey in faith.
God's blessings,