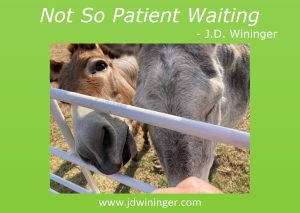 As much as they demand, fuss, argue with me and one another, and make me laugh, is it any wonder I treat these two goofballs like family? "Magic" and "Elpis" (pronounced "L-peace", the Hebrew word for hope) are my wonderful, inquisitive, fun-loving donkeys who patrol the pastures here at our Cross-Dubya ranch. Whenever I'm outside, they're aware of my presence; and they make sure I'm aware of theirs. Many folks who haven't been around donkeys think them stupid, stubborn, or lazy. I can assure you they are none of those things.
Inquisitive and intelligent animals, my donkeys have taught me many things. One example is how much I have to donkey-proof my gates, doors, water hydrants, and anything else they can get into. I can't tell you how many times I've found "Magic" standing in my backyard or driveway because he figured out how to unlock and open a gate. Once I awoke to a strange tapping on my bedroom window. As I opened the blinds, there was "Elpis", with her head cocked to one side, looking at me as if to ask, "Why haven't you fed me yet?"
Then there's the morning I had low water pressure for my shower. Thinking I had a burst water pipe, I dressed quickly and went outside to investigate. Nearing the end of my drive, I watched "Elpis" turning one of the water hydrants in my pastures on and off with her mouth. She would turn it on full force, run to the other end of the pasture, kicking up her hooves, then return and turn it off. If it weren't for the floods of water running down both sides of my long driveway, it might have been funny. I discovered she left all the other pasture hydrants turned on when she moved to another.
I've learned that if I give them puzzles to solve, a maze in the barn or an obstacle to deal with, occupying their minds for a while. They find fewer things to get into then. Can't we all admit to that in our lives too?
As for stubborn, I've discovered they aren't stubborn as much as they're contemplative. It seems donkeys are deep thinkers, and they consider all the factors before deciding to do something. You can almost see it in their eyes when presented with something new. And lazy? How many of us walk 10 or more miles each day after standing guard watches throughout the night to protect the herd?
What I've realized they are, however, IMPATIENT. If I'm taking too long to finish my morning coffee, we hear about it. They'll move to the fence and begin braying loud until they hear the garage door going up and the UTV starting. If you've never heard a donkey bray, click the link at the bottom of my post. I sometimes wonder if my neighbors (acres away) are going to call, asking me to go feed them so they can return to sleep.
When my neighbor or I bring them a treat, they run to the fence and push each other around to see who gets the first oatmeal cookie. Not feeding them horse treats fast enough? They'll paw the ground with their hooves and reach through the fence to grab my arm in their mouth. For as deep-thinking as they can be sometimes, when they know what they want, they'll pester the bejeebers out of you until they get it.
How donkey-like are you in your Christian walk? #CrossDubya #Patience #SpiritualGrowth
Click To Tweet
Lately, I've been considering how donkey-like I sometimes appear to God. When I want something and He's not giving it to me fast enough, do I stand at His gates and bray (er, pray) thinking He'll tire of hearing me? Do I relax and enjoy being in His presence or pull and tug on His arm to get what I want rather than what He wants to give me? And when He wants me to do something, do I stand there and contemplate all the potential outcomes or respond immediately?
While I love my donkey friends dearly and find great pleasure in their antics (sometimes), I realize God gave me dominion over them for a reason. In my Christian life, I shouldn't be a petulant little child who gets into everything, demands attention, and throws tantrums when I'm not getting what I want. Instead, I should react to His guidance in my soul, mature in His word and understanding, and grow to produce more spiritual fruit in my life. I reckon that if I do these things, and wait patiently, He'll give me more treats (blessings) than my cup can hold.
God's blessings,