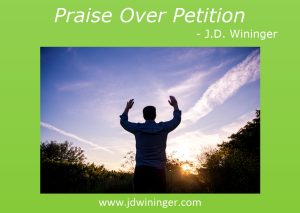 Isn't it just like God to bless us when we least expect it? Happened to me last Wednesday. When I posted my Deflated, Not Defeated blog post in the early morning hours of August 10th, I had no idea what was in store. The weather forecast was about the same as it had been for much of the past 68 days—no rain and over 100 degrees. The forecast didn't stop me from sending up prayers for relief for my livestock, pastures, and spirit. Sometimes ranching is stressful, tiring, unprofitable, and nerve-wracking. Yet for those of us who love living and working in God's natural wonder, there's not a better job in the world.
Far from bringing an umbrella with me when Mr. John and I fed the livestock, I did pause to thank God for another day. I thanked Him for protecting us throughout the night, giving us one more day, and I asked Him to pour out his blessing, in liquid form, upon our land. I didn't think about it then, but thanking God isn't always praising God. Seems through this drought I had forgotten that. Sometimes, clinging to our faith seems as though it takes more faith than we might have. We dig deep into our souls, and we summon the strength to stand on God's promises one day more. That's really all God asks of us, isn't it? To stand upon our faith in Him one day at a time (Matthew 6:34).
As the day went on, comments from so many of you who were promising to keep praying for rain here in northeast Texas encouraged me. Well friends, in case you missed it, God heard all y'all and answered our prayers. Last Wednesday evening while eating supper, I heard the tinny sound of raindrops hitting the stovetop's exhaust hood. I knew rain was again in the area, but radar showed it once again missing Cooper by a wide margin. But God!
With the frequency and intensity of the pop-up thunderstorm increasing, I stopped eating and went outside to witness God pouring out His liquid love onto our land. Getting drenched feels good to an old rancher when it's been as dry as it has this year, and even the cattle was enjoying it. As the temperatures dropped and the cold rain fell upon us, my heart soared to see the young calves chasing around the pasture in wild abandon. It didn't last long, about 15 minutes, and measured 0.6-inches, but it was the first measurable rainfall here at the Cross-Dubya since June 2nd. Standing in the drenching rain, I felt one of God's heart hugs as my soul cried out, "I have not forgotten you child, I have not forsaken you." I'm not sure how much of it was joyful tears and how much was liquid love, but I came in soaked and smiling.
As God showered me in His love, He refreshed my faith. #CrossDubya #RefreshedFaith
Click To Tweet
I fell asleep a couple of hours later in praise and adoration for the wonderful blessing of a surprise rain shower. That night, I slept more peacefully than I have in many months. Almost every night, I spend my last waking moments thanking God for the day, praying for family, friends, and nation; and asking His help to grow in my faith. With Ms. Diane's upcoming surgery, my failing eyesight, awaiting biopsy results, drought and heat-stressed livestock, inflation concerns, and chaos erupting all around, stress can sometimes overwhelm me.
Awaking refreshed and renewed early the next morning, I recognized the difference in my spirit during my "God time". The thought struck me, the difference was that I spent more time praising God than pleading with Him. I believe God welcomes every way that we reach out to connect with Him with honest and sincere intent, as God created us for relationship with Him. The sweet aroma of heartfelt praise is especially pleasing to Him (Leviticus 2:2, Hebrews 13:15). It is in our praise that we invite God's presence, His calm, and His peace into our lives.
We should praise God for who He is and not because of what He does for us. #ConditionalGod #WorthyOfPraise
Click To Tweet
Sharing my thoughts with Ms. Diane later that morning, I felt a distinct check in my spirit. When I listened, the words "I'm not a conditional God" came to mind. I realized that my praising God for the rain last night was in response to an answer to prayers. However, I should praise God daily for who He is, not for what He does for me. It's important we remember God is worthy of our praise because He is our omnipotent, omnipresent, and omniscient creator God, not because He gives us what we pray for. Praise moves us closer to God, and in that position, we are better able to hear His voice and discern His will for our lives.
Let's endeavor to spend more time praising God each day than petitioning Him. #PraiseGod #CrossDubya #HeIsWorthy
Click To Tweet
What I rediscovered is that praising God does more to settle my spirit and bolster my faith than praying for my wants and needs. His will for every Christian's life is a closer walk with Him. When we do this, His blessings will flow throughout our lives.
God's blessings,