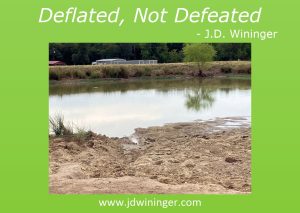 For farmers and ranchers, our mood can change with the seasons. In the fall, we are excited to see and gather the harvest. In winter, we rest and prepare for the coming spring. As spring arrives, our "busy" ratchets up as calving, tilling, and planting fills our days with activity. The bursting forth of vivid colors and lush growth leaves this old farmer with a deep sense of satisfaction at the end of each long day. We anticipate the summer months, as we know the sun ripens the coming harvest. The longer and often hotter days of summer blesses us in two ways. It gives us more daylight to get things done and its heat often forces us to do things at a little slower pace.
Through it all, we take advantage of the quiet environment surrounding us and commune with God. The animals, who each communicate with us in their own way, don't seek to fill the empty with noise. Instead, they join with us in the peaceful solitude of the space we call home. It is the closeness with God I've found through the peaceful, natural surroundings of the Cross-Dubya that I've come to treasure most. For me, nature serves as an intermediary host, inviting its Creator (God) and master and caretaker (man) to come together in its peaceful presence.
This summer has been different. The oppressive heat and no rain have left my spirit as cracked and dry as the land I so passionately care for. In the past 68 days, we've had 33 days with temps of 100°F or more and only 0.15 inches of rainfall. To some, it may sound strange when I say, "It's not the heat and dry that bothers me, it's what it is doing to all I care for." I often think, I can go inside an air-conditioned house and have a popsicle, the land and livestock can't. When I hear grass crunching with each step, watch the heat-stressed livestock's rapid breathing, and see the shifting, cracked ground, my heart aches.
The heat of our trials can start to dry up our souls, but we don't have to let it defeat us. #StrongFaith #CrossDubya #FarFromDefeated
Click To Tweet
The other day, while monitoring the stock pond, I felt my spirit weakening. It's difficult to tell from my photo, but the water's edge has receded over 30-feet from where it normally is. The water level is at a critical stage and no longer palatable for the animals. It does little to help cool them as it's over 90 degrees and what used to cover their backs now falls just under their knees. Like the water in my pond, we're both a bit deflated right now.
In recognizing how this drought is taking its toll on me, I asked God to show me the causes of my coming spiritual drought. He revealed how I've let increasing feed costs, forage loss, fears of how I'll make it through winter if I'm feeding my winter hay now control my thoughts. These are all valid thoughts for any farmer and rancher, but they should not be burdens we focus on. Of the many unanswered questions I have for heaven, one is what Elijah thought about when God sent him to Brook Cherith to rest and wait (1 Kings 17). In what I call an "Elijah moment", I began to see through his eyes of faith.
God's word doesn't say, but I suspect that during his days at Brook Cherith, Elijah began to change his focus from the bad to the blessings. This place of peaceful beauty is where Elijah relied upon God to feed him through the ravens and quench his thirst with the flowing water. During his rest, perhaps Elijah chose to focus on the miracles and blessings he had witnessed rather than the threats and worries that led him here. In that moment, I realized a mind shift was needed. Instead of worrying about what may or may not happen tomorrow, I focused on the blessings coming from this. Some thoughts I've been focusing on throughout each day include:
God is sovereign and remains on His throne. He's got this.
I'm supported by an army of prayer warriors around the world who are lifting me up each day.
God has brought the additional consulting and writing work needed to offset any financial burdens this drought is causing.
My herd's health remains good overall and weaning time is almost here.
God led me to be the caretaker of this ranch; that means I'm to steward all He gives me, not all I want. He blesses my obedience.
Along with numerous verses I've placed around my surroundings to remind me of God's promise to care for and protect His own, this change in focus brings renewed strength and resolve rather than doubt and defeat.
I'm certain there will be days ahead when I feel deflated, but with your continued prayers and support dear friends, and especially with God's constant presence, I'm far from defeated. I pray this reminds you that it's not about what the world is trying to do to us, but what God is doing within us that matters most.
God's blessings,

Please join me this Thursday evening at 9:30 Eastern as host Coach Mark Prasek and I take a trip Around the Cross-Dubya on PJNET TV. We discuss this week's blog post, offer insight about the lessons learned, and enjoy the fellowship of friends in the live chat room.