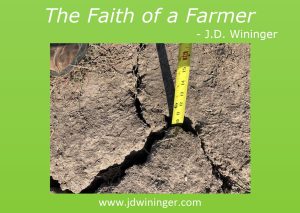 "Over an inch-wide and ten-inches deep Lord. Yes Father, I know it goes deeper, but the tang on my tape measure gets hung up. Father God, I don't know why You're keeping the rain away, but I love You and praise Your name. Can't You see Your way to give us just a little?" The tired old farmer sheds a tear as he's walking across the parched land; what little grass is left is withered and crunches under his heavy feet. Each step sends a stake into his heart; Show me where I've failed You Lord for You to withhold Your blessing upon me. He knows the words of Matthew 5:45. This day, the old farmer just can't seem to reconcile them in his weary mind.
Your faith is revealed in the fiery battles of life. #BattleOfFaith #StandStrong #CrossDubya
Click To Tweet
Many of you have been praying along with my family for relief from the extreme drought (that's what the weather folks call it) striking our little piece of "God's country". Know please how grateful we are for the emails, messages on anti-social media, and calls. I've been recalling this week how the Cross-Dubya looked when we first purchased it in 2013. The land was dry and filled with weeds. The weeds were covered in grasshoppers and even they were hungry.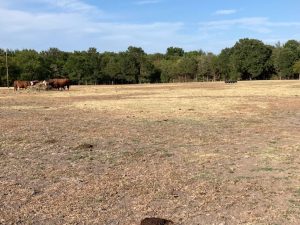 When I look today (photo above), I can't help but recall this same view from a year ago (photo below). While the view is different, my faith is the same. I believe God will see me through this in the same way He has carried me throughout my life.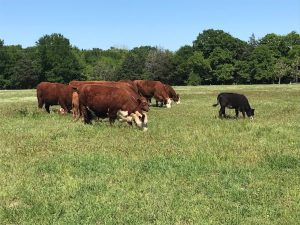 I remember sitting in what is now the north pasture and asking God to send me strength, knowledge, and wisdom to restore this dried up piece of land to its original beauty. Knowing that I could not succeed without His blessings and guidance, that's how the Cross-Dubya ranch got its name. It was during that prayer I committed this ranch to God, promising that we would put Him first in everything we did here. I pray we are continuing to honor that commitment today.
Some of y'all reading this may not understand what a farmer or rancher sees when they look across their land. For me, I see God's hand in all of it. These days, I'm reminding myself that like the sun on a cloudy day, God is still here, and He is still in control. Many of my friends and neighbors have larger farms with hundreds of acres planted in cotton. Others live on northeast Texas' famous blackland, where the cracks in the ground are much larger than mine. We're seeing water lines break underground as the ground moves as it dries out. Many more have already started selling off their herds because they know the cost to feed and water them is eroding their already razor-thin profits. It's difficult to continue doing what you love so much when your family suffers because you're losing money month after month.
Real farmers and ranchers don't do this because it's profitable. We do it because taking care of God's creations (land and animals) bring us closer to Him. #FaithOfAFarmer #CrossDubya
Click To Tweet
When I read in the Bible of Adam's tasks, it is clear how God made man to steward His creation, to care for it. I'm certain that farming and ranching, when done right, honors that calling. God's word also tells me that whatever trials my friends and I face, He remains on His throne and we can trust Him.
"And we know that all things work together for good
to those who love God, to those who are the called
according to His purpose." (Romans 8:28, NKJV)
Our job? We must stand firmly in our faith that whatever comes, God will help us through it. Until the day that He calls us home, however that happens, we must stand on His promises. To that end, I wanted to share a video of something I often use as a prelude to my prayer time when asking God to intercede for our Cross-Dubya. I pray it blesses you also.
Jimmy Dean – The Farmer and the Lord (Sweet Hour of Prayer) [Live] – YouTube
For my younger friends who may not be familiar with this icon of my youth, here's a bit more modern version. Both share the longing of our hearts as we stand on our faith that God will deliver us through this trial.
The Farmer's Prayer- with lyrics sung by Isla Grant – YouTube
God's blessings,