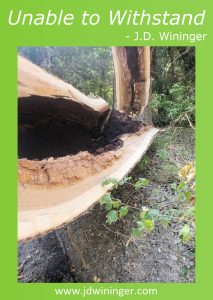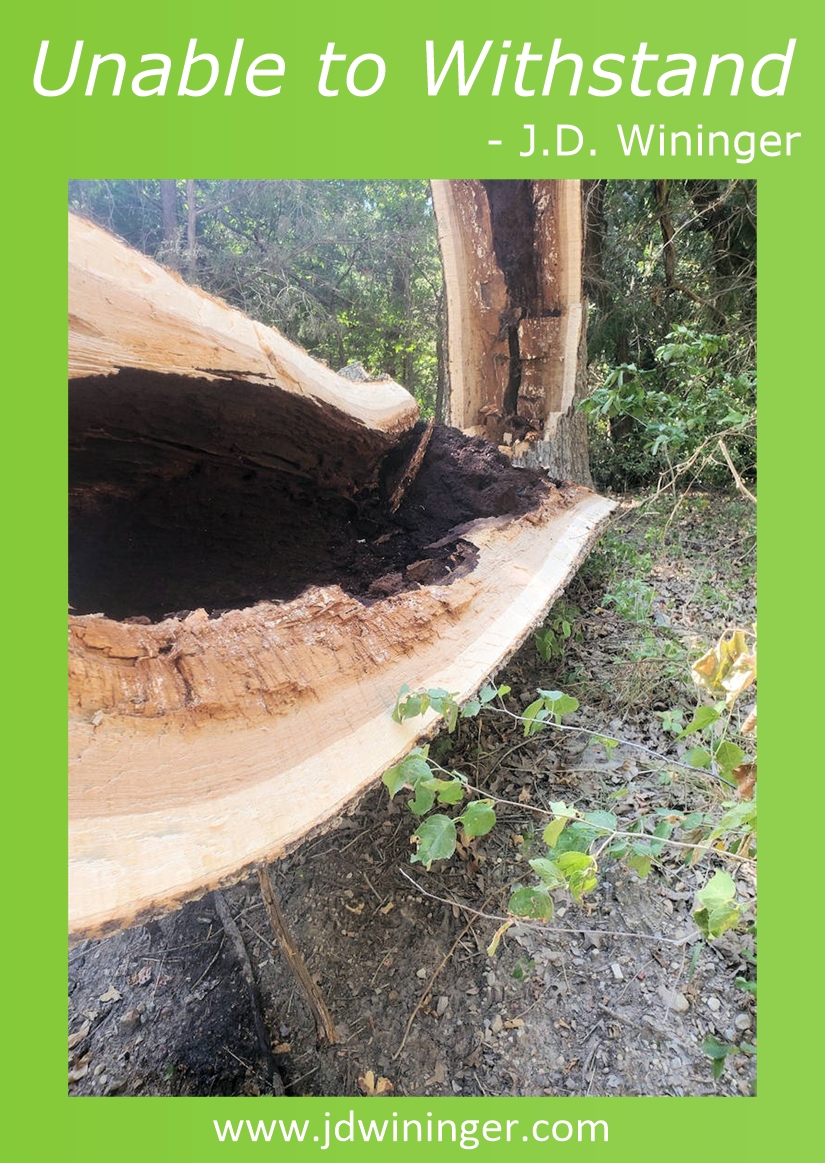 How many years had the old oak stood its ground? For how many generations had it provided shade, rest, and perhaps residence for woodland creatures? From its size, well over a century. With this world's cyclical weather patterns, alternating between periods of frigid low temperatures and sweltering highs, it survived both ice storms and drought for many years. During the dryness of this year's season of drought, it could no longer withstand the stresses of this world; nature took its toll. Falling across our country road near my neighbor's house, moving it would require heavier equipment than I had.
Looking at how the giant tree had split and fallen, two thoughts entered my mind. First, it was easy to recognize how the tree had been diseased for many years and the signs had likely gone unnoticed. Next, I thought of how this old tree was a metaphor for man's struggle to withstand the forces of this world. I wondered, was it the heart rot that caused the tree's death, frost cracks, or the strong, hot winds of this dry summer? I suspect a combination of all these factors.
Understanding that all my readers may not have spent as much time studying trees and nature as others, I'll provide some background. As shown in the photo, there are two basic types of wood in any tree. Sapwood is the light-colored wood just beneath the tree's bark, and the heartwood is the darker-colored wood in the center. All wood starts as sapwood. Sapwood is the living, life-giving wood that transports water and nutrients back and forth (from roots to leaves) throughout the tree. Trees form heartwood when the sapwood becomes non -functioning, often blocked with resins, tannins, and oils that prevent it from transporting material through the tree. As the sapwood dies off, or dries up, it creates heartwood. While heartwood lends itself to a tree's stability, it is no longer part of the transport system and considered non-vital to the tree's growth.
Woodturners always prefer heartwood because of its stability. It doesn't shrink or dry out as much and its depth of color and texture is far superior. Other things that add character to wood often lead to a tree's death. For example, a burl is most often created by injury, illness, or disease. Like scar tissue, a burl attempts to cover up and fuse together a spot on a tree's trunk or branch. Its faster growth than the rest of the tree produces a tight, curly texture that creates highly prized and valuable wood. Another example of creating beauty through a tree's illness is called spalting. Spalting is a vein-like discoloration within wood resulting from a fungal infection in the wood. Often found in fallen or dead trees laying on the forest floor, spalting can also occur in trees under significant stress like drought conditions. Both unique wood conditions are highly sought by woodworkers.
Sometimes adversity can lead to beauty; other times, it can lead to death. #OvercomeAdversity #BeautifulGrowth #StandStrong #SustainYourFaith
Click To Tweet
In this oak tree's life, I suspect there were many injuries. Fallen limbs, maybe a lightning strike, or some other injury that allowed a fungus or harmful bacteria to get inside and begin decaying the mature heartwood. Another way it may have happened could be through frost cracks as the bark expanded when warmed by the sun and contracted during freezing temperatures overnight. However it happened, heart rot, where the infected heartwood turns to powder and creates a hollow or void within the tree, weakened the tree's structural integrity. As a drought worsens and there's very little water left for the roots to absorb, the sapwood begins drying out and dying off. As the tree becomes less stable, it cannot withstand the hot winds blowing against it and it collapses.
Is your heartwood able to withstand the outside forces seeking its destruction? #SustainYourFaith #OvercomeAdversity #StandStrong #CrossDubya
Click To Tweet
Contemplating what happened to this once beautiful and majestic tree, I couldn't help but compare it to my spiritual life. I asked God to show me where I'm allowing sin and worldliness to infect my soul and lead to heart rot. I also considered what things I can do to prevent that from happening both in my personal life and in the life of my local church body. We need mature heartwood in our lives that stabilizes and holds us together, but we need the vigor of new sapwood to ensure our continued growth and existence. Otherwise, we too can become weak and subject to the destructive forces all around us.
The answers I came up with for both is to:
Stay in the true, unchanging word of God, so His living water continues to flow throughout our lives.
Continue standing strong with others in fellowship and supporting one another.
Seek God's help through fervent prayer to withstand the illness, injury, or trials that seek to weaken and overtake us.
Many of us across this nation are suffering through various seasons of drought or flooding in our lives. Know that I'm praying for each one of you to stand strong and endure to the end of our race.
God's blessings,