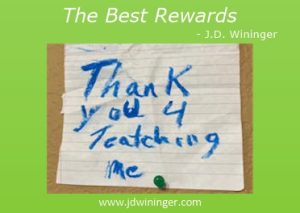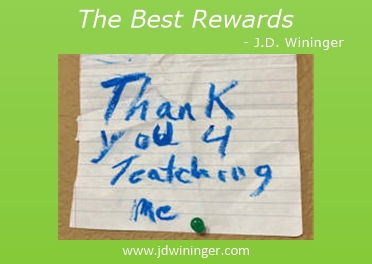 The little boy runs up and hugs my leg when he sees me. Reaching down to return the hug, he says in his sweet voice, "Wook, I bwot yew something Mr. Jim", handing me a folded sheet of paper. Encouraging me to open it, I can't wait to see what he's drawn for me this week. Much to my surprise, it's a handwritten note expressing his gentle soul. Little does he know that God just used him to provide affirmation of His pleasure in my obedience. Running off to play with the others, I excuse myself and find a quiet place to shed tears of joy while praising God for His blessing.
Ethan is a wonderful little six-year-old boy, I'm blessed to work with this past year, who works tirelessly to learn God's word. As a Spark in AWANA Club at our church (standing for Approved Workman Are Not Ashamed [2 Timothy 2:15]), I helped him learn new Bible verses each week. While I love all the children I work with in AWANA, Ethan holds a special place in my heart for a few reasons. First, he speaks much like I did at that age. Next, he's very intelligent and reads very well; often helping others at our table sound out words and encouraging them as they work to memorize a verse. Lastly, his sweet disposition shines through with everyone he meets.
My regular reading friends will note that last week, I strayed from my usual topic of sharing the lessons God teaches me here at the Cross-Dubya. On the same day I posted Unbalanced, God used this little boy to deliver His reward for my obedience. I'll get on track next week, but this blessing took priority the moment I received it. Last week, I lamented how our children suffer from a lack of learning God's word. That very day, God rewarded me through a child who is doing exactly that. Isn't it just like God to reward me with a blessing right out of 1 Kings 19:11-18?
Thinking of and thanking God for my little pal Ethan, I recalled the last night of AWANA club before Awards Night over a month ago. He and I prayed, sang made up songs, laughed, and worked our way through the last 16 memory verses to complete and earn his coveted Third Book award. That evening, he stayed with me for over two hours, surrendering snack and play time to earn his award. He was the only Sparky to reach that lofty goal this year. Like many words in the English language, the word "reward" can have different meanings. Before that evening, I never really considered how some of God's blessings in my life were rewards.
Has God ever rewarded your obedience with blessings? #AmBlessed #CrossDubya #BlessingsAreGodsRewards
Click To Tweet
When I look at my life, I see signs of God's blessings throughout. Before becoming a Christ-follower, God blessed with life itself, some level of intelligence, adoption, a talent for communicating and learning languages, and many others. Since my salvation and reconciliation with God, I receive even more blessings through my obedience to His leading. Make an anonymous purchase at the grocery store for someone in need; I'm blessed with one of God's heart hugs that provides an over-filling of joy. Investing time in young people to learn who God is and how His word can apply to their lives brings its blessings too. We receive an endless stream of rewards as happy smiles, high fives, and sometimes a sweet card or a hug.
I'll risk sounding like a grammarian to remind you of an important difference between the award Ethan received and the reward God blessed me with. Awards recognize achievement; rewards recognize action. Awards are sought; rewards are given. Another key difference is that awards focus on self, while rewards focus on selflessness. Athletes, actors, and writers often seek awards to demonstrate their skill or achievement. Those who seek nothing for themselves are often rewarded. For me, the difference is motivation. Do I seek recognition for myself or someone else? Is joy found in my achievement or in my effort?
What motivates us, serving ourselves or God? #ShowGodInYourLife #BlessOthers
Click To Tweet
This week's lesson came from a scripture verse hidden deep in my heart that God used a sweet little boy to deliver.
"But without faith it is impossible to please Him,
for he who comes to God must believe that He
is, and that He is a rewarder of those who
diligently seek Him."
Hebrews 11:6, NKJV
I pray this encourages you to consider ways you can help show God in this world to so many young people who see very little of Him today. The best rewards are those received when we please God with our obedience.
God's blessings,