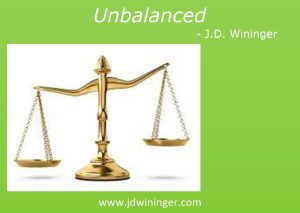 As I continue seeking spiritual maturity, I try to limit the time I spend atop my personal soapbox. Sometimes, the Holy Spirit unbridles my heart and mouth and allows me to speak what is on my heart. I believe this is one of those times. This week, I depart from sharing lessons learned here on the Cross-Dubya and share something that's troubled me for months. I pray for your indulgence.
A burden I've carried and prayed about daily is how man's free will is being subverted. God created man with free will, that is, the ability to decide for themselves who or what to believe, do, and follow. Every human has the free will needed to heed God's calling upon their life to salvation or continue following the "god of this age" (2 Corinthians 4:4), Satan. I believe Satan has crossed the cultural tipping point and worldliness has overtaken holiness. Research bears this out. In May, the Cultural Research Center of Arizona Christian University, headed by noted researcher Mr. George Barna, released the following excerpt from their American Worldview Inventory 2022. AWVI2022_Release05_Digital.pdf (arizonachristian.edu) Among the most telling of these statistics was that only 37 percent of all Christian pastors held a true biblical worldview. I define that as a Bible-believing Christian who knows every bit of God's word is true and applicable to our lives; and not just those selective passages we agree with. God's word is not open to man's interpretation but understanding and application.
As the research expounded further, the younger they are, the lower the percentage. In fact, claiming only 12% of Youth/Children pastors hold a biblical worldview further broke my heart. This telling report also validated my belief that the world has subverted much of Christ's church. I find evidence of this in the report, showing that over 60 percent of Christian pastors hold a religious syncretistic worldview. In layman's terms, the church looks more like the world than it does Jesus Christ and His teachings.
Syncretism, as defined by the American Heritage Dictionary, is "the reconciliation or fusion of differing systems of belief." This is most evident in the areas of culture and religion, resulting in a new teaching or belief system that is overtaking many of our churches today. Religious syncretism happens when we introduce cultural beliefs that often go against God's word into our churches and then accepted by its members. We can find examples of this in five false gospels that seem prevalent in many of today's churches.
The Gospel of Permissive Grace
The Gospel of Social Justice
The Gospel of New Age Spirituality
The Gospel of My Sexual Preference
The Gospel of Interfaith Dialogue
Whether subversion or apathy, it seems these days that our churches and families have acquiesced to the rule of Government rather than the laws of God. This creates an unbalanced view of the world for our children and grandchildren, that places their free will at a significant disadvantage. If you only hear and see one-side of an argument, then it is impossible for you to make a fair and balanced decision by weighing all sides equally. As I learned in algebra class many years ago, to balance an equation, you must apply the same action on both sides of the equation.
I am a firm believer in free will and will defend the right of every person to accept or reject God, to choose what is right for them. The problem is that we parents and grandparents are condemning generations of our children to hell because we've not given them a balanced look at the alternative. As an example, they force public schools to teach curriculum (critical race theory, gender fluidity, etc.) that many teachers and parents may not agree with. Yet, it is forced upon them and their children by a power-hungry government that has no regard for freedom of choice and far too much control over our lives.
Another heartbreaking example is how some parents and guardians drop off their children at churches and then promptly return home to flip on the TV or go out to dinner. They don't always do so to give their children a balanced view of Christianity, but to give themselves a night off from their children. Some Christian churches do their best to show a biblical worldview and teach godly values to the children they serve. These volunteers cannot replace the family. Of the 168 hours in each week, children spend nearly 24% in the classroom; and at best, 3% (about 5 hours) in a church environment. This means most children spend over 70% of their time at or near their home.
What do we expose our children to each day? #TeachGod #ShowThemGod
Click To Tweet
Research has long shown the relationship between a child's environment and what and how they learn. If children spend 70% of their time at home, then it makes sense that a commensurate amount of their learning takes place there. Questions every family should ask themselves include:
What is on my television? Whether or not the children watch it, they hear it.
What does my family do on Sunday morning? Is church a part of the family's life or a vacation from the kids?
Does my family hold a biblical worldview, and is it reinforced through the examples we set for our children?
AWANA club meetings at church, Bible Boot Camp nights, Sunday School, or youth services on Sunday evenings should help augment and reinforce what children are being taught at home. My question for you is, "Where are you while your children are in a church program?"
Even if your children attend church-sponsored programs, are you sure they're learning God's truths or man's interpretation? #TeachGod #ShowThemGod
Click To Tweet
Growing older, I've watched family values erode to where self has become more important than anything or anyone else. The world fills every day of the weekend with sports activities for our children. While these are a vital part of growing up, teaching important lessons in sportsmanship, manners, rules, etc., they should not take precedence over a family worshiping and serving God.
Children learn from the environments exposed to. If we don't live out the examples of behavior we expect from them, then how can we expect them to learn and apply them in their lives? If they can't see it in our lives, how can we ever expect to see it in theirs? Our "go along to get along" permissive mindset has subjected generations to a deceived, unbalanced lifestyle. When we see the turmoil, chaos, and terror in our world today, I can't help but cry as I realize the world is reaping what we older generations have sown. Our failure to hold the line on values and morality is most certainly a contributing factor to the condition of the world today.
I doubt I surprised many of you reading this by these statistics, trends, or results of what I call The Great Deception. The distraction and subversion of our family values, morality, ethics, and the sanctity of life has left us a deceived people. As the report shows, even our religion now aligns with the world's values more than God's. I keep hearing of how young people are leaving the churches in greater numbers. Has anyone stopped to consider that the reason why is that the churches look, act, and think no differently from the rest of this world?
Throughout the Bible, God calls His people to be "set apart." I contend we cannot be set apart if we sound, act, and believe like those we are to be set apart from. Please do not misconstrue my message to be one of separation and exclusion from the world; that is contrary to a primary role of Christians—to fulfill the Great Commission. Instead, I want to encourage each of us to look at what role we can take in helping to balance out opposing worldviews for today's young people. The only way we can do this is to start with ourselves. Once we align ourselves with the entirety of God's word and start living it out in our lives, it will affect the world around us.
My prayer this week is that if I've stepped on your toes, you recognize perhaps God felt they needed to be stepped on. Sometimes being the messenger is hard, but the reward is so worth it. More, I pray this post helps just one person understand the serious crisis our families and churches face. One person may not change the entire world, but we can change our small part of it.
God's blessings,

Please join me this Thursday evening at 9:30 Eastern as host Coach Mark Prasek and I take a trip Around the Cross-Dubya on PJNET TV. We discuss this week's blog post, offer insight about the lessons learned, and enjoy the fellowship of friends in the live chat room.