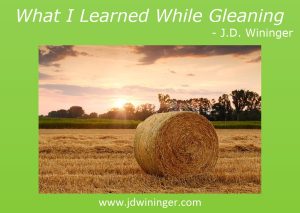 As a young boy, I wondered why Mamaw (grandmother for my northern friends) saved tin foil, kept a can for pan drippings on the back of the stove, and was the "Queen of Tupperware." With the rising costs of everything these days, I understand. Most years, hay season ends when I've stacked the last bale in the hay barn and declare the Cross-Dubya ready for winter. This year, I decided to glean the hay meadow. What I discovered in the process left me both surprised and saddened.
As is always the case, there's a remnant of hay left behind after baling, with many causes. Wind sometimes blows the hay from windrows while it's drying. Other times, the baler goes wide or turns short, and hay is left behind. Baling 99 percent of the hay we cut has been good enough for me in the past. With hay prices increasing some 150 percent this year due to rising costs for fuel, seed, fertilizer, and everything else, I decided not to leave any behind.
Every Christian should know the Bible story of Ruth and how she asked permission to glean Boaz's fields; and well, the rest is history. My point is that gleaning is not a new idea, but one that is long forgotten by many in the world today. For those who might be unfamiliar with the concept, gleaning is the process of gathering what is left behind after the harvest. In Ruth's case, she gleaned wheat so she and her mother-in-love (Naomi) could have grain to prepare and eat. Gleaning the hay meadow meant gathering all the cut and dried hay that was left behind after baling.
Have you ever considered how gleaning could benefit you?
Click To Tweet
On the day Mr. John and I gleaned the hay meadow, the heat index was hovering around 108F. In that heat, we took multiple breaks and drank lots of water. I also asked myself many times who's stupid idea was this. Something else I thought about was Ruth and her gleaning efforts. I was sure there was a lesson in there for me, but a mix of perspiration and exhaustion seemed to keep it at bay.
After a few hours, we had my 14-foot trailer piled high with the left-behind hay. Some of my herd gathered along the fence line, hoping I'd share some of the sweet-smelling new hay with them. With tossing the first arm full over the fence, the others (calves included) came running. With close to 30 days with no rain and temperatures over 100 degrees for most of those days, the slow-growing grasses are showing the signs of the drought's impact. The fresh hay was a welcome addition to my cattle's daily forage intake.
When I pulled the trailer into their pasture and began unloading it onto the ground, the feast was on. It seemed we couldn't pitch the hay off the trailer fast enough as several came and tried to reach onto the trailer to get a mouthful. In the end, our gleaning efforts resulted in feeding my entire herd for two full days. That's equivalent to 1.5 large round bales (1,800 lbs.) of hay that I normally would leave behind.
Thinking about it later, I realized how some seed would fall and produce more grass next year, but I also lamented how much I had wasted in the past. It was then God revealed the lesson I was to learn and share. Gleaning is not reserved for crops and hay. Something else I should be gleaning in my life is God's word.
What do you glean from God's word after the Sunday sermon?
Click To Tweet
Each Sunday, our church provides an outline of the day's sermon. This "fill-in-the-blank" sheet enables us to take notes while highlighting some of the key points in our Pastor's sermon. We use this as a springboard for our small Life Group discussions on Sunday evenings, but not everyone attends those sessions. This led me to think about how many times in the past, I came home from church and set my Bible on the shelf until next week. I wondered; how many other Christians do that same thing today?
As a facilitator for an amazing group who meets at our church for Life Group, I spend part of my afternoon reviewing my notes. I develop discussion questions and research information I can share with my friends to help stimulate conversation and discovery. After Life Group though, I shove the outline sheet into my Bible and then promptly forget about it.
Thankfully, that's not the last time I open my Bible until the next Sunday, but this hay gleaning showed me how I'm leaving important lessons from God behind. Collecting the outlines from throughout my Bible, I've started reviewing each one. I dig a little deeper into scripture through Commentaries, etc. and I'm finding new understanding that I had not seen before with each one.
I pray you'll consider how taking time to glean something more from the Sunday morning message can increase your understanding of God and His precepts in your life. It always amazes me how God can use our past to improve our present and change our future, if we allow Him to have His way.
God's blessings,