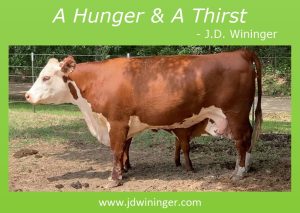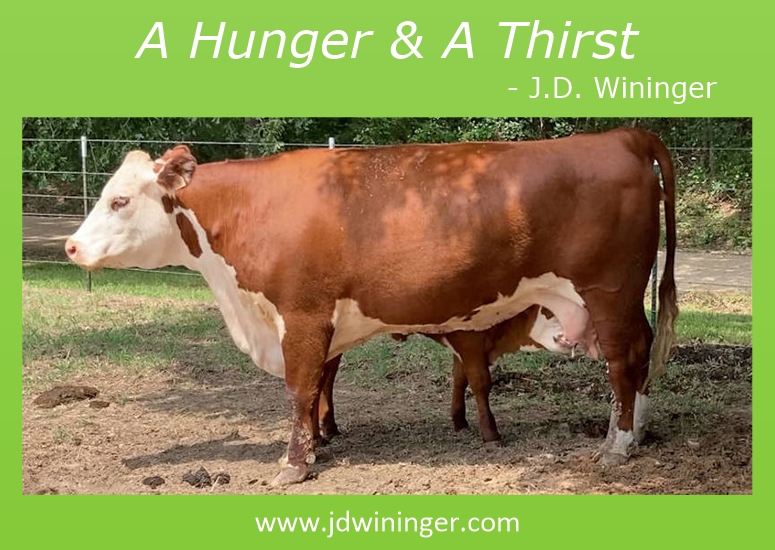 Seeing a nursing calf in the springtime on our Cross-Dubya ranch is a common occurrence. Hearing one, then noticing their vigor from 30-feet away is a different story. While filling a watering trough, I paid little attention to "Aunt Yolanda" (the mama) allowing "Sophia" (her three-month-old calf) to nurse. A few moments later, a noise drew my attention; followed by what I can best explain as a cow's version of a boxer working a speed bag.
Most of you may have witnessed a calf suckling its mother and are familiar with the bumping (or bunting) of the udder to stimulate mama to let down her milk. It wasn't until recently that I learned this letting down of milk in cattle works the same way with human mothers and babies. A baby's suckling releases oxytocin, which stimulates the release ("letting down") of milk in nursing mamas. Tell me again how this is evolution and not the design of our Creator God. I think most human mothers are grateful their babies don't bump mama with their head to nurse; but then again, their baby doesn't weigh 175 pounds. An interesting side note is that when bottle feeding a calf, they bump the bottle (almost knocking it out of our hands) in the same way.
What caught my attention on this afternoon was the loud smacking of Sophia's lips and the vigorous way she was nursing. The heat of the day had made my little heifer calf both thirsty and hungry. At three-months old, she is eating grass and small feed, but still nurses mama at least three times each day. If you've never seen a calf nurse, here's a link to the video I took (Sophia's lunch).
Watching my little calf enjoying her afternoon meal, I thought about how vigorously she was seeking nourishment. In that moment, the words of Psalm 107:9 came to mind.
"For He satisfies the thirsty and fills the
hungry with good things" (Psalm 107:9, NLT)
As is often the case here in "God's classroom", it led me to ask myself a question. How much stronger would my faith be if I pursued righteousness as fervently as that little gal was pursuing her meal? I asked myself, how energetic am I during my Bible study? I wondered, how far could God grow me if I studied His word more energetically? While I try to prayerfully read and understand God's word each day, I can't say I pursue it as enthusiastically as my calf nurses. Can any of us?
How enthusiastic are you about growing closer to God?
Click To Tweet
In reading Matthew Henry's commentary on this verse, I saw those words in a different context. Oh, give me a big plate of chicken-fried steak and mashed taters and you'll see some pretty enthusiastic eating, but my Bible study has become almost perfunctory, perhaps too routine. In Mr. Henry's commentary, he wrote about how the sojourners across the scorching sands of the desert must have thirsted as they escaped Egypt. In his writing, he offered the following for our consideration.
Consider those "whom the Lord has redeemed from the
bondage of Satan; who pass through the world as a
dangerous and dreary wilderness, often ready to
faint through troubles, fears, and temptations. Those
who hunger and thirst after righteousness, after God,
and communion with him, shall be filled with the goodness
of his house, both in grace and glory." –Matthew Henry
Thinking about those words, I can see how we might compare our lives today with passing through a desert. Today's culture seems intent on dismissing and hiding from public view all things Christian. We see the results of the world's abandonment of godly morals and values on the evening news as more shootings, killings, robberies, abuse, and deceit grow with each passing year. To maintain and grow our Christian faith and righteousness, we must seek God's wisdom and guidance in our lives with increasing fervor.
Do we hunger and thirst for God's righteousness with the same fervor as a nursing calf?
Click To Tweet
I pray this example of how my nursing calf seeks satisfaction encourages you to apply that same vigor to satisfy the needs of your journey in faith this week.
God's blessings,