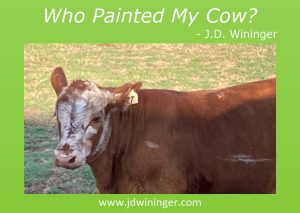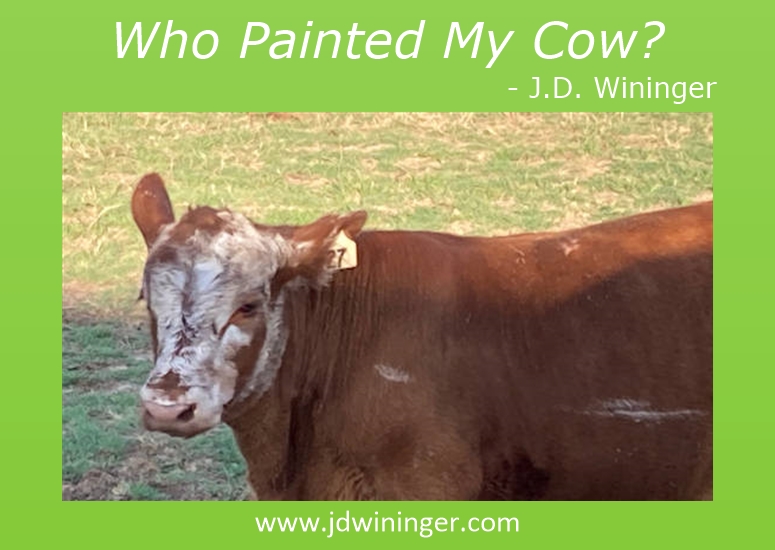 Sometimes curiosity wins. Our church's youth group worked hard in the intense Texas heat to scrape and paint the Cross-Dubya's pipe fencing over the two days they were here. As the team shared, listened, learned and laughed—a few managing to get more paint on them than the fence—all had a good time. On Saturday evening, as we were cleaning up, I decided to check the water in our north pasture. That's when "Ronaldo" the bull calf walked up with a forlorn look on his face. One look at my beautiful, solid-coated Red Angus calf told me that curiosity won.
Visible evidence of his inability to resist temptation was all over my calf's face, head, and neck. Watching the young people painting one of the braces, he apparently could not resist the urge to investigate further. With a chuckle, I shook my head and snapped the photo. I checked his eyes and mouth to make certain he hadn't been silly enough to try and taste it. Satisfied he was physically okay, I smacked his hindquarter and sent him on his way to find mama.
As he slowly sauntered away, the words of James 1:14-15 came to mind.
"But each one is tempted when he is drawn
away by his own desires and enticed. Then, when desire
has conceived, it gives birth to sin; and sin, when it is
full-grown, brings forth death." (James 1:14-15)
I remembered how often in my young life I too allowed my curiosity to lead me headfirst into temptation. When I recalled how my adopted dad used to tell me, "You're like a bull in a china shop", I laughed again, thinking perhaps maybe God made us more alike the animals we care for than I thought.
In Romans 7:15-18, the Apostle Paul explained how sin dwells within each of us (Christian and non-Christian). Sin, being a part of our mortal being, enables us to be tempted. When temptation becomes sufficiently appealing to us, it causes our almost involuntary response to sin. Our craving for what appeals to us, even though we might recognize it is wrong, is too strong to overcome in our flesh. I've learned that the more (longer) I focus on something tempting, the more my desire for it grows. Perhaps this is one of the primary reasons God gives us self-control as one of the fruits of His Spirit.
For me, the key to the gift of self-control is my willingness to use it. Indwelled with the Holy Spirit, I can instantly sense when Satan attempts to sway my attention and draw me into his web of deceit, decay, and sin. It's that check in my spirit that says, "Danger Will Robinson, Danger!" If unheeded for very long, I fall headlong for Satan's trap and sin is birthed.
In what ways are you made aware of temptation in your life? #CrossDubya #OvercomingTemptation #SpiritualWalk
Click To Tweet
Satan uses many devices to tempt folks. In my life, I sense them visually when reading or looking at something or someone and aurally when I hear something that piques my carnal interest or disgust. I suspect he can use all of our natural senses, as all of man was corrupted upon the fall. Knowing our trigger points should cause us to be on guard more in those situations, but Satan is so deceptive and cunning that he can sneak up on us and attack us when we least expect it. It is for that reason that we should invite the Holy Spirit to control our thoughts and actions throughout the day.
What are some of the ways that Satan tempts you? How do you guard against falling for his tricks? #OvercomingTemptation #Temptation #SpiritualWalk
Click To Tweet
When I pay attention to God's warnings, I can apply His exhortations to flee from so many of the worldly things that can ensnare our lives. I often think of James 4:7; which says, "Therefore submit to God. Resist the devil and he will flee from you." Sounds easy doesn't it? What many Christians today fail to learn—and perhaps it's because we the church fail to teach them—is how do we resist Satan's ploys. God's word teaches us and gives us Christ's example during His 40 days in the desert following His baptism by John the Baptist as described in the Gospels. The key is knowing God's word and keeping it in our heart for instant recall (Psalm 119:11) when it's needed.
Some of the ways I've learned, not that I always apply them sadly, to resist temptation when the Holy Spirit sends out His warnings in my soul are:
Call upon God's strength to help me overcome the temptation. It's by focusing my mind on God and not the worldly temptation that invites God's power to surge through my life. He doesn't go where He's not invited.
Remind yourself that as a child of God, the power of sin no longer has any hold over you. You have been freed from sin and forgiven. Too many of us fail to remember that Christ died for our sins before we were even born. He's already paid the debt for ALL of our sins. We have to remember to apply the instructions of 1 John 1:9 to ensure we maintain the right relationship with God through confession and repentance.
Use God's word to rebuke Satan in the moment. He's not going to wait while you dust off your Bible and struggle to find what you need to send him packing.
Pause to think about the terrible price Jesus Christ paid to free us and restore our relationship with the Father. We must remember how much He loved us and repay that love with our obedience. He doesn't expect us to be perfect, He expects us to be purposeful in this life.
With each day, I see fewer signs of my calf's failure to avoid temptation as he rubs his head and face on the ground, mama licks him, and he uses his hooves to remove the stain of his transgression from himself. Isn't it wonderful to know that God can remove the stain of sin from our lives with a simple, faithful prayer?
When I asked our Pastor, "Which one of you Picasso's painted my cow", and showed him the photo, we both laughed. I'm not sure if he thought about how temptation can overtake all of us, but I'm certain there's a sermon in there somewhere in my future.
I pray this week that you found both a moment of laughter and a reminder of praise in this post. A last lesson I've learned is that with each success I have at turning from temptation, the more confidence I have in my faith to do so. I may never be sin free in this earthly life, but with God's help I can become less sin full.
God's blessings,