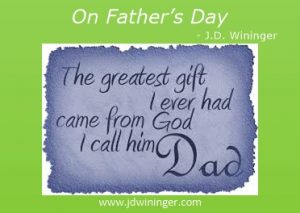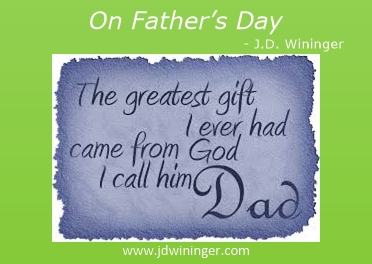 For the first 14 years of my life, I seldom felt the joy of being loved. I never knew the difference encouragement made in a young life; and never understood how being part of a family was something to cherish. By the time I was 12, I had all but given up on the dream of being truly loved, with one exception. I prayed at night to belong to a family that cared about me. In doing so, I felt sheltered from the reality I had grown all too accustomed to.
God answered my prayers when a Massachusetts family moved to my small central Florida town and adopted me into their family. When the man who would become my earthly dad brought me into his family, my world blossomed. Immersed in a family where my brothers and sister loved and accepted me, I grew to become who God always planned. I was in a world where Mom and Dad taught me true Christianity by their actions; a world where I learned by their example what it meant to be a member of a family. In this environment, they laid the foundation for my life.
I'm blessed that my dad invested over half a century of love, wisdom, and learning into me. When I stop and think about my dad, I'm often overwhelmed by all the blessings he brought into my life through his example of godly living. I will always remember him as being a patient teacher, sharing both life and trade skills. He remained a firm believer in Christ, held a fierce commitment to family, and a dad I want to emulate in my life.
Even though I'm adopted, it amazes me and others at how much we are alike. I sure hope folks can say that about ourselves and our relationship with our heavenly Father.
In what ways are you and your dad alike? How alike are you and your Abba Father? #ChristianDad #LikeHim
Click To Tweet
In my mind, there's no doubt God brought dad into my life as an answer to prayer. Many years ago, I tried to repay the wonderful gift of dad-ship with a poem I wrote for Father's Day. I've realized in the years since, my words were not directed only to my earthly dad, they are repayment for the gift of family from my Heavenly Father. Whether your earthly dad is with you this year or not, know that your Father in Heaven can be there for you always.
My Father's Arms
When I'm tired, sad, or lonely,
When few others seem to care,
There's a place I go to get away,
For there are no troubles there.
I can laugh or cry, or fall asleep,
Or all my problems bare.
It's the one place where I can just be me,
For there are no troubles there.
I love that place, its peaceful warmth,
A place with many charms.
My favorite place in all the world,
Is in my Father's arms.
-JDW 6/78
Let your dad, whether still with you on this earth or awaiting you in heaven's glory (like mine is), know how very much he means/meant in your life. I'm forever blessed to say I am my Father's son.
Happy Father's Day to all the dads out there; and God's blessings,