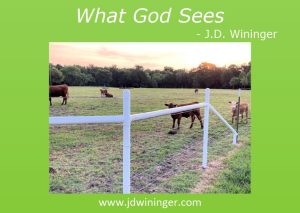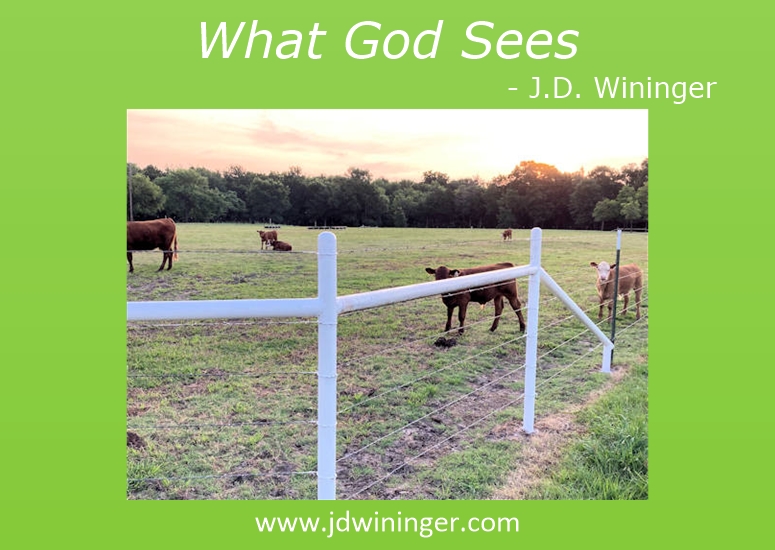 Have you ever asked yourself, What does God see? This week, as we're preparing for a big project around the ranch, the words "El Roi", the God who sees me (Genesis 16), came to mind. I've asked myself, What will God see? Exploring this question through prayer, the Holy Spirit helped me to better understand the answer is "All." God sees all; and as I've learned in God's word, "all means all." Everything – Totality – Complete – Inside – Outside – Around – Through. El Roi sees all.
When first announced that our church's youth group was looking for projects to raise funds for a Summer Bible Camp in Colorado, God brought a project to mind. Painting 20 acres of pipe fencing around the pastures is one I've been dreading. The last time I did it was 2014, when we first started building out the Cross-Dubya's pastures. Since then, we've added another 2,500 linear feet of pipe. I remembered it took Nicolaus and me nearly a full week just to prep and paint the north and south pasture fencing. Now, there's over twice as much fence to paint and I'm even older. The idea of having a bunch of willing young people to help made it an easy "Yes."
As Friday morning is fast-approaching, there are still lots of things to get done to prepare for the energetic work crew. Supplies to purchase, pipe to prep, food to buy, and the list goes on. Recognizing that I am the original grumpy old fussbudget, I sense God is doing some preparing of His own. Part of those preparations is expectation setting and reminding me of why we're even doing this project. El Roi serves as an important reminder that God hears my thoughts, sees my actions, and knows my heart in everything I do.
A working ranch, the Cross-Dubya is not a showpiece; it is dirty and sometimes rusty. Still, I want it to reflect an image that is worthy of its namesake and purpose. It should be clean, orderly, pastures as weed-free as possible, healthy, and well-maintained; much like the goals of my Christian life. Not perfect by any measure, but a reflection of whom I serve and represent. Here in Texas, we call it "riding for the brand", which means our lives should reflect the values, reputation, and quality that the brand represents.
If we reflect whom we serve, who will others see? #ReflectionOfGod #CrossDubya
Click To Tweet
So what will God see this week as He looks upon His Cross-Dubya ranch? I pray He sees smiles, determination, joy, and dedication in everyone involved. I hope He hears words of encouragement, praise, and appreciation. As a rancher and businessperson, I can't seem to undertake any project these days without considering its return on investment or ROI. You got that, didn't you folks? Three questions I've asked myself with this project are:
What will I gain/see?
The easy answer is freshly painted fencing to enhance the ranch's aesthetics and protect the significant investment in precious metals (steel in this case). Other lessons God will teach me are yet to be known, but I'm looking forward to them.
What will the young people helping gain/see?
Not an easy answer for me, but I'm hoping they get more out of the project than money to help fund their upcoming trip. My goals for them include a reinforced work ethic, an understanding of the value of one's labor, closer peer relationships, an appreciation for God's creations, and the importance of teamwork.
What will God gain/see?
My prayer is that a sweet aroma of fellowship, praise, kindness, and a spirit of service to others in His name and for His glory is carried unto the heavens. I pray we move Him to continue blessing the Cross-Dubya and each person who is working to grow closer to Him.
Some may wonder why an insignificant little ranch, located down a back country road, on the outskirts of Podunk, Texas, even matters in this world. The answer is, "In this world, it doesn't. In God's eyes, it reflects our love for Him." If you take nothing else from this post, I hope you'll remember this thought:
When we seem to matter little, remember that God
sees each of us, and can use us to help others see Him.
I pray you'll take a few moments this week to ask God to show you what He and others see in you.
God's blessings,

Please join me this Thursday evening at 9:30 Eastern as host Coach Mark Prasek and I take a trip Around the Cross-Dubya on PJNET TV. We discuss this week's blog post, offer insight about the lessons learned, and enjoy the fellowship of friends in the live chat room.