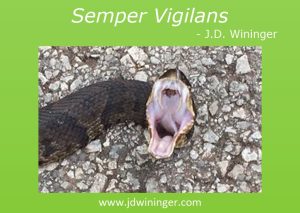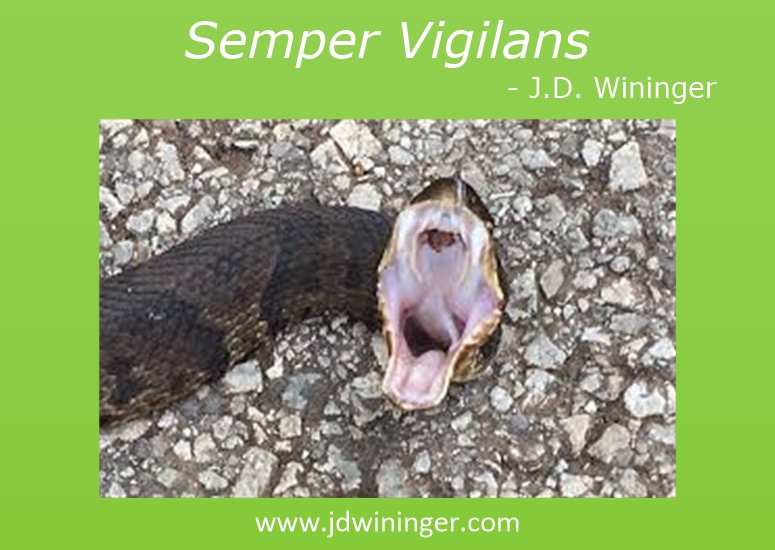 Getting a telephone call from your foreman at 6:03am, advising you to hurry outside with a gun, assures you won't need that cup of coffee to get your heart pumping. I didn't ask why, I just grabbed my Smith and Wesson, donned my muck boots, and skedaddled outside. Judging from the clowder of barn cats around the rear of my pickup, and Mr. John's affixed stare (phone in hand), I knew the reason. S-N-A-K-E! What I wasn't prepared for was its size and its aggressiveness.
Coming across a snake is not uncommon here at the Cross-Dubya. In fact, my pal Bubba the chocolate lab normally brings me 8 to 10 he's killed each year as gifts. Luckily, Bubba was secured in the garage recovering from an injury that morning or I may have become Bubba-less. Unfortunately, cottonmouths (aka water moccasins) are pretty common in this part of Texas; especially near our stock ponds and ditches. To find one on my carport in early morning is rare. In the nine years we've been here, this was only the second time I know of.
Under my truck near the rear tire, a large cottonmouth was striking at the cats. Not wanting to shoot a hole in my truck tire, we used a bow rake to drag the over five-foot long serpent into the open. Super aggressive, I made the first shot count by blowing his head off. John and I have both seen plenty of water moccasins in our lifetimes; and we both commented almost simultaneously that this was one of the largest we had seen. Mr. John added, "He sure would've ruined our day, wouldn't he". I wondered to myself, What if we hadn't noticed that rascal before we tried getting into the cab of my truck? A snake that large would have certainly put one of us in the hospital, and would have most likely killed Bubba, if bitten.
I've learned, when checking and repairing fences, mucking the barn, or working hay, to maintain a heightened sense of situational awareness. I also keep a weapon handy. When living and working near the same habitat as snakes, we learn to be semper vigilans (ever vigilant). Checking the grass, corner of a stall, or under a fallen tree branch becomes second nature. Checking under your pickup truck on a concrete pad, not so much.
With the threat eliminated and what remained of the enemy disposed of, we returned to our morning routine. Throughout the day though, my spirit was repeatedly checked. Keep watch; now more than ever. I kept feeling that stirring within my soul. Was it leftover adrenaline from rushing outside that morning in muck boots and BVDs to face a threat? Was it the Holy Spirit exhorting me to raise my spiritual radar more? Whatever the cause, I'm learning to heed those feelings more and more.
Do you heed those feelings of caution or warning in your life? #Discernment #HolySpirit
Click To Tweet
As cliché as it may sound, my encounter with the dangerous snake reminded me of the importance of maintaining my spiritual awareness as much as my situational awareness. I need both to ensure my and my family's safety. Situational awareness recognizes all that is going on around us. Spiritual awareness recognizes all that is going on within us. To live a balanced life of peace and security, we need both. In recent days, with all the random violence and attacks going on, both are being threatened.
Like the enemy who slithered his way near my home, it seems "that serpent of old" (Revelation 12:9) is growing bolder as his days of reign on earth grow shorter. I wonder if his great deception of so many has effectively made much of the church and mankind more vulnerable to his ploys. Have we become so complacent and so distracted by the busyness of this life that we have neglected the spiritual aspects of our lives? What part have we played in ushering in this season of moral depravity and godlessness we see in much of society today?
The words of Ezekiel 3:17-19 have been shouting from the depths of my heart lately. I realize that if I am God's child, then I too am a watchman on His wall, and I must do the job He has called me to do.
"Son of man, I have made you a watchman for the
house of Israel; therefore hear a word from My mouth,
and give them warning from Me: When I say to the wicked,
'You shall surely die,' and you give him no warning,
nor speak to warn the wicked from his wicked way,
to save his life, that same wicked man shall die in his iniquity;
but his blood I will require at your hand. Yet, if you warn
the wicked, and he does not turn from his wickedness,
nor from his wicked way, he shall die in his iniquity;
but you have delivered your soul." (Ezekiel 3:17-19, NKJV)
I interpret this scripture to mean that God will not hold me responsible for those I shared the gospel of Christ with who ignored my message. God will not hold me responsible for those I warned of the eternal cost of sin who elected to ignore my warning. He will hold me responsible for those to whom I withheld the good news of Christ Jesus from. As the day approaches, we must be bold in sharing the message of salvation, my friends. We must also hold steadfast in our faith so we might help exhort others to do the same.
Now is the time to #StandUpForChrist
Click To Tweet
I'm convinced that the condition of this world is only going to get progressively worse. Let us band together as a "family of faith" to boldly show and share God's love and message in this ever-darkening world. #LetsBeLight #StandUpForChrist
God's blessings,