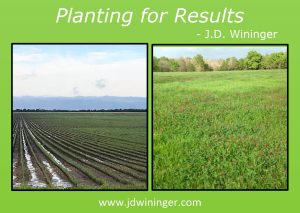 It's springtime around the Cross-Dubya; and as some of you may have noticed, planting has consumed much of my life lately. Sowing gardens, pastures, and fields, we've put a lot of seed in the ground this year; all of it requiring planning, preparation, planting, and prayer. As many know, we pray about everything we do here at our little ranch. I've also written about the planning and preparation that goes into crop and forage production; and I've written about harvesting what God produces. This week, God brought the words of Mark 4:26-29 (The Parable of the Growing Seed) to mind while cultivating our garden, so we're going to focus on the planting.
"And He said, 'The kingdom of God is as if a man should
scatter seed on the ground, and should sleep by night
and rise by day, and the seed should sprout and grow,
he himself does not know how. For the earth yields
crops by itself: first the blade, then the head, after that
the full grain in the head. But when the grain ripens,
immediately he puts in the sickle, because the harvest
has come.'" (Mark 4:26-29, NKJV)
It seems logical, although admittedly this thought process seems fleeting these days, but the key to planting is understanding what you're planting and what results you desire. As the photos above show, the results you're looking for determine what method you use to plant.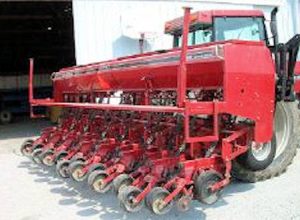 If you're looking to plant uniform, evenly spaced row crops that are more easily maintained, say a cornfield, then a drill like the one pictured here makes sense. You can configure it to preset the space between rows, space between each seed, how many seeds to drop each time, and then covers the seed for you. It even provides row markers so as you go back and forth across the field, you can keep your rows straight and evenly spaced.

If planting grass and clover so God can produce a lush field of rich, green forage for livestock grazing, you might use a broadcast spreader like this one. How you want whatever you plant to grow determines your planting method. Broadcasting provides even, dense coverage across an entire area. Drilling produces a precise, equally spaced, easily maintained row crop that allows for the plant's maximum growth.
How plants grow is determined by how you plant the seeds. #SowingGod #SeedsOfFaith #Discipleship #CrossDubya
Click To Tweet
Applying God's word to my life as I was weeding grass from the rows of corn and tomatoes, this thought occurred to me. How do I plant the seeds of faith that grow into the legacy I'll leave behind? I realized that when I'm disciple-making, I drill seeds of discipleship (biblical principles and specific lessons or skills) into that person's life. When sowing God's love into the world through the way I live my life, I'm broadcasting seeds of faith to fall upon the various soul conditions of others' lives (Matthew 13:3-9). Broadcasting is less controlled and covers a much larger area. In both cases, I remind myself that it is God who brings the harvest (1 Corinthians 3:7).
How you sow seeds of faith into others determines how they grow. #SeedsOfFaith #Discipleship #SowingGod #CrossDubya
Click To Tweet
As expected, drilling a field of corn, wheat, milo, or cotton requires more preparation of the soil. Before we can plant seeds, we must till, cultivate, fertilize, and sometimes create raised beds. In the same way, preparing to disciple a fellow Christian requires preparation and precise placement of the seeds of faith into their lives. When we seek to spread the gospel of Christ into the world, as Christ charged all Christians with doing, we must only prepare ourselves.
I pray this week that I've given you a farmer's perspective on planting seeds of faith. How you sow is determined by what you hope to reap for God's kingdom. I pray God's harvest is plentiful from the seeds of faith we've sown into this world and those around us.
God's blessings,