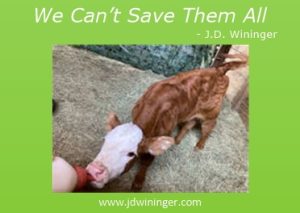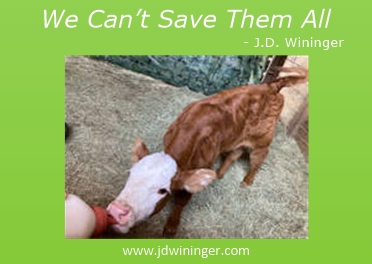 "Lord, I know we can't save them all, but won't You give me this one?" How often have I prayed this since the first calf was born here on our Cross-Dubya ranch? From an analytical perspective, our losses have been minimal compared to many. On a personal level, each one takes its toll. Sometimes I think to myself I've buried far too many in my life, it's time to quit. My prayer these days is "I don't know how this is gonna turn out Lord, but I trust You; and I will love and praise You, whatever the outcome."
When a mother rejects its calf, that calf is called a "bummer." While rejection didn't happen in this case, "Dante" the bull calf was born a bummer. Unable to nurse her calf, it forced me to remove him from his mother within hours to save his life. Any time a new life enters this world, one immutable fact comes into play. Life's clock starts ticking down the moment we're born. Whether that happens in a few minutes, a few days, or 100 or more years later, all living things (plants, animals, and humans) will die. The only exception to this natural law is the eternal life humans attain upon their salvation through Christ Jesus. When truly saved in Christ, our souls become eternal. Salvation is the free gift of God for accepting His Son's redemption for our lives through faith (Ephesians 2:8-9).
Another fact of life I struggle with is that no matter what I do, I don't decide when life ends. Be it a calf or my own life, I have no control over that predestined time established by God. Yes, there are things we can do to save, extend, or improve life, but I believe firmly it ends when God says it's supposed to. Not one second before or after. Do I understand that? No. I can't; I'm not God. Must I accept it? Yes; if I want any peace at all.
At the time of this writing, little "Dante" is resting in the barn atop a bed of hay with a heat lamp above him; protected from the wind and rain. Will he be alive at sunrise when I go out to check on him again? I can't know for certain. All I can do is entrust his life to God and find whatever peace I can in knowing I've done everything possible to give him his best chance at life.
Being monogastric for the first few weeks of life, a ruminant animal (like a cow) is at serious risk of intestinal infection until their digestive system works as designed. There are lots of reasons, some natural and some human-induced, for these infections, but the result is called scours. In plain speak, scours is diarrhea caused by bacterial buildup within the ruminant animal's abomasum. If there's too much bacteria in the cow's abomasum for too long, scours occurs.
This happened to little "Dante" last week. Treatments, beyond physical separation to prevent cross-contamination to the rest of the calves, include fluid therapy, medicines, and prayer. If scours develops into abomasal bloat, the prognosis becomes very poor. The biggest challenges are getting the calf to nurse (drink milk needed for energy) and hydrate itself to replace the fluids lost from the illness. Often, because they don't feel good, they'll not want to drink. When that happens, we have to resort to feeding them with an esophageal feeding tube. Not fun for human or calf, but a life-saving measure we must perform in those cases.
As "Dante" and I fight through this illness together, I'm doing three things.
Praying: Seeking God's will and guidance
Blaming: Mostly myself through questioning my actions (Did I feed him enough colostrum? Did I feed him too much milk replacer? Was it mixed correctly? Did I let him drink too fast?)
Caring: Providing the best care I can for the little fella.
I told my vet the other morning, "I need to know that I've done everything possible to help this calf survive." I further explained, "I don't want God to tell me one day 'You could have done more'." As I thought about this on the drive home with different medicine and more knowledge, God showed me how this same thought applies to my loved ones. He (God) also reminded me of a lesson I learned years ago; "You can't save them all."
Accepting that we can't save them all allows us the freedom to live joyfully.
Click To Tweet
Like many, God has burdened my heart for lost loved ones (family and friends) who may not know the Lord. While I can't know the heart of another (whether they're saved), I lament the idea of spending eternity with God without those I have loved in this life. I desire they share in the joy of eternity with God.
Whether a calf or a cherished friend of whom I am closer than a brother to, recognizing that I can't save them all is something that brings my soul peace. This thought doesn't make losing either any easier. But if I know in my heart I did the best I could and left what is God's to God, then I can accept the loss. With my livestock, I can rest in knowing that I was the best caretaker for them I could be. Not perfect perhaps, but someone who did all I could to care for them.
For my family members and friends, of whom I can't be certain of their salvation and adoption into God's eternal family, I seek peace in my soul. Sowing seeds of faith God can use into their lives gives me that peace.
Our job is to sow the seeds of faith. God's is to produce and gather the harvest.
Click To Tweet
It's important I know that at the end of my earthly existence, I've done all I could do to care for all the blessings God entrusted to me. This gives me the peace and joy I need to enter into God's reward—eternity with Him—with a clear conscience and joyful heart.
I pray that you too come to understand we can't save them all. We find peace in knowing we've planted seeds of faith by shining God's love into the lives of all those we care for.
God's blessings,