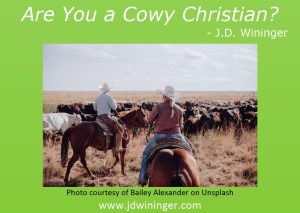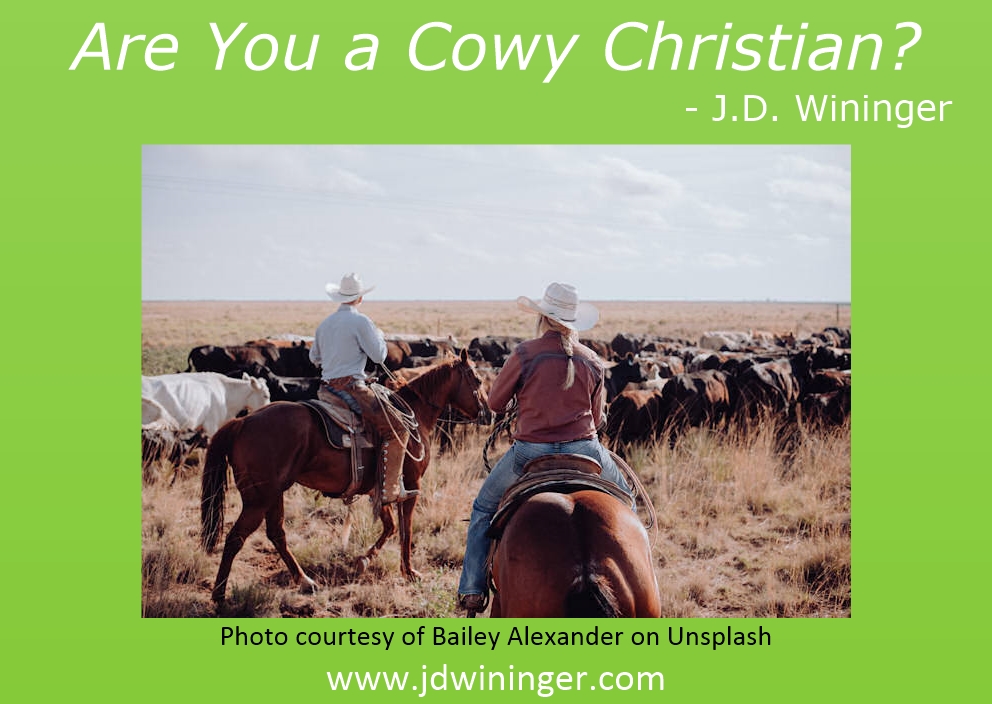 I'll never forget that morning at a ranch near Broken Arrow, Oklahoma. I'd seen cowboys and their horses work in the movies and thought how skillful the cowboy was; until I saw it up close and personal. If you've never seen a cutting horse at work, ridden by a capable and skilled rider, you are missing a thing of beauty. What I came to learn that day was how the horse and cowboy worked as a team. As I watched them work together, it amazed me to see how they fed off one another.
Once selected, I can only describe the cutting process (separating an individual cow from their herd) as a Symphony Amidst Chaos. Standing along the fence surrounding the sorting lot, I identified a cow with a nod of my head. The team of rider and horse immediately went to work. Watching them cut the cow was amazing. It seemed the cowboy was merely along for the ride. After cutting the specific cow from among a group of 50 or more, the horse seemed to move the cow himself while the rider operated pen gates, etc.
Watching the experienced team for a few minutes, I leaned over to the rancher beside me and stated, "That horse sure is cowy, ain't he?" His reply; "So's the cowboy." I thought about this later and realized the truth in that gentleman's statement. A cowy rider on a cowy horse share a connection that makes their work appear effortless. I thought too about all the hours of training and trust development that must have gone into making that team.
"Cowy" (pronounced cow-ee); now that's a strange word to many, isn't it? If I could only use two words to define it, they would be "good instincts." Restricted to only one word, it would be "discerning." This past week, God led me to consider how cowy I am as a Christian. Do I have good instincts to follow Christ and do those make my training (sanctification) a little easier for God? Does the Holy Spirit work in unison with those instincts to identify opportunities to serve God and reach others with His gospel? I wondered also if the spiritual gift of discernment (able to anticipate Satan's next move) made me a cowy Christian.
Are cowy Christians those who seem to effortlessly carry out God's calling upon their life? #Discipleship #Faith #ChristianWalk
Click To Tweet
As I thought about that question, I considered some cowy people God has brought into my life since starting His Cross-Dubya ranch who have taught me a great deal. Cowboys and ranchers like Blair Freeman, Michael Duke, David Shaffer, Tommy Parkhill, and recently brother Steve Nelson have all been great mentors. Applying those same traits of cowy-ness to many Christian brothers and sisters, I could name many more.
As I suspect many of you are asking "What does cowy look like", I'll try to explain from a horse's standpoint. While the American Quarter horse is the preferred cutting horse breed, I imagine any cow bred horse with similar traits can become a good cutting horse. I'll also try to relate these traits to our Christian journey in faith so you can see the correlation. A cowy horse:
Reads the cow: This means the horse anticipates what a cow might do next. Reading things in this world correctly helps Christians anticipate what direction they need to move in to cut themselves out of the world and avoid temptation.
Hooks on quickly: A cowy horse quickly identifies the exact cow they need to move. Once hooked on, they stick to that cow automatically. A cowy Christian can identify that struggling brother or sister who needs help and then move alongside them in fellowship to help them through the storm.
Rates the cow: Cowy horses are agile, powerful animals that have the physical ability to move at the same speed as the cow they're hooked onto. As Christian disciple-makers, we must be agile and adaptable to move in unison with those being discipled, yet experienced enough to move them toward achieving the goal.
Confident: Confident horses don't get skittish in noisy or chaotic environments. They know their job and are continually learning. Being watching, listening, and seeking to learn, they are more easily trained and developed into top performers. Those Christians who are confident of who they are in Christ, understand their job, and are more easily trainable most often become the most cowy and effective Christians.
Enjoy the work: Cowy horses seem to enjoy their work. When cutting, they work with a quiet, confident, efficient, and patient manner while maintaining a good attitude throughout the long day. You see those same traits in many of the cowiest Christian men and woman in your church and community. Both express a joyful countenance.
My last point is the importance of team work. The best horse can't do much without a capable rider to lead, guide, and direct its actions. The best rider can't perform at their best without a well-trained, responsive, and trusting partner to ride. In the same way, the Christian must work as a team with the Holy Spirit to ensure we accomplish God's will in God's way. When we do so, all things are possible.
If you've never had the pleasure of seeing what a team of cowy horse and rider can do, I offer the video below. It shows one of the world's best cutting horses and their rider in action. Enjoy the amazing teamwork this pair exhibits.
Special Nu Baby & Matt Gaines – Cutting World Record! – YouTube  (Did you notice how quiet Mr. Matt's hands were during the ride?)
In your walk over the coming week, I'll be praying God helps you and me identify the traits and develop the skills we need to become Cowy Christians.
God's blessings,