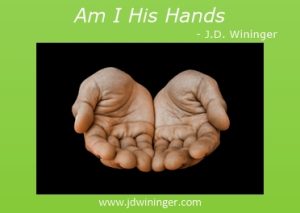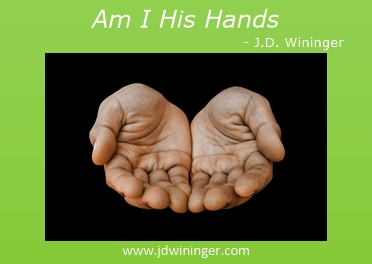 Helping a friend identify their spiritual gifts, I reminded them that God doesn't want Christians who "sit and watch"; He wants Christians who "go and do." I shared with my new Christian friend how we are charged with being the hands and feet of God in this world. When asked, "Where exactly is that in the Bible", I had to scramble.
We've heard it all our lives it seems, but Google™ "hands and feet scripture" and you get lots of references and commentary, but there's no one scripture stating exactly that. I offered Ephesians 2:10 to my friend; "For we are His workmanship, created in Christ Jesus for good works, which God prepared beforehand that we should walk in them." When I think of this verse, I am led to believe I am God's hands and feet in this world, as an Ambassador of Christ (2 Corinthians 5:20).
What I do in this world should reflect who I am and who I represent. #AmbassadorForChrist #ServeGod
Click To Tweet
"What's that mean; to be the hands and feet of God", my friend asked. Great question, I thought. I shared another anchor verse in my life; then explained my thoughts of what it means to be the hands and feet of God.
"He has shown you, O man, what is good;
And what does the Lord require of you
But to do justly, To love mercy,
And to walk humbly with your God?" (Micah 6:8)
"To be the hands and feet of God in this world is to serve others as God directs in the same way that Christ served and showed us." I explained how we must study God's word and use Christ's examples and teaching as a model for our Christian lives. The way He treated all those around Him, the parables He shared as lessons to us, and His character traits all direct us on how to serve His kingdom. I ended with the charge Jesus gave during His Parable of the Good Samaritan (Luke 10:25-37). "And he said, 'He who showed mercy on him.' Then Jesus said to him, 'Go and do likewise.'" (Luke 10:37)
The feet of God will go where God leads them; the hands of God will do what God directs. Are you willing to go and do? #Discipleship #LiveOutYourFaith #GoAndDo #SpirtualWalk
Click To Tweet
Later, I vaguely remembered hearing of a statue of Jesus Christ with no hands in Europe after WWII. I thought what a great example to share with my friend. The statue remained with no hands because God wants us to be them here on earth. As I researched the famed statue, I found many claims. A bombed-out cathedral in Strasbourg, France, a church in Soweto, South Africa, and another outside a church in San Diego, California. Having not seen any of them, nor able to verify any of the claims, I think all provide a tangible reminder of how we are to serve God.
The causes for the statues to have no hands range from natural disasters, vandalism, to bombings during WWII, but the stories are all similar. A decision not to repair or replace the hands of Christ, but adding a plaque reading, "I have no hands but your hands" in each case. These words came from a prayer of Saint Teresa de Avila (1515-1582). My research also led to a poem, "The World's Bible", by Ms. Annie Johnson Flint (1866-1932); you can read it here. Poem: The World's Bible by Annie Johnson Flint (poetrynook.com)
In praying for guidance on how I might best present this additional information, the Holy Spirit led me to recall the words of 1 Peter 4:10. "For we are His workmanship, created in Christ Jesus for good works, which God prepared beforehand that we should walk in them." I hope that by linking the spiritual gifts each Christian receives as God sees fit, my friend better understands how He equips us to be His hands and feet.
I pray you ask yourself, "Am I His hands? Will the world see Him through me?" As Christians, we must endeavor to use the spiritual gifts God has equipped us with to help each other and the world. When we do this, we share God's light and love.
God's blessings,

Scripture taken from the New King James Version®. Copyright © 1982 by Thomas Nelson. Used by permission. All rights reserved.