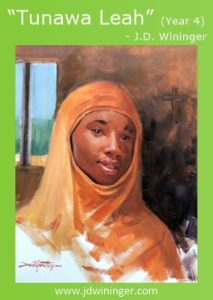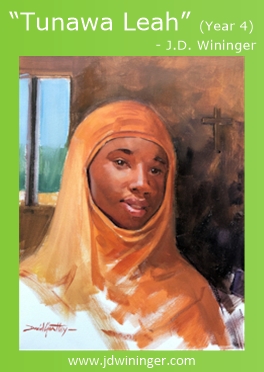 How often do you read something that causes you to stop reading and start praying? Now, imagine reading a book (beyond the books of the Bible) that does this at least once in every chapter. Miss Leah Sharibu's real-life story, of her capture and continued captivity by Boko Haram in Nigeria, is that powerful. Near February 19th of each year, I dedicate my blog to the courage and faith of this young lady. As we recognize her fourth year of captivity, she remains a prisoner for her faith.
Since October 2019, I have prayed daily for Leah's continued strength, courage, hope, and faith. While receiving no "official" word on her condition, reliable sources report Leah is still alive in captivity and raped many times, delivering at least two children to Boko Haram terrorists. My heart believes she continues to stand strong in her faith in God; resolved to being used by Him in mighty ways we cannot understand. While my flesh-driven mind wants God to heap great plagues upon Boko Haram, forcing them to surrender her, my heart prays God's will for her life as she remains safe.
For those of you who are unfamiliar with Miss Leah's story, please visit my original blog post here (Tunawa Leah – J.D. Wininger, Christian Author (jdwininger.com)). Several months ago, I received a copy of the recently released book "Leah: Hero for Jesus". Written last year by my friends Dr. Gloria Samdi-Puldu (President of the Leah Foundation) and Rev. Peter Fretheim (Missionary to Nigeria), it is now available in the U.S. and internationally. While my copy has a different cover than the "Americanized" version, the powerful story is the same. As the title of this post shows, this book moved me to stop and pray many times. Below are some quotes from the book that led me to pray.
"God, help me to be discomforted."–Lee Cantelon, Director of Marketing and Missions, Microboard
"Though Leah may not exactly be like Esther of the Bible in the sense that she was not placed in an earthly royal position, it feels as though God placed her in our lives 'for such a time as this.' I have no doubt that the person I have become would have been entirely different without her."–Siyona, one of Leah's classmates, friend, and fellow Christian
"Leah must have sensed my fear. 'Even if it's true,' she said confidently, 'we'll stand firm in our faith. God will watch over us.' " – Comfort Ambrose, one of Leah's classmates, friend, and fellow Christian
"Many times I let my tears be my prayers when my tongue could form no words."–Rebecca Sharibu, Leah's mother
As I think about the words from this book that led me to prayer, I reflected upon the brokenness in my life and how many times I've fallen to my knees, able only to share my tears with God. I thought about how young Leah has cried herself to sleep, unable to find words to express her fear, loneliness, rejection; longing to live and worship freely. How many times has she quietly hummed the words of a hymn or worship song to her Lord as she toiled in the labor being forced upon her by captors?
Most can't imagine the level of persecution Christians face daily in other parts of the world. Is America next?
Click To Tweet
"Leah: Hero for Jesus" caused me to look headlong at what Christian persecution looks like. Groups like Voice of the Martyrs (www.persecution.com), United States Commission on International Religious Freedom (USCIRF) (www.uscirf.gov), and others share information each day about Christian persecution around the world. Until you experience it firsthand, you can only imagine what it would be like. Will we in America come to understand this more personally in the coming years? I believe we will indeed see religious persecution increase in frequency and intensity.
Ask friends in Australia and Canada who have had fences erected, pastors arrested and imprisoned, and armed officials enter their churches to arrest or fine those attending services. Yes, the growing threat has even come to the United States of America, a nation founded on the very principles of religious freedom. Ask those churches and church schools in California, Maryland, and other states police have shuttered.
February 19, 2022 will mark four years that Miss Leah Sharibu has been a prisoner, held by Boko Haram terrorists. For whatever reasons, the Nigerian government and other high-ranking leaders of the predominantly Muslim country have done little or nothing to secure her release.
The Leah Foundation continues to advocate for Leah's release. They will host a livestream virtual event with updates and encouraging words from Leah's global friends and supporters on Saturday, February 19th at 12PM EST (6PM WAT). You can click this link to watch the event.
#FreeLeah – Four Years a Captive – YouTube
If you would like to purchase a copy of the book "Leah: Hero for Jesus", you can purchase it in paperback or Kindle™ format at Amazon.com using this link.
https://www.amazon.com/Leah-Hero-Jesus-Real-Life-Sharibu/dp/0578979500
I humbly ask that on this day, you remember (tunawa) Leah, her family, and those who are holding her captive in prayer. If you share this post, please add these hashtags to help spread this message around the world.
#FreeLeah #LeahFoundation #StandUpForChrist #TunawaLeah
God's blessings,