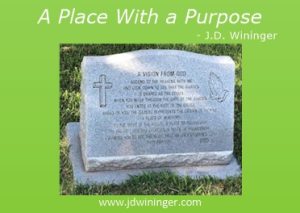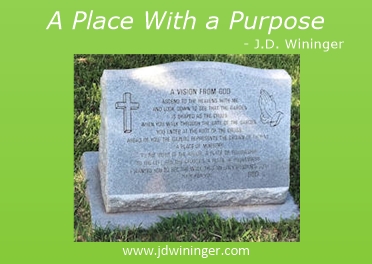 Do you have a favorite place to pray? Since starting the Cross-Dubya in 2013, I'm discovering new places all the time. Something else I'm discovering is how vitally important prayer has become in my life. My prayer spots each have a purpose; some shared, others unique. The common link to all of them is the connection I make with God.
One of my favorite prayer spots is the small hill near the western edge of the ranch. I find myself here often at dawn during the warmer months, sitting atop the hill as the cattle graze quietly around me. It is a wonderful gift to share a peace-filled few moments during sunrise with the "Father of lights" (James 1:17). In those moments, He reminds me He never changes. Overlooking the ranch, I come here when I want to bask in His glory and behold His majesty, as I praise Him for all His blessings in my life.
Another is sitting under the pine trees near the barns and listening for God in the soft breeze that refreshes my body and soul. I come to this spot when seeking answers and guidance. Beyond inviting God to come sit with me, often encouraging my pal Bubba to "scooch over and make room for God buddy", few words are spoken here. This place is where I listen for His direction in my life in response to requests I've made or things He wants me to do.
In the quiet pre-dawn hours that begin my day, I work through my family's Prayer List in my den, Bible at the ready. While some requests such as family, our church, the nation, my Christian writing friends, etc. are constant. The list expands and contracts as God addresses each one. Some take much longer than others, but in faith, I know He answers each in His will. Facing east, overlooking our north and south pastures, words can't describe the feeling as I lift my head from praying to see dawn breaking through the window.
A new place I discovered in the past year is off the reservation. I affectionately refer to it as "the Burden Lifter." This is the place I go to with my burdened heart and I need to unload my fears, sorrows, and hurts onto God. It is the Prayer Garden at our church. Tucked away from buildings, it's surrounded by a small fence, trees shrouding the garden with beautiful flora all around; it is a place of solitude and peace. Exquisitely maintained by a local company as a love offering, this special place seems designed as a place for every prayer need.
Sitting on a bench near the waterfall gives all a place for quiet meditation. To reflect upon the great price Christ paid for our freedom from sin is the crown-shaped gazebo. When a broken spirit needs healing, we can kneel at the crosses that symbolize how Jesus Christ was broken for our sins. A need to share with others in the fellowship of prayer may find you under the arbor. Seeking salvation? The old rugged cross stands ready to invite you to surrender all. Upon discovering this gem amid a bustling town, the inscription on the marker near its entrance helps you to understand why it is a consecrated place.
A VISION FROM GOD
ASCEND TO THE HEAVENS WITH ME
AND LOOK DOWN TO SEE THAT THE GARDEN
IS SHAPED AS THE CROSS
WHEN YOU WALK THROUGH THE GATE OF THE GARDEN
YOU ENTER AT THE FOOT OF THE CROSS
AHEAD OF YOU THE GAZEBO REPRESENTS THE CROWN OF THORNS
A PLACE OF MINISTRY
TO THE RIGHT IS THE ARBOR, A PLACE OF FELLOWSHIP
TO THE LEFT ARE THE CROSSES, A PLACE OF BROKENNESS
I WANTED YOU TO SEE THE WALK THAT MY ONLY BEGOTTEN SON
TOOK FOR YOU
GOD
What I love best about this new prayer spot is how the church made it available to everyone. They do not lock it away only for the members of the church. There is no sign-up sheet or reservation needed. Instead, the garden, like the gospel message itself, invites all who need to come.
At the heart of genuine prayer is a humble spirit seeking connection with its creator, God.
Click To Tweet
I hope you've seen there are many purposes for prayer, and there are just as many places (locations) where prayer can occur. If you're ever near the intersection of Jackson and Jefferson in Sulphur Springs, Texas, consider the Prayer Garden at New Beginnings Fellowship Baptist Church. Wherever you pray, remember that it's not about what you pray as much as it is about how you pray. Lost, broken, afraid, or alone; in whatever situation you need to pray about, seek God with a contrite heart and a humble spirit and He will meet you there.
God's blessings,

Please join me this Thursday evening at 9:30 Eastern as host Coach Mark Prasek and I take a trip Around the Cross-Dubya on PJNET TV. We discuss this week's blog post, offer insight about the lessons learned, and enjoy the fellowship of friends in the live chat room.