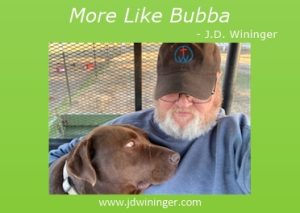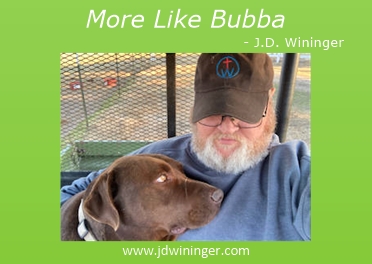 If you ever visit our Cross-Dubya ranch, there's one character you'll never forget, Bubba, the chocolate lab. He's our friendly, fierce, funny, and fluffy farm dog; and he constantly teaches me what my relationship with God should be like. Countless times, I've heard myself think or exclaim, "Help me be more like Bubba Lord." Please let me explain why.
I've heard folks say that dogs are just dumb animals, but this devoted and patient companion has taught me as much as all the theologians I've read or listened to. The simple truths Bubba's life reveals show me how I should live my life before God.
A Longing to be With His Master
Bubba's greatest desire, even more than eating, I think, is to be near me. He chooses to live his life at the threshold of the door leading to the garage. In fact, we have to ask him to move, to even step outside. Choosing to lay on an old mat with his rug tucked under him rather than his ventilated, padded dog house and shaded pen, you'll find him by the door. Bubba surrenders his comfort to be closer to me. When I see him there, I almost always think of this verse.
"O God, You are my God;
Early will I seek You;
My soul thirsts for You;
My flesh longs for You
In a dry and thirsty land
Where there is no water."
(Psalm 63:1)
Living a Joy-Filled Life

Perhaps my greatest joy comes when he gives me one of his famous "Bubba Smiles" during a tummy rub. Watching him chase a ball, aggravate the barn cats, or explore the yard and pastures; he finds joy in everything he does. I so want to live my life in Christ with wild abandon and complete joy.
I've wondered if Bubba lives such a joy-filled life because of the hope and love he's been filled with since we brought him here. Before we adopted him as a family member, he had been abandoned in the country as a small puppy. With a collar and no one who would claim him, our friends suggested he needed a home. They understood I needed a companion around the ranch after the loss of another stray we had taken in, Diogi (D-O-G). I think of one of my life verses whenever I see how he enjoys his life.
"Now may the God of hope fill you with all joy and
peace in believing, that you may abound in hope
by the power of the Holy Spirit." (Romans 15:13)
A Life of Doing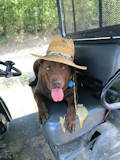 No matter what the weather is, if I'm going out to work around the ranch, I can depend on my "Number One Helper" to be there beside me. Well, he's there to encourage and inspire me. I've watched Bubba follow my tractor for an entire day as I'm plowing a field. He's logged countless miles, following me back and forth. He keeps a safe distance, and will make his way to the pond to go for a quick swim or get a drink. Keeping his eyes on me the entire time, I am never out of his sight.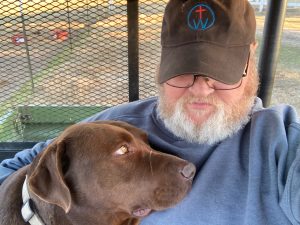 When I'm on the UTV, he climbs onto the bench seat beside me, wiggles his way under my right arm, and puts his head on my chest. Sometimes it seems that he can't find peace until he feels my heart beating. When I get off to put out hay, grab a tool, or repair a fence, he waits patiently for my return. And if I'm away for too long, he'll hop down and stand beside me. My buddy reminds me of this verse with every project we undertake.
"But someone will say, 'You have faith, and I have works.'
Show me your faith without your works, and I will
show you my faith by my works." (James 2:18)
He Rests in My Presence
Because Bubba chooses to live in the garage rather than in the custom doghouse I made him, when the temperature drops below freezing, I bring him inside with me. On those early mornings, I'll open the door and he follows me to the sofa in the family room. After starting the fireplace, I sit on one end of the sofa with a cup of coffee. Upon my command, he joins me there. Placing his head on my lap, he lets out a sigh and falls asleep. You can feel him relax at my ministrations as I scratch his ears or stroke his head. Honestly, I'm not sure who is at peace more in those moments.

Taking up two-thirds of the sofa, I often slip from under his head and make my way to the den for "God time." He continues sleeping under the warmth of the fire and seldom stirs when I come in for more coffee. I'll often walk over and give Bubba a pat as he snores softly. It's another opportunity for me to praise God for this life He has led me to.
As Bubba sleeps peacefully, head on my lap, I think of these words written upon my heart. They remind me of where my true rest comes from.
"My soul rests quietly only when it looks to God;
from him comes my deliverance." (Psalm 62:1, ISV)
A Life Surrendered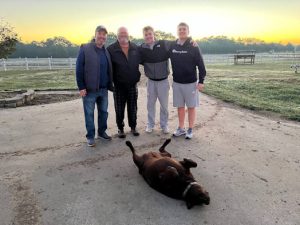 Anyone who has met Bubba can tell you his favorite pose is one of complete surrender. Within seconds of meeting you and sensing your goodness, he rolls onto his back, thrusts his legs into the air, and invites you to give him a tummy rub. In this most vulnerable position, I think about the trust he shows when I'm around.
Bubba reminds me that when I'm trusting in God and can feel His presence near me, I can completely surrender myself to Him. In this vulnerable position of trust, I am saying to God, Your will be done. My trusting friend reminds me of how constant this verse should be in my life.
"And those who know Your name will put their
trust in You; For You, Lord, have not forsaken
those who seek You." (Psalm 9:10)
Perhaps if we all thought less and trusted our instincts more, we could find a closer relationship with God.
Click To Tweet
My prayer for each of you this week is that you'll consider what lessons my furry pal might teach you through the way he lives His life. I'm convinced he is one of God's messengers, sent to bless my life and teach me to live out my life before God in complete trust and surrender.
God's blessings,

All scriptures referenced are the NKJV translation, unless otherwise noted.