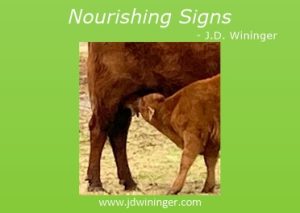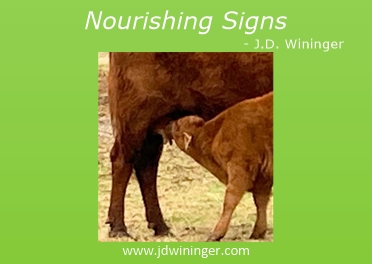 Has he or she made it to their feet yet? I wonder if they've nursed? Will they make it? All good questions; asked every time there's a new calf born here at the Cross-Dubya. Last week, "Ronaldo" the bull calf was brought into the world through an effortless delivery by his mama, "Giblets." Some may remember that last January, "Giblets" was the heifer (first time mama) who had a breached calf ("Maria Calabria") and then prolapsed, requiring emergency surgery.
I'm blessed to have witnessed over 90 percent of the new births here on our little ranch. While I wish I could tell you 100 percent of them grow up to wean and become replacement heifers, steers, or private treaty sales, I can't. An old adage in the ranching world is, "If you haven't yet, you're fixin' to"; meaning it is inevitable that calves or cows die. Disease, injury, predators, compromised immune systems, and sometimes seemingly no reason at all, ranchers will experience losses.
Watching a calf's birth is a wondrous yet nerve-wracking event. When calving, the baby should exit mama much like a diver entering the water. Its head is tucked between its front legs. The first thing I always watch for is two hooves, both facing down. That's a sure sign the calf is correctly positioned in the birth canal. A few minutes later and we should see the nose and mouth appear. A few more contractions and the head is out.
I watch for eye movement or its mouth to open but have to be patient. The next hurdle is for the shoulders to clear. Once that happens, the rest is normally "automatic". Of course, there's always a risk of hiplock if it's a large calf; but in my herd (and with my bull "Mavric"), there's very little risk of that happening. Once the hips are cleared, the rest of the birth takes seconds. After delivery, your first priority is ensuring the calf is breathing.
Usually, clearing their nasal passage does the trick. I've learned to always have a long piece of straw handy when it's calving season. There have been times when I've used my pinky finger, and once I even performed pulmonary resuscitation, but I wouldn't recommend it (ewww). Once the airway is cleared, I back away and let mama do her job. This means a half-hour of cleaning the baby and stimulating it with her rough tongue. While mama cleans it, and sometimes eats the amniotic sac and placenta, the calf lays prone as they explore the world around them.
Twenty minutes later (on average) the calf tries to stand. It's almost comical to see their first awkward attempts, but you can't help but cheer them on from a distance. As mama encourages them with soft sounds, they struggle to stand up, rear legs first, and then finding their balance, they're up. Once they stand, mama often noses them back down to the ground and the process begins all over. Is it intentional or being over-zealous? I'm not sure; but after a few attempts, the calf begins to naturally seek nourishment.
Somehow, most calves instinctively begin searching for mama's teat. They're not always sure where they're located, and mama helps coax them into position with her head. Once they're latched on, then I watch for wagging tails. I learned along the way that a nursing calf will wag its tail back and forth only when it is receiving milk. Of course, the mama has to let down her milk from her udder. When that doesn't happen fast enough, the calf begins punching her udder with its head. I always yell, "Hurry up Mama; I'm thirsty" when I see that happening. You haven't lived until you've had a calf suckle your finger, where they cup their tongue around it and begin sucking. I'm guessing they create about 10-inches (Hg) of vacuum.
When I don't get to experience the birth firsthand, it's usually only a few hours before I discover the new calf during a herd check. I always, even with calves I've watched nurse immediately after birth, check the quarters (the four teats from which milk is delivered) for the first few days. Seeing a depleted quarter, where the teat is less engorged and that portion of the udder is smaller than the others, ensures the calf is getting the needed nourishment.
The reason nursing early is so important is that calves are born without an immune system in place. They are extremely vulnerable to disease, and their stomach will only be able to absorb the needed antibodies during the first day or so. The nutrient-rich colostrum is produced by the mama for about the first five days immediately following calving. If the colostrum is not of high quality or the calf doesn't get enough, it almost always dies unless you intervene.
The most vulnerable herd members are the babes, in cows and in Christ.
Click To Tweet
While working with my ranch foreman, John, to tag and intra-nasally vaccinate "Ronaldo", I thought about how vulnerable new calves and new Christians are. Without the right nourishment, both calves and Christians can become weakened and unable to reach maturity. If the calf does not get the right nourishment, its chances of dying increase dramatically. If a new or immature Christian does not get the right nourishment, they cannot grow in their faith and reach a level of spiritual maturity needed to withstand this world.
Explained above, there's clear, visible signs that a calf is receiving the nourishment it needs to survive. But how can we see signs of new Christians receiving spiritual nourishment? The immediate answer is that we more mature Christians have to provide it to them. We do this in the form of discipleship. I've seen too many times through the years new Christians have their faith derailed because the church has failed them. Too often, upon their salvation, new Christians are given a Bible, Baptism Certificate, tithe envelope, and a seat in the back of the church. Learning to live as a Christian is, I assume, expected to happen via osmosis in those cases. Many church members suggest new Christians take a watch and learn approach rather than a walk with me and we'll grow together approach.
Few churches offer formal, qualified discipleship training today. In these cases, it's up to mature Christians to reach out and offer friendship, fellowship, and committed mentoring to these babes in Christ. God's Word calls each Christian to become both a disciple of Christ (Luke 14:26) and to make disciples of others (Matthew 28:19). Dr. Howard Hendricks (1924-2013), a long-tenured and much-loved professor at Dallas Theological Seminary, offers the most complete description about the importance of discipleship in a Christian's life. He wrote, "When a person makes a confession of faith and is never taken through a formal discipleship process, there is little hope of seeing genuine spiritual transformation." I have done my best to serve God as a disciple-maker in the past; and will continue doing so. There has never been an instance where, when a new Christian generally desires to learn and grow, I too have not grown in my faith.
Becoming a disciple-maker helps grow you as you help others grow.
Click To Tweet
Watching calves run circles around their mamas, "high-tailing" it everywhere they go, and playing with the other calves are great ways to see a young calf is doing well. It's not always that easy to see those nourishing signs in a new Christian. Some of the signs we can look for include:
Asking questions about scripture and what various verses and parables mean
Seeking help in how to read the Bible or learning to pray more effectively
Getting plugged into (participating in) various church missions, outreach, and other activities
Changes in character and habits that result from receiving spiritual gifts and evidence of the Fruit of the Spirit growing within them
It's important to understand that not all new Christians will want to grow in their faith, and few actually reach out for help. If we are careful to watch for signs of malnourishment, then we can come alongside them early in their struggle and help guide them in ways that works for them. Like calves, each new Christian is unique and has different personalities and needs. Finding the right person who can help is imperative and is always made possible with God's guidance.
I pray this week that each of us will look around for the one person in our church or community who needs a mentor and friend to come alongside them. Each of us is equipped by God for service to Him. Look for ways you can use your gifts to help someone in their journey as they struggle to find the spiritual nourishment they need.
God's blessings,