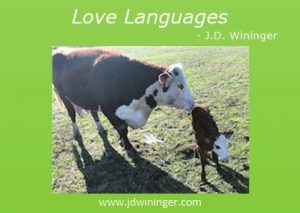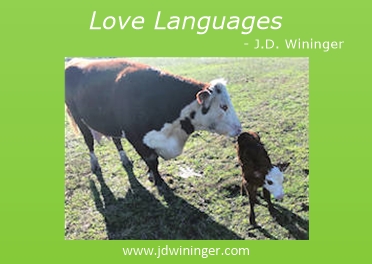 Who could have ever guessed the dusty old farmer was once a polyglot. What mysterious keys does his past hold to explain his multi-versed abilities? And how does Hugh Lofting play into this? Something I've noticed with all our barn babies is that love has a unique language.
A hot meal awaiting me when I come inside, a calf born, or kittens tucked under Bubba's tummy on a winter's night; the Cross-Dubya expresses love in many ways. One of my favorites is listening as a mama cow and calf share their unique love language from the moment of birth. As soon as a calf is born, mamas and their babies communicate; lowing a special song to each other as only they can. When introducing the new calf into the herd (The Welcoming), each cow shares its unique voice with the new arrival. A few weeks ago, I wrote about "Maria" (aka "Half Pint") and how I imprinted her; much the way God imprints us. I wanted to explore that with you a bit more today.
A blessing that semi-retirement and this viral pandemic brought is that I've been around when nearly every calf was born for the past two years. In that time, I noticed something that I suspect most ranchers never even consider. Each pair (mama cow and her calf) have a distinctive love language all their own. Their unique voice carries into adulthood; so much so that when a cow in my small herd calls out, I can often tell which one it is.
How many of you have already recalled verses from John, chapter 10? "To him the doorkeeper opens, and the sheep hear his voice; and he calls his own sheep by name and leads them out. And when he brings out his own sheep, he goes before them; and the sheep follow him, for they know his voice." (John 10:3-4, NKJV)
Has God imprinted His voice into your life?
Click To Tweet
As these verses raced through my mind, I realized how cow and calf create this same bond. It's why as calves get older, their mamas can call for them from across the pasture and they'll come running. They know their mother's voice. In the same way, when a calf cries out (even during the weaning process at six months old) only their mama lifts her head and comes to investigate. Isn't it comforting to know that God can pick out our unique voice when we call out for His help, comfort, and guidance.
How fluent are you in God's language of love?
Click To Tweet
Have you guessed who Hugh Lofting was yet? Before you Google™ it, he was the author of "The Story of Dr. Doolittle" in 1920; one of my favorite childhood books. Do I consider myself Doolittle-esque? Hardly. I do believe our animals understand love, compassion, kindness, and the other characteristics of Christ we exhibit in our lives. I pray that the people I meet do also; regardless of the language they speak.
Blessed with the ability to read and speak multiple languages in my life, one thing I can say for sure is that love is universal. Human, other mammal, or fowl, love crosses all barriers and overcomes all differences. First John 4:7-8 sums this up. "Beloved, let us love one another, for love is of God; and everyone who loves is born of God and knows God. He who does not love does not know God, for God is love." I pray you continue to find that unique love language that you and Christ alone share. As our Creator God, He is multi-versed and can create a love language that just the two of you can enjoy.
God's blessings,

Please join me each Thursday evening at 9:30 Eastern as host Coach Mark Prasek and I take a trip Around the Cross-Dubya on PJNET TV. We discuss this week's blog post, offer insight about the lessons learned, and enjoy the fellowship of friends in the live chat room.