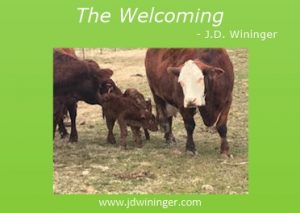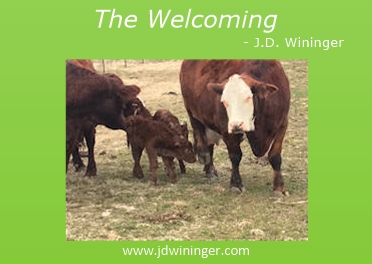 While the birth was as private as a wide open pasture can be in the early morning hours, the unwritten rules of calving among cattle fascinate me. Leave mama and baby alone for a bit and let them bond. Then, drop by for a social call, give them a lick, let them learn your voice and smell, then keep a protective distance. I call it "The Welcoming."
About an hour after her twins were born this January, the rest of the mamas made their way over to "Lulu Belle" one at a time and paid their respects. One by one, each cow stopped and spoke with mama. Then, as if they'd received her permission, they lowered their heads, lowed softly to each calf, smelled, rubbed on each one, and gave them a lick. Perhaps that's how cows kiss, but I've always seen this as a touching moment; as if they're saying "Welcome to the herd."
After their introductions, each cow moves away from the calf and gives the next in line the opportunity to say "Howdy." This can take a while, but it's something I've watched happen with every calf born here at the Cross-Dubya. Often, they'll settle within 30 feet; creating a protective circle around mama and her calf. After another hour passes, they'll start grazing and milling around again.
By this time, the new mama looks for a place to put her baby down and go off by herself to rest, feed, and recover for a few hours. It always tickles me how the mama will hide her calf; as she'll stroll around for 30 minutes looking for just the right spot. The wobbly little calf follows her around as fast as they can, then mama nudges them down, speaks to them, and goes her way. What mama cows don't realize is that they almost always give away the calf's location by stealing glances toward where they've hidden them.
There's been a few occasions when mama moves beyond earshot of their little calves. When that happens and the baby wakes up, often hungry, they'll call out to mama to no avail. More than once I've come upon a calf that has gotten separated from its mama and I'll carry them over to her. She'll often admonish them, but always gives them a lick and sticks closer to them for a while. Twice, I've watched other mama cows lead the calf over to its mama. That always touches my heart. To see an act of kindness in nature reminds me that God is in all of it.
God uses everything in His created world to teach us; even cattle.
Click To Tweet
While writing this post, my heart asked why we Christians don't treat new members of the body of Christ in the same way. Oh, we'll give them a pat on the back, a handshake, or a hug when they've accepted Christ; but then we often abandon them to figure out this whole being a Christian thing on their own. Friends, discipleship doesn't happen via osmosis. The Holy Spirit infuses and seals a new Christian for God, but as wonderful an instruction manual as the Bible is, it doesn't come with an easy-to-understand Table of Contents.
I can remember the moment of my salvation; of course the Bible was still on stone tablets back then. What I remember was the wonderful feeling of belonging and how peace and joy filled me. My next memories are thinking, "What do I do now?" I told my adoptive family—mom, dad, and my little brother Paul—and they gave me hugs. The next week, Mom and Dad presented me with a beautiful new Bible.
I knew I had to read it cover-to-cover, in one setting, but soon found myself filled with many more questions than answers. What did it all mean? Why were these funny-named people important to my salvation? They answered many of my questions with, "It's in the Bible, you'll find the answer there." What I understand these many years later is that the people I was asking most likely didn't know the answers themselves. So they did what some parent, friend, church elder, or pastor did to them; they "Prego'd" it.
I'm not suggesting that every new Christian has to enroll in seminary or take Theology 101 before they're allowed to attend church. Rather, I encourage each of us to look for opportunities to disciple new and immature Christians in taking those formidable first steps along the journey of sanctification. If you've got a formal discipleship program in your church, volunteer or ask how you might support it. If you don't, consider starting one. And please, don't limit your discipleship efforts to only your church or your congregation. God's word doesn't instruct us to become a secret society where we keep His good news among ourselves. He says in Matthew 28:19-20 that we are to "go and make disciples of all nations; and teach them all the things He has commanded" (paraphrased).
You don't have to attend seminary or have a theology degree to disciple others.
Click To Tweet
Lastly, I want each of us to consider how we can do a better job of discipleship within our own families. I'm looking in the mirror sternly as I say this. If nothing else, I pray you'll remember this lesson from my cows the next time you're blessed to see the miracle gift of salvation given upon someone. Give them a little time to bond with their Father (in this case) and then come along, welcome them to your herd, and help guide their development.
God's blessings,

Please join me each Thursday evening at 9:30 Eastern as host Coach Mark Prasek and I take a trip Around the Cross-Dubya on PJNET TV. We discuss this week's blog post, offer insight about the lessons learned, and enjoy the fellowship of friends in the live chat room.