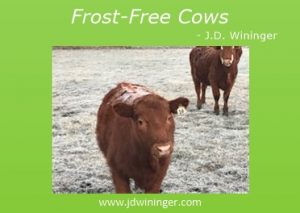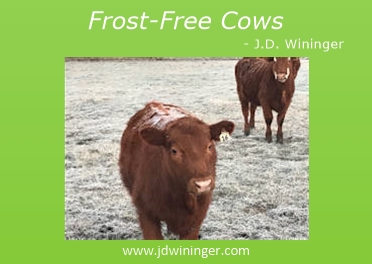 As "Giovanni" (aka "Prince Fuzzybutt") trotted over to mooch a cube from my hand on this frosty morning, his back's thick layer of frost reminded me of an important lesson. When heavy frost or ice covers the ground, it's a great time to assess your cattle's overall health. That same principle can apply to gauging our spiritual health.
During my first winter with cattle, I learned not to worry if they have frost or ice on their backs that doesn't seem to melt. Cattle are most comfy when the outside temperature gets down to around 40 degrees. While we're reaching for jackets, hats, and gloves at 40⁰F, ruminant animals are just getting comfortable. There are two reasons for their comfort in cold temperatures. The first is they have a very thick hide/carcass; covered by a thick layer of winter hair. This keeps them well-insulated, which explains why the ice or frost on their back doesn't affect them. The cold can't penetrate their hide.
The second reason is the heat generated by their rumination maintains their internal temperature. That's why they'll have ice on their back, but not their sides or stomachs. I learned this is a good way to gauge a cow's overall health in the winter. In understanding how my frost-free cows tell me their body condition and overall health, I also discovered how this principle applies to our spiritual health.
We live in a cold, dark world; and if we're in good condition on the inside, we can withstand the cold world all around us.
Click To Tweet
If a cow has a good body condition score (BCS), their stomach's four chambers are working properly, and they're in good overall health, they can comfortably withstand colder temperatures. They handle temperatures approaching the teens with little difficulty when they're prepared for it. When we expect the temperatures to drop below freezing, there are several things we do to protect our cattle.
Provide shelter from the wintry winds as much as possible.
Give them straw or hay to lie on, insulating them from the ground.
Feed late in the day or early evening, so they bed down for the night with a full tummy. This keeps their internal furnace stoked, so it's working through the night.
While this works well for mature cattle, young calves (whose rumen is not fully working yet) have much more difficulty regulating body temperature. I can't say this about every cattle herd, but my adult cows move their calves atop hay stubble and create a circle around them in the pasture. When they move them into the barn on freezing or wet nights, they do the same by placing them on hay against the interior walls and then creating a barrier, or windbreak, for them with their bodies.
Watching how my cows care for their young reminds me of how important it is for us more mature Christians to help protect younger/newer Christians from the ravages of this world. We must come alongside and help insulate them from the hostile environment we sometimes face.
Before we can help others, we must first make sure our spiritual health is ready to weather the coming storm. We can do this by spending time in God's word, through confession and prayer, and enjoying the blessing of fellowship with other believers. While all are important, I think the act of fellowship; wherein we support, edify, encourage, and help one another is an often overlooked aspect of spiritual growth. Proverbs 27:17 plays an important role in Christian fellowship.
"As iron sharpens iron, so a man sharpens the countenance
of his friend." (Proverbs 27:17, NKJV)
When we fellowship with other true believers, we should endeavor to hold each other to the standards of morality and Christian behavior that Christ exhibited here on earth. Key to this is doing so with mercy, grace, and humility as Christ taught.
I pray each day that God helps me become the Christian man and friend that I, and others, can rely upon. With His help, I can grow to become a strong, vibrant man who can withstand this cold, dark world and help others in their trials.
How well prepared are you to withstand the coming storm?
Click To Tweet
God's blessings,

Please join me each Thursday evening at 9:30 Eastern as host Coach Mark Prasek and I take a trip Around the Cross-Dubya on PJNET TV. We discuss this week's blog post, offer insight about the lessons learned, and enjoy the fellowship of friends in the live chat room.