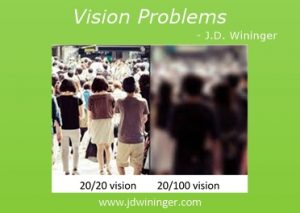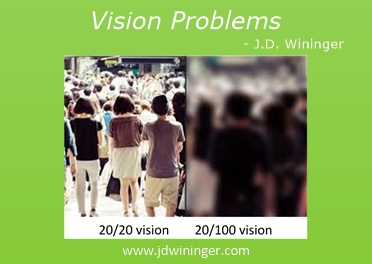 In late 2017, my cataracts matured to the point I required surgery. A year earlier, my eye doctor told me I was developing cataracts in both eyes. I took the news in stride, thinking I had a few years before I needed any corrective action. Boy, was I wrong! In less than a year, my vision in my left eye had deteriorated to worse than 20/100; and my right eye was around 20/70. When the young lady administering the eye test introduced glare (such as oncoming headlights at night or looking into the bright sun), they were even worse (20/200).
When that realization hit me, I thought about how many months I'd been driving at night and how much of a struggle to do everyday things became. My world changed because of my poor vision. I could no longer drive (day or night), and it was nearly impossible to read. I found I had to close my left eye to see well enough in the right one to sort of see my pastor's face on Sunday mornings.
In what seemed like less than 15 minutes in the operating room, Dr. Kiblinger performed the procedure to remove my cloudy natural eye lens. He replaced it with an intra-ocular lens, which immediately improved my vision when I removed the shield and bandages a few hours later. I'll never forget how dramatic the change was; colors were more vibrant, everything was clear, and I could see to read with no need for eyeglasses. When I closed my right eye, which still had a cataract, I could see even better!
I learned how proteins deposited on the eye's lens causes a cataract to form, which over time clouds the lens and results in impaired vision. I also learned there are different cataracts, based on where on the lens they are located. Mine were posterior, which explained why I had so much trouble whenever glare entered my field of vision. I thought about how those deposits had built up on the lenses of my eyes over years and years—until reaching a point I could no longer see. My cataracts took many years to form, and the changes to my vision were gradual. I didn't even notice the small, incremental changes until they affected my life. I started thinking about how living in this world can allow sin and ungodly things to buildup in your life.
Each time you allow this world to enter your thoughts and distract you from your Christian walk, I wonder if it leaves a little trace of worldliness on your soul. Over time, this buildup of leftover sin can lead to a less satisfying walk with our Lord. Is it me, or have others experienced the lingering effects of lust, greed, jealousy, gossip, anger, hatred, or all those little white lies that can't hurt anyone?
Have you ever sat in a worship service and the pastor drones on sounding like Charlie Brown's teacher? For the life of you, you can't remember what his sermon was about an hour after you left church. Can I be the only one this has ever happened to? Ever try to read your Bible and you just can't understand the message from the verses? So you read them through again, and still can't make sense of them.
I believe when we let this world control our thoughts; we lose focus on our Christianity. In time, if enough sinful trace deposits are left behind, they could build up to the point you just quit trying to serve God. You skip evening services, and then you find you are just too busy to make church every Sunday morning. Then you blame the church itself for letting you down. You hear, then say, "they're hypocrites, I don't like being told I'm sinful, there's 'Sister Bertha Better Than You' with another of her weekly praise reports", on and on. Soon, you become what I refer to as a "two-timer"; you only show up on Easter and Christmas.
Has your Spiritual Vision become blurred?
Click To Tweet
Don't think this could ever happen to you? Well, it's happened to me in the past, and I dare say it happens to more Christians than we would like to think. Our Spiritual Vision becomes impaired because our souls become so polluted, the Holy Spirit becomes less and less clear to us.
To protect against our this, I prescribe three things:
Prayer—Ask God to forgive your sins and restore your clean heart. One way to do this is following 1 Thessalonians 5:17.
Repentance—Attempt to change yourself and ask God to help remove whatever sinful habit has taken root in your soul.
Study—Study God's Word daily and ask for the Holy Spirit to impart His wisdom and understanding to you.
I pray for your good health, improved Spiritual Vision, and continuing growth in your faith in our Lord.
God's blessings,

Please join me each Thursday evening at 9:30 Eastern as host Coach Mark Prasek and I take a trip Around the Cross-Dubya on PJNET TV. We discuss this week's blog post, offer insight about the lessons learned, and enjoy the fellowship of friends in the live chat room.