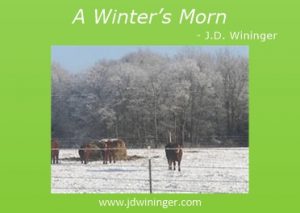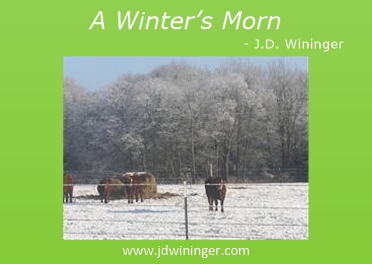 Heading out to feed on a snowy morning, my tears froze on my cheek as I reveled in the beauty and peace of God's world. Bubba the chocolate lab and I drove along the frontage road between pastures as we felt God's presence descend upon us. The light dusting of snow covering the pastures, the snow nestled in the boughs of the Bois D'Arc, oak, and cedar trees made a picture-perfect setting. I think what struck me most was how quiet and peaceful this scene was.
On most days, as soon as the garage door goes up, I'm greeted by a cacophony of moos and brays as the animals remind me it's their feeding time. Like humans, they too are creatures of habit and don't like change. If I sleep late or spend longer in my "God time" than normal, Magic the donkey, Bianca the heifer yearling, or another will sound the alarm. This morning, there was silence.
Not an eerie silence caused by an unexpected cessation of sound that alarms you, but a peaceful silence that begged "Come and sit with me." As I stopped along the pathway to take in the moment, Bubba laid down, placing his head in my lap. Switching the key off, the silence enveloped us. No birds chirping, no livestock calling, no sounds of tractors or automobiles in the distance. Instead, there was a peaceful, rest-inducing silence.
I felt like God stopped the world for a few moments just so He could spend them with me. Have you ever felt like you are the center of God's attention and love? Oh, what a wonderful feeling that is. I call those moments Heart Hugs; and through the years, I've become addicted to them. Addicted to where I yearn for them; looking for every opportunity to tune out the world and tune into God.
Do you look for opportunities to tune out the world and tune into God?
Click To Tweet
Closing my eyes and giving myself to the moment, the tears flowed. That often happens when God comes near. I describe those heart-hugging tears as God squeezing the world out of me. After only a minute or two, I opened my eyes and wiped the near-frozen tears from my cheeks with gloved hand. In that moment, I felt God reminded me of how much He cares for me; and He wished me a peaceful day filled with His love.
How peaceful are our mornings? Do we awake in a tizzy or do we start the day with calm and peace? How about how we end them?
Click To Tweet
I pray each of you look for those opportunities to let God pause the world and remind you of how special you are to Him. It will leave you feeling refreshed, recharged, and better able to face the day that comes. For it is when we keep His peace at the forefront of our lives, that He lives out the words of His Son in John 14:27.
"Peace I leave with you, My peace I give to you; not as the world gives
to I give to you. Let not your heart be troubled, neither let it be afraid."
(John 14:27, NKJV)
God's blessings,

Please join me each Thursday evening at 9:30 Eastern as host Coach Mark Prasek and I take a trip Around the Cross-Dubya on PJNET TV. We discuss this week's blog post, offer insight about the lessons learned, and enjoy the fellowship of friends in the live chat room.