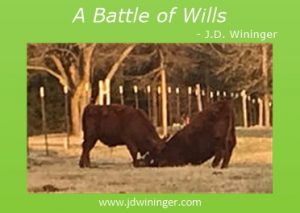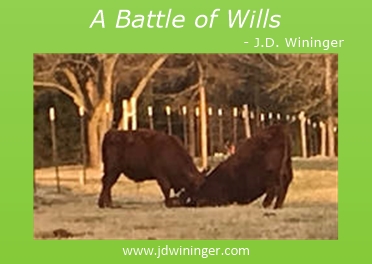 A game of chess? Yes; in its own bovine sort of way. Something I've always enjoyed is watching cattle test one another. Starting when they're just calves, cows engage in what I'm told is "Bulling"; a game of strength and strategy. What starts out by placing their heads against one another often turns into a battle of wills, to see who is more dominant. The amazing lesson I gained from watching my yearlings showed how similar all of God's creatures can be.
Taken one evening while doing rounds, "Lorenzo" and "Rocky" (pictured above) had been grazing and playing all day long. After all, it's what yearlings (think teenagers in human terms) do. Born within just a week of one another, they are both around 800 pounds and of similar stature. On this late winter day, it appears these two steers bulled one another over a patch of early clover. Watching them bulling one another reminded me of the internal struggle we face every day as our spiritual nature battles with our human nature.
When cows bull one another, the bigger and stronger of the two wins, but that can change. What I've discovered is that the winner isn't always decided by the biggest and strongest, but the most cunning or perceptive sometimes. With the two knuckleheads pictured above, the edge (this time) went to "Rocky." Not because he had superior strength, but because he had, perhaps by happenstance, superior intellect.
The object of bulling among cows (I think) is to see who is most dominant. The winner is declared by the surrender of their opponent. This often happens, as depicted in this timely photo, by pinning the opponent's head to the ground. After a few seconds of being forced into a submissive position, the loser gives up and walks away.
The same thing happens in us. The Apostle Paul wrote of the constant battle we have with our sinful human spirit and the indwelling Holy Spirit in Romans 7 and 8. This battle of wills (our human free will and God's will for us) is best explained in Ephesians 6:12; "For we do not wrestle against flesh and blood, but against principalities, against powers, against the rulers of the darkness of this age, against spiritual hosts of wickedness in the heavenly places."
So how did "Rocky" get the advantage and the victory over "Lorenzo"? Watching them bulling each other for 10 minutes, it was very much a draw. After tearing up the soft ground with their hooves, neither of them seemed to have an advantage. Then, "Rocky" did something most uncharacteristic for yearling steers. He engaged in a fierce struggle with his cousin "Lorenzo" and during the battle, heads pressing hard against the other, he shifted to one side.
With all the force and energy an 800 lb. "Lorenzo" had put into moving forward, you can guess what happened. Yep! His front legs buckled, and he fell flat on his face. "Rocky" quickly seized the advantage and pinned his buddy's head to the ground. When he let "Lorenzo" get back to his feet, they both wandered off in different directions. Neither enjoyed that little patch of clover, but I'm certain I saw a little swagger in "Rocky's" walk for the next day or two.
The lesson God showed me was that when I battle temptation, I often attempt to do it under my power. More often than I care to admit, the result is that Satan wins. The Holy Spirit reminded me that the liberty I have in my salvation is that I don't have to fight these spiritual battles alone. My free will ensures I can choose to step aside and call upon the power of God to fight the battle (bull with the devil) for me.
Our Christian Liberty allows us to use our free will to turn to God rather than fighting alone.
Click To Tweet
I'll date myself perhaps, but one of my favorite movies (when I used to go to theaters) was "Michael", starring John Travolta. As I thought about what God was showing me, this scene from the movie was flashing through my mind. While Mr. Travolta's portrayal of Michael the archangel is a far different interpretation than that of Daniel 10:13, it's an apt depiction of spiritual warfare.
Satan delights in engaging us in a bulling contest because he is bigger and stronger than we are when we stand alone. So the next time you're bulling with temptation, remember to take a tip from "Rocky" and step aside and let God take control. God wins every time, if we let Him fight for us.
God's blessings,

Please join me each Thursday evening at 9:30 Eastern as host Coach Mark Prasek and I take a trip Around the Cross-Dubya on PJNET TV. We discuss this week's blog post, offer insight about the lessons learned, and enjoy the fellowship of friends in the live chat room.