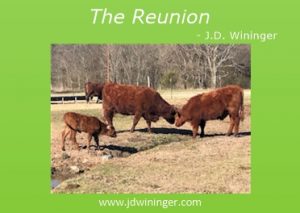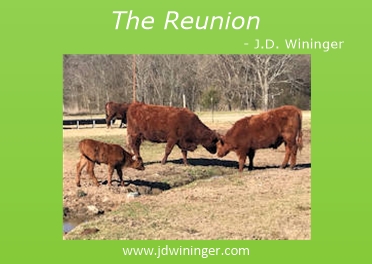 Replacing the entire south fenceline required me to place all our cattle in the north pasture. Able to separate the donkeys and "Bianca" (my yearling replacement heifer) in the feedlot, I moved the mamas, calves, and "Mavric" the bull, into the north pasture. They would share that pasture for just a few days with my yearling steers. This kept everyone contained, safe, and allowed them to graze free of worry or concern.
That was, until the bovine version of the Irresistible Force Paradox ensued. I watched as the irresistible force met an immovable object (or is that im-moo-vable) and it played out before my eyes. After getting everyone moved, I checked on the water situation. With no pond in the north pasture, I rely on 100-gallon stock tanks to water the cattle. With each cow drinking 10-20 gallons per day, I knew they would need refilling multiple times each day.
Some of you might remember my post about bulling (A Battle of Wills) from earlier this year. When my yearling steers realized their serene pasture was being invaded by others, the bulling began. While no one argues with "Mavric", who tips the scales at over 2,000 lbs., the others had to establish their superiority. This is where it got interesting.
Shown in the photo are "Zia Louise" and "Giuseppe" (mama and son) meeting after seven months apart. Bulling to establish superiority is common, so it didn't concern me too much as mother and son were bulling near one of the water tanks. What surprised me was how suddenly "Louise" stopped during battle and intently listened. It became apparent there was something familiar. She lowed out her mother's call; and just as quickly, "Giuseppe" stopped. They recognized one another and the love fest began.
No nursing of course, he was weaned, but no more head-butting, circling, etc. Not long after the moment of recognition, she and her son were nuzzling one another. As she licked him as mamas do, she called over "Homer", her two-month-old calf, and seemed to introduce the brothers. During those few days the cattle were all together, I always saw those three near the other. And when one of the other yearlings would attempt to bull "Homer", big brother "Giuseppe" (the largest of my yearlings at over 900 lbs.) stepped in and stopped it.
I'd never seen that before, but it made me stop and wonder what it is going to be like upon heaven's upward call. Will we recognize old family ties by their looks, sound, or smell? I doubt it. I think we'll just know. Will I instantly be aware of the Father's physical presence? I don't know, but I'm sure looking forward to that reunion.
What will our heavenly reunion be like on that Day?
Click To Tweet
I sometimes allow myself to wonder about what my eternal life will be like. As much as I look forward to experiencing eternity with my Creator God, there is a natural apprehension of the unknown. I'm certain I will inherit a glorified body, but do not know what to expect from that. They'll be no sickness, pain, death, sorrow, etc.; but what age will I be? What job will I do? Will I be a scribe or blessed to tend God's cattle on a thousand hills? Whatever it is, I'll be with our Lord, so I know I'll be happy.
Many other questions may enter my mind, such as; will I know my saved family members from here on earth? Will there even be family differentiations? There are many things about heaven and eternity I am not supposed to know. Isaiah 55:8-9 is sufficient for me to accept that my finite mind cannot even imagine all that our infinite God knows. This, my friends, is called faith. Because God's word has proven true and steadfast through the ages, my faith allows me to believe His future promises for His dear children.
Until that day, I wait with great anticipation for my journey home. I can't wait to see each of you there.
God's blessings,

Please join me each Thursday evening at 9:30 Eastern as host Coach Mark Prasek and I take a trip Around the Cross-Dubya on PJNET TV. We discuss this week's blog post, offer insight about the lessons learned, and enjoy the fellowship of friends in the live chat room.