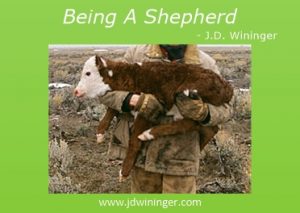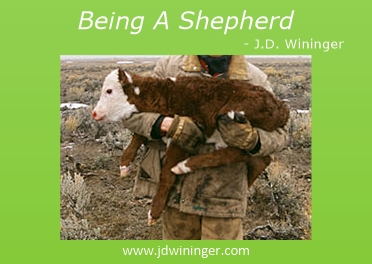 "Maria Calabria's" first day of freedom was amazing; until it wasn't. Some of you may remember my social media posts about "Half-Pint" (her nickname), the breached calf I rescued and cared for after her mama's prolapse. Having bottle fed her for over a week, it was wonderful to see her and her mama bonding. I kept them separated from the rest of the herd in the barn and feedlot for three weeks. My goals were making sure "Giblets" (her first-time mama) was allowing her to nurse freely; and that "Maria" would listen to and follow her. Reassured they had their act together, I opened the feedlot gate and little "Maria" experienced her first taste of freedom.
She ran, jumped, played, explored, was welcomed by the herd, and napped with the other calves (her cousins and uncles) all afternoon. I fed evening rations because it would be near freezing this night. The cows and calves all made their way to the bunk feeders (the cows ate the feed while the young calves nursed their mamas). I noticed "Half-Pint" had fallen behind and was calling out to her mama. That's when I drove up and as soon as she recognized my voice she came running with glee. I hadn't realized until that moment how I had imprinted her by cleaning, warming and handling, and feeding her when she was first born.
I picked her little 65-pound body up and cradled her in my arms as I started carrying her to where "Giblets" was eating. Walking across the pasture, she pressed her head against my body. Was it the warmth of my jacket, or the warmth of the emotion we shared? Either way, we were both happy. When I set her down near her mama, she turned to me for one more head rub and licked my hand. She stood, looking to her mama, then back to me. I reached down and guided her underneath mama; and knew all would be okay.
Overwhelmed by the affection this calf shows toward me—more than the others—the words of John 10:27 came to mind. "My sheep hear My voice, and I know them, and they follow Me." To this day, she comes running whenever I call her name or am feeding. Most calves are naturally shy and keep a safe distance until they're weaned. Not "Maria Calabria." She comes over, nuzzles my leg; and if I don't rub her head or bend down and take her face in my hands, she'll tug on my pants leg with her mouth.
Do we rush to get close to God each day?
Click To Tweet
I can't tell you what a humbling feeling it is, as an old guy with no children around any longer, to have someone love on you. When she cradles herself in my arms, or stands beside me as I scratch the underside of her chin, my heart melts. Do you think God feels the same way when we come to Him in love and adoration? I wonder; is He imprinted upon my soul?
Do I love God as much as He loves me?
Click To Tweet
As the Cross-Dubya's "caretaker", I put my best effort into every aspect of farming and ranching. Giving my utmost to care for both the land and livestock God has blessed us with is a form of praising God. I recognize that it's much less about what I do, but what God does through me. Whether mundane or excitement-filled, each chore and activity has the same goal, to honor God and His blessings upon us.
I pray you'll reflect upon how much God has imprinted Himself onto your life this week. Do you instinctively run to Him or does He have to chase you around to come visit?
God's blessings,

Please join me each Thursday evening at 9:30 Eastern as host Coach Mark Prasek and I take a trip Around the Cross-Dubya on PJNET TV. We discuss this week's blog post, offer insight about the lessons learned, and enjoy the fellowship of friends in the live chat room.