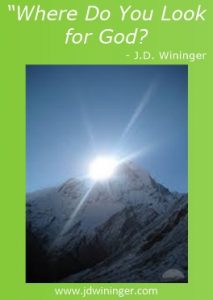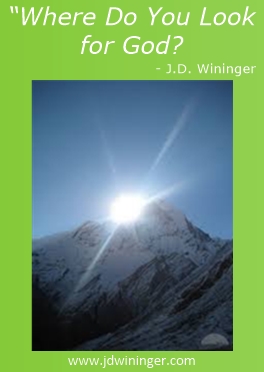 "Be still and know that I am God." (Psalm 46:10, NKJV). These are the words that came to me one Thursday morning while driving to my client's offices up in Utah. Staring out the window, trying to deal with the daily traffic reconfiguration through the work zone, I couldn't help but notice the beauty that lay before me. There were the Wasatch mountains, with the Great Salt Lake off to my left, and the desert beyond it. I couldn't help but stare out at the beauty of God's creation—alive with its greens and browns and grays.
This particular morning I remember asking God to guide me in how I was to get everything done needing to be completed before I returned home. And as He has always done, He answered. On this day, He answered in spectacular fashion. Driving toward my turnoff to go to Hill Air Force Base, God revealed Himself to me in the form of the most spectacular sunrise I have ever seen. That morning, I watched as a bright white light welled up behind the mountain pass and emerged between two peaks with such radiance that it literally caused me to gasp.
Not the bright orange ball that we so often see at sunrise, but a peaceful yet ever so strong brilliant white light. As if this amazing sight wasn't enough, the F-16 fighter jets screaming overhead were suddenly silent; in fact there was no road noise, no traffic, not even the radio. Without question, I knew that this was a heavenly light.
I've seen many sunrises and sunsets in my life, and I can't think of any two that were identical. This always reminds me why I call God the "Painter of all life"; as he has an endless palette from which He draws. All I heard was my heart saying; You seek me, yet I am with you always. Somehow over the years, I've forgotten that as a Christian, I am commanded to be a beacon of Christ's love.
I am directed to be a disciple for Him with whom others see the example of perfection that Jesus gave us during His time here on Earth. I'm far from perfect, and will never achieve that goal in in this life. Yet, I pray that when the Day comes, I hear these words; "Welcome home my child, In you, I am well pleased."
What struck me on that hectic, thought-filled morning was how I fail to recognize God in my surroundings every day. And worse, how I fail to praise Him and thank Him for being such a steadfast presence in my life. I'm grateful God loves me enough to gently remind me of His love, caring, and presence in my everyday life. I think God takes great delight in showing up when we least expect it. James 4:8 says; "Draw near to God and He will draw near to you."
So how can we draw near?
Click To Tweet
The quick answer to this question is Trust. The key to finding God requires us to take the first step. We have to make the decision to seek Him with our hearts, our minds, our words, and our actions every day. As Moses stated in Deuteronomy 4:29; "But from there you seek the Lord your God, you will find Him if you seek Him with all your heart and with all your soul." To do that, we must trust God enough to invite His presence into our lives each day. We must trust Him to guide us throughout the day.
God's blessings,

Please join me each Thursday evening at 9:30 Eastern as host Coach Mark Prasek and I take a trip Around the Cross-Dubya on PJNET TV. We discuss this week's blog post, offer insight about the lessons learned, and enjoy the fellowship of friends in the live chat room.