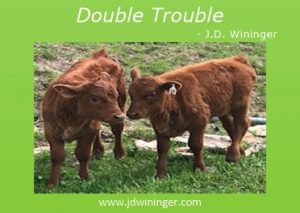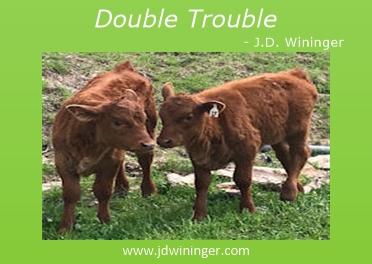 What in the world is going on out there? I asked myself that question as I poured another cup of coffee. On a foggy gray morning, God doubly blessed our Cross-Dubya ranch with its first set of twins. As remarkable as that was, even more amazing was He gave us twin heifers, "Emma" and "Rose".
Having read "For the Love of Emma" from Mrs. Starr Ayers to my wife Diane while she was ill, when I shared the news she immediately knew their names. Named after the principal character in the book, they share their names with Diane's mother (Emma Mosconi) and aunt (Rose Montalbano). In both cases, their names fit their personalities. One is daring and adventurous; the other timid and reserved.
While twin calves are uncommon (estimated to be 1 in 200 births or 0.5%), having two of the same sex is even more rare. The most common occurrence is one of each sex; about 85 percent of the time. That results in a special problem in that almost always, the female will be infertile (aka a freemartin).
When I realized "Lulu Belle" had just birthed twins on the bank of the pond, my day shifted into overdrive. Twin calves, while a blessing, present its own set of special challenges. Yes, we get a bonus calf (if they live), but it doesn't come free. Besides them being underweight, which makes them more susceptible to disease and environmental challenges, there are other potential problems. We monitor twin calves for signs of developmental problems, deafness, and other physical issues. I'm most grateful that God brought us two amazing little gals.
Many times, a mama cow will forget she has twins and abandon one. She may not produce enough milk to sustain two nursing calves. Her body condition can deteriorate; and if she can nurse two calves, she'll most likely not breed back the next year. Because of these risks, ranchers have tough decisions to make. Some choose to pull one calf off early, cull the freemartin, etc. I exercised my faith. After I saw them interacting with each other, I knew they would stay together. They'll wean together and they'll both have an equal chance at success.
It hasn't always been easy, but to see these two pal around with each other as they do brings great joy. My decision is worth the extra effort. While each has their unique personality traits, it's clear they are siblings. Almost identical, I think it would be impossible to tell them apart without their ear tags. Until one of them wanders off on her own and gets into mischief. I'm not saying which one, but I yell "Stop that Rosie" far more than anything else; except maybe "Get back on this side of the fence Giovanni!"
Watching my pretty little calves one evening, I wondered if I made the right decision about them. God brought James 1:5-8 to mind.
"If any of you lacks wisdom, let him ask of God, who gives to all liberally and without reproach,
and it will be given to him. But let him ask in faith, with no doubting, for he who doubts is like
a wave of the sea driven and tossed by the wind. For let not that man suppose that he will
receive anything from the Lord; he is a double-minded man, unstable
in all his ways." (James 1:5-8, NKJV)
Double-mindedness. Oh, how often I find myself in that situation during my journey in faith. I awaken each morning thanking God for another day. Spending my first waking moments in prayer, study, and fellowship with God, I start my day walking in faith. Then the world creeps in. Telephone calls, emails, conversations, news and events; they all tear away at my joy and peace to separate me from my faith.
Satan's primary goal is to separate man from our faith and trust in God.
Click To Tweet
When I slip up and say or do something worldly, Satan is quick to jump onto my shoulder and whisper, "See, you can never do this. Your faith is weak and worthless." Sometimes I reach over and flick him away with a word of prayer. Other times, I let him become an earworm that keeps pecking away at my spiritual armor until he saturates my mind with his fear, uncertainty, and doubt. When that happens, I ask myself if I will ever develop the self-control, reliance on faith, and courage of conviction to withstand the temptations of this world.
That's when God whispers in my heart; "Your mistake was thinking you can develop all those characteristics of My Son in you. You can't; I can, and will, as you learn to trust Me more." With that gentle, loving reminder, the instability of my faith lessens. I grow stronger in my faith each time I allow God to come alongside and lead me through the trial.
I pray you also seek to trust God more with each passing day.
God's blessings,

Please join me each Thursday evening at 9:30 Eastern as host Coach Mark Prasek and I take a trip Around the Cross-Dubya on PJNET TV. We discuss this week's blog post, offer insight about the lessons learned, and enjoy the fellowship of friends in the live chat room.