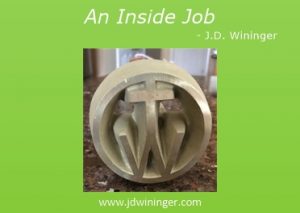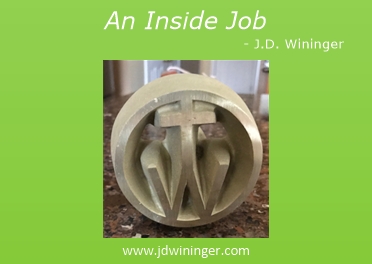 Here in cattle country, a brand means something. More than identification or a marketing tactic, a man's brand denotes what he stands for. Here at the Cross-Dubya, and in my Christian writing, it means we put Christ first in everything we do. It's reflected in the way we seek to honor God through caring for the land and animals entrusted to us. You see it in the way we treat folks when they come for a visit and how we try living our lives with a focus on Him.
In June, I posted about what it means to Ride for the Brand; and used my friend Mr. Red Steagall's wonderful poem to illustrate this phrase. At weaning time, a few weeks ago, we branded the first calves who are full-blooded Cross-Dubya. Some of you may recall, we made our freeze brand decision as it's a more humane method of permanently identifying our cattle.
Besides freeze branding causing an animal much less pain, it also has "cleaner lines" (a more well-defined impression) that makes for easier viewing. While it takes longer to apply a freeze brand than hot branding, the time investment is worth it when we consider all things. We branded on weaning day so we accomplished multiple tasks with minimal handling. Each calf received another round of vaccinations while we branded them. The steps we followed were:
Securing them in the squeeze chute for their safety and ours. This cattle handling system allows access to the animal while keeping them still and comfortable.
We worked on both ends at the same time; giving subcutaneous vaccines in their neck while they shaved their left hip with clippers. Shaving the area where we apply the brand allows better contact between their hide and the branding iron.
Next, we clean the area with a 99% alcohol solution and wipe it clean.
Another spritz of alcohol to keep the ultra-cold branding iron (around -250⁰ F) from sticking to the hide, and we apply the brand.
It's important to closely time how long we apply the freeze brand. In reading and talking with those more experienced, I determined 35 to 37 seconds was the optimal time.
After removing the branding iron, we tap the hide to ensure it feels hard like an ice cube while the surrounding area remains soft.
We then un-squeeze the calf and let them out into their separated pasture to begin the shared-fence weaning process.
If we've done our job right, my red cows (Hereford, Angus, Saler, and Braford), should sport their distinctive brand in a few months, when the hair grows back. Freeze branding changes the color of the animal's hair to white without preventing hair growth. This effect occurs by freezing the hair follicles where the cold iron contacts the cow's hide, causing the hair to grow without pigment. When the hair returns, it is colorless (appearing white.)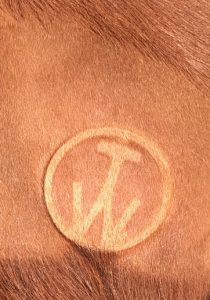 For now, the three-inch brand appears as an imprint while the changes are happening on the inside. As the calf grows, so will the brand; getting as large as eight inches in diameter when mature. As noted in Step 5, it's important not to leave the iron on too long. Doing so kills the hair follicle, which results in no further hair growth. You would do this on white-pigmented animals; leaving a darkened brand when the white hair around it grows back.
In the noisy days and nights that always follow weaning, as the mamas and babies cry out to each other, I had lots of time to think and pray. I often ask God what lessons He wants me to learn through this experience. He always shows me how my walk with Him on this little ranch is His classroom for my life. It is at the Cross-Dubya ranch that God performs His most challenging work in my life; sanctification. Here's a few of the lessons He taught me.
Upon my salvation, God branded my heart. He sealed me through the Holy Spirit as His adopted son. But He's had to put me in His squeeze chute (the crucible of His refining fire) more times than I care to admit; keeping me safe while He worked on me.
For some of us, our stubborn human nature results in God having to refine us more often than others; to remove all the dross of this world.
Click To Tweet
Like freeze branding, while the results will show on my outside, the work of sanctification happens on the inside. Like my calves' hair follicles, God is transforming me from the inside out. My brand shows what He's done IN my life; not TO my life. It takes time for God's brand to show its best in my life.
Our outside shows the world what God is doing inside us.
Click To Tweet
The weaning process, removing the calf from its mother's milk so it can grow faster and stronger on more substantial food, is the same for us Christians. We will cry out for the sinful life we had in the past at first because it is what we know and become accustomed to. But like a mama cow, God stands close to our shared fence to reassure us as we work to take those first steps in true freedom. When we cry out in fear and despair, He tenderly nuzzles us and tells us it will be alright if we just trust Him. In time, we mature enough we can graze alongside Him in heaven's pastures.
God doesn't leave us alone during our transformation. He cares for His children.
Click To Tweet
I pray you find that special place God has reserved as your spiritual classroom. In that setting, you'll be amazed at all He wants to teach you. The secret is always being willing to listen for, and to, His voice.
God's blessings,

Please join me each Thursday evening at 9:30 Eastern as host Coach Mark Prasek and I take a trip Around the Cross-Dubya. We discuss this week's blog post, offer insight about the lessons learned, and enjoy the fellowship of friends in the live chat room.