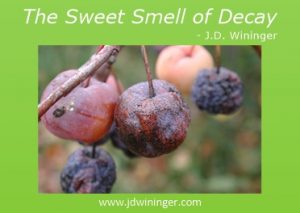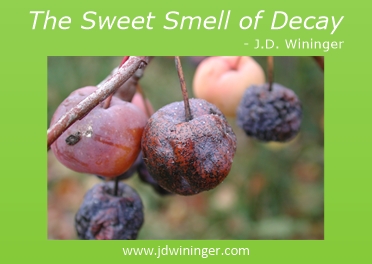 Mowing the grass one summer evening, I'm gripped by the sweet, pungent smell wafting through the air. Pushing forward on the levers, I encourage my mower to move quicker toward the aroma. It's captivating. The fragrant bouquet of pear, apple, and honey draws me to its source. Our Papple tree stands majestically behind my workshop; reaching nearly 25 feet into the air.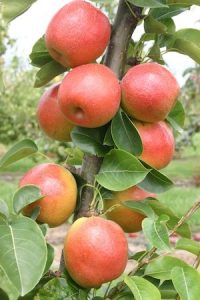 As I mow underneath the tree, I'm distracted by the sweet smell. With the blossoms replaced by fruit months ago, and knowing the fruit won't ripen until the September-October timeframe, I'm puzzled. Nearing the tree's north side, where its branches are thickest, the smell intensifies. Looking up from my seat, I find the source. A rare summer storm has broken a fruit-laden branch. Without the needed nourishment from the tree's trunk, the branch and its fruit have withered and died.
Shutting down the mower, I walk to the workshop and retrieve my loppers. Cutting away the broken branch, I remove it from the tree and put it on my burn pile. I'm captivated by the intense, sweet smell of the browned and rotting fruit. I reach toward one of the still whole fruits and place it in my hand. With only a gentle squeeze, it liquefies in my hand. And while my hand now smells delightful, I can't wait to wash the vile, disgusting, rotting material from them.
The Holy Spirit reminded me that Satan's temptations always appear sweet, appealing, and pleasant to our human senses. Often, it is only after it has captured us we realize the truth. The enticing aroma of sin is DECAY.
How sweet can temptation smell; until you discover it's rotting inside?
Click To Tweet
Reflecting upon this experience, I thought back to the many times in my life when the sweet smell of temptation entrapped me. Oh how wonderful 30-year-old single malt scotch smells; and slides down my throat so smoothly. I know I shouldn't, but the young lady smiling at me is captivatingly beautiful. I can't help but steal glances longer than I should. If I take credit for the team's effort, they'll never know and it will enhance my career. How many of these thoughts have you had in your life? I think we all have. Our DNA is ingrained with the allure of temptation; it's a part of what it means to be human and have a carnal human spirit.
In praying about these thoughts, God showed me how the sin isn't having these thoughts; all humanity does. The sin is not exercising the spiritual gift of self-control and giving into the temptation. Each day, Satan bombards with temptations of all kinds. It seems he knows our weaknesses and can present just the thing that preys upon our vulnerability. The Apostle Paul gave us wise words when he wrote Ephesians 6:12.
"For we do not wrestle against flesh and blood, but against principalities, against powers, against the rulers of the darkness of this age, against spiritual hosts of wickedness in the heavenly places." (Ephesians 6:12, NKJV)
Ephesians 6:12 reminds us that the battle with sin is not a worldly one.
Click To Tweet
How do we strengthen our resolve? In what ways can we increase the effectiveness of our self-control? For me, the answer has been by not relying on self at all. Instead, I rely on the Holy Spirit to strengthen me to defend against the temptations that want to entice me into sin. My most effective tools in learning to strengthen and use the spiritual gift of self-control in my life are surrender and prayer.
I try to surrender control of my thoughts to the Holy Spirit each day. This allows Him to serve as an early warning sensor; to sound the alarm in my soul when temptation approaches. When, with His help, I identify the forthcoming opportunity to sin, I stop and silently pray for God's strength to resist. I've failed too many times in my life to think I can resist on my own. My primary life verse has become Philippians 4:13; because I understand my only chance to survive the onslaught of worldly temptation is through His strength and not my own.
I pray the next time the sweet smell of decay beckons you, you recognize it for what it is. When you do, surrender to the Holy Spirit's leading and pray for His strength to help you resist (James 4:7).
God's blessings,

Please join me each Thursday evening at 9:30 Eastern as host Coach Mark Prasek and I take a trip Around the Cross-Dubya. We discuss this week's blog post, offer insight about the lessons learned, and enjoy the fellowship of friends in the live chat room.