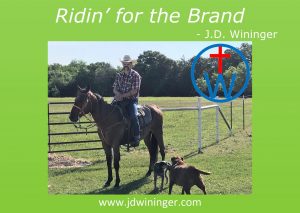 If you ask someone to explain it, you'll get as many answers as the people you ask. I suspect few of you have ever heard this phrase; it's one I hold very dear. We are nearing weaning time for the first calves bred, born, and raised here on the Cross-Dubya ranch; and for me (its caretaker), that's a special blessing. With our own sire, healthy dams, and lots of love and care, the commercial cattle we produce exemplify our brand. So much so, this is the first year I'll be freeze branding the calves.
Here in cattle country, a brand means something. More than identification or a marketing tactic, a man's brand denotes what he stands for. Each man's brand is unique. Here at the Cross-Dubya and in my Christian writing, it means that we put Jesus Christ first in everything we do. That means the way we seek to honor God, the way we treat folks, and the way we honestly deal with them.
From a marketing perspective, a company's brand brings recognition to the product they make or service they provide. Some of the best-known brands in the world are the Nike swoosh, the golden arches of McDonald's, and the expressive cursive of Coca-Cola. You see the brand, and your brain conjures up words and images that you link with that brand. When people see our Cross-Dubya brand, Ms. Diane and I pray they think of words like honesty, integrity, quality, truth, love, caring, and friendship.
A few years ago, I came across a poem written by Mr. Red Steagall. Some know him as a prolific songwriter, author, and entertainer. Others know him as a champion of all things western heritage. I've never had the honor of meeting him, but when I think of Mr. Stegall the words Christian, American, cowboy, and integrity come to mind. Someday perhaps, be it in God's will, I can add the word friend to that list. His poem, entitled Ride for the Brand, stirred up many thoughts within me. Chief among them was how "the brand" is about much more than what I represent, but who.
In the words of this poem, I came to understand how my personal and professional life reflects upon my brand. My words and actions not only reflect upon me, but my family, employer, and whom I have sworn allegiance to. Like a family's coat of arms or crest, my brand reflects upon my adopted mom and dad, who sacrificed to give their children the very best opportunities they could provide. My brand reflects the values and sense of morality my parents instilled in me. Most of all, I pray it reflects my Savior; for whom I ride these days.
Whose brand are you riding for?
Click To Tweet
Have you considered how your words and actions reflect upon others? I wonder if those rioting, looting, and destroying of late have considered how they represent their family, community, nation, and themselves.
As a Christian, one particular verse has been both condemning and convicting for me these past few months. Second Corinthians 5:20 (NKJV) reads "Now then, we are ambassadors for Christ, as though God were pleading through us: we implore you on Christ's behalf, be reconciled to God." If I represent God in this world, then what I say and do in every moment of every day will impact His kingdom and His gospel message. I've hit my knees several times to ask forgiveness for how I've ridden for His brand in things I've said and done in this old life.
The way we ride for our brand tells the world a great deal; not only about ourselves, but whom and what we represent. After hearing Mr. Steagall's poem, I thought how God led me to design the Cross-Dubya brand; and how it represents so much more than this little ranch in northeast Texas. Throughout this week, I pray you'll consider what your brand says about you and everyone it represents.
God's blessings,

I invite you to listen to Mr. Red Steagall, the Official Cowboy Poet of Texas, recite his poem Ride for the Brand here: https://www.youtube.com/watch?v=iAa9MQAVMdU