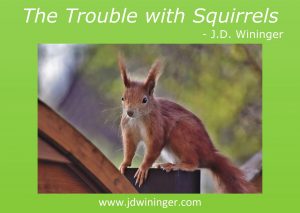 With all the challenges our nation and world is facing, I decided that today I wanted to make someone smile. Here's my attempt. There's been so much rhetoric, hatred, self-loathing, and sincere insincerity of late I wanted us to just take a break from it for just a few minutes. Moving hay from the field to the barn, a family of squirrels on my dusty country road amused me. Mom and dad were busy trying to harvest for winter, while their kids (not sure what you call juvenile squirrels) just wanted to play tag and chase each other in and out of the trees that line the roadside. A smile appeared as I remembered this story.
There were four churches and a synagogue in a small town: Presbyterian, Baptist, Methodist, Catholic, and a Jewish synagogue. Each church and the synagogue had a problem with squirrels.
The Presbyterian Church called a meeting to decide what to do about their squirrels. After much prayer and consideration they determined the squirrels were predestined to be there and they shouldn't interfere with God's divine will.
At the Baptist Church, the squirrels had taken an interest in the baptistery. The deacons met and decided to put a water slide on the baptistery and let the squirrels drown themselves. The squirrels liked the slide and, unfortunately, knew instinctively how to swim so twice as many squirrels showed up the following week.
The Methodist Church decided that they could not harm any of God's creatures. So, they humanely trapped their squirrels and set them free near the Baptist Church. Two weeks later the squirrels were back when the Baptists took down the water slide.
But the Catholic Church came up with a very creative strategy. They baptized all the squirrels and consecrated them as members of the church. Now they only see them on Christmas and Easter.
Not much was heard from the Jewish synagogue, but it's rumored they took one squirrel and circumcised him; and they haven't seen a squirrel on their property since.
Now that you've had a good laugh (I hope), let's look at the real problem with squirrels. How many times have we seen squirrels flattened on our streets and roads? Ever wonder why you find more squirrels in that condition than any other animal? I believe it's because they're the most timid and indecisive creatures roaming this earth; and I have to wonder if God made them that way for a reason.
Think about the last time you saw a squirrel attempting to cross the road. They stand on one side; then start across boldly. Then they hesitate and stop; then they start heading back from where they came. Next, they change their minds and start crossing again; then they stop again. In the meantime, you keep driving straight towards them at 35 miles per hour.
Second Timothy 1:7 (NKJV) reads; "For the Spirit God gave us does not make us timid, but gives us power, love and self-discipline." Perhaps Paul wanted to share with young Timothy that sometimes it seems Christians become squirrel-like in their walk with the Lord. Their thoughts are sincere, but their actions are timid. With unsettled thoughts, they cannot trust the urgings to move forward that comes from within their very souls. He encourages Timothy to be bold in his faith.
How sqiurrel-like has your walk in faith become?
Click To Tweet
In these troubling times, how many of us seem to have one foot in the Lord's house and one foot in the world? We want to be good, upright Christians, but we succumb to the sensationalized news, partisan politics, and divisive worldly things that draw us into their state of mind. How often do we choose to be politically correct or culturally sensitive in our speech rather than speaking the truth of God's word with conviction, courage, and love? Our intent may be to show a softer side than the fast-becoming prevalent far left and far right extremist views that divides us. The result is what James refers to as double-minded; "he is a double-minded man, unstable in all his ways." (James 1:8, NKJV)
I believe we are living in the end times as described throughout the Bible. More and more signs point to the increasing frequency and severity of these birthing pains (Matthew 24). Like squirrels, sometimes we timidly let sin just keep rolling straight towards us; and we become too paralyzed by our own indecisiveness to get out of its way—ending up "flattened". The time has come for us to search our hearts and decide whose kingdom we shall serve. I know it's difficult to always apply the spiritual fruit of self-control, as it seems we're always at war against our human spirit. We won't always do or say the right thing. Yet, we should always seek that goal. God sees our hearts and rewards our efforts to live out our faith.
God's blessings,