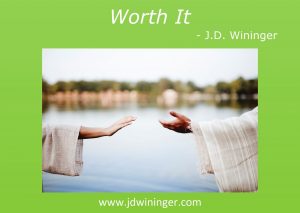 Recently, the son of one of my all-time favorite entertainers released a song that seemed tailor-made for me and our little Cross-Dubya ranch. Ned LeDoux wrote this song as a tribute to his grandfather, a Wyoming cattle rancher named Mr. Bud Rhoads. The song, titled "Worth It", spoke to me the first time I heard it; and has become the unofficial theme song of our Cross-Dubya Ranch. More, it personifies my life.
There is one line of the chorus that touched deep in my soul. "It's a tough job to do, but it gets done; and it's worth it." With that phrase, I had to pause and thank God for all He's done. It caused me to look back upon my life and recognize how even before I was saved, God was watching over and guiding me. Becoming the man I am wasn't always easy. There were lots of hard lessons to learn; lots of challenges to overcome. I look back upon them now and I can see how God was faithful to me long before I became faithful to Him.
As a little boy, I survived mental and physical abuse to become a tough-minded, independent young man. God knew I needed a firm resolve to face the life He planned for me. Through an adopted family, I found love and acceptance. Without these influencers, I wonder how I would have ever found my way to Christ. In the military, I drew upon my life experiences, and a lot of faith, to not only survive but excel and grow into the man He wanted me to become. In college, God helped me develop the knowledge and skills needed to act upon my convictions, values, and morals.
Throughout my professional career, I see how the trials faced and lessons learned formed my leadership abilities and managerial skills. In my personal life, I look back upon my rebellious attitude toward God and the trials it caused, and I can see God's presence throughout. Like Joseph perhaps, God used the hardships in my life to prepare me for what was to come. At the end of my life's greatest trial to date, I learned my most important life lesson; to let go and let God. In surrender and acceptance of His will for me, I found the peace, joy, and rest needed to take the next steps.
I've learned over many decades of struggle, strife, and trials that we must sacrifice what is comfortable and safe to make room in our lives for new. God can't fill us with new if we won't surrender the old inside. Learning to let go is a tough process, but an important step in growing in our faith. If you feel God is leading you toward something new, then trust Him in faith to guide you into it.
What are you willing to surrender to achieve God's plan for your life?
Click To Tweet
God has tempered my spirit through years spent in the crucible of fiery trials. Throughout this journey of sanctification, I have faced many trials from Satan and tests from God. In each, God has patiently taught me how to surrender my will for His. These lessons will continue until that day when I am called home. I'm not sure what my job in heaven will one day be. I hope it's helping to tend the cattle on a thousand hills in heaven. As I move toward that day, I remind myself of Paul's words; "I press toward the goal for the prize of the upward call of God in Christ Jesus." (Philippians 3:14, NKJV) I am certain God will have me well-prepared.
When I look back upon the battle scars of my life, I can see how surrendering my life to God's plan has brought amazing blessings. I have a loving wife who is a helpmate and who challenges me daily to be a man worthy of her love and devotion. Our Cross-Dubya ranch will never be a profitable enterprise, but the rewards of peace, grace, and growing in our faith far surpasses the investments we make. God repays each scar and muscle ache many times over with ministry opportunities, lessons learned, friendships, and God's love. Is all the sacrifice worth it? You bet!
I pray for your strength to reach out, take God's hand, and let Him lead your life.
God's blessings,

You can listen to Mr. Ned LeDoux's song "Worth It" by clicking this link: (https://www.youtube.com/watch?v=uqbQAjoam0U).