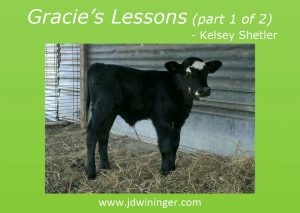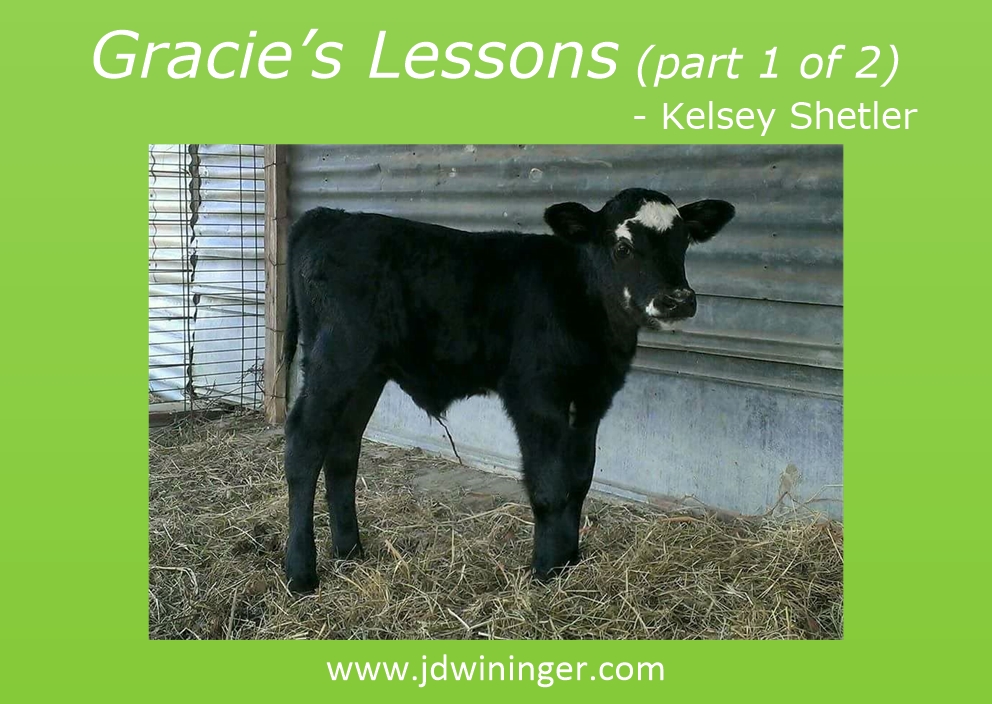 For the next two weeks, I am honored to share my blog with a wonderful young lady who I'm proud to call both friend and a sister in Christ. Miss Kelsey Shetler owns the KLS Cattle Company nearby, producing high-performing commercial cattle and breeding stock. With her extensive knowledge of breeding and artificial insemination (AI) practices, she specializes in developing high-quality club/show calves. Following her active involvement in showing cattle during her school years, she has taken her love for these animals and turned her passion into a successful business venture. With specialized breeding techniques, sires and dams selected for desired gen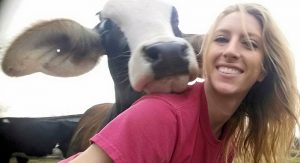 etics, and lots of TLC, Ms. Kelsey brings out the best in every animal she raises.
Her grandmother encouraged her to share the story of "Gracie the open cow" with me recently; and it touched my heart. I hope it does the same with each of you.–J.D.
Here's her story:
Gracie was the first calf out of Maybelline, one of my favorite cows. Out of low birth weight Angus bull, she was born weighing 71 pounds. I had heard wonderful things about this AI bull and was excited to get a calf sired by him. Maybelline calved with no difficulty, and I was pleased to have a first time calf weighing that much. I had never liked calves to weigh less than 60 lbs. when born because they just don't seem to grow well. Gracie was a sweet, cute, spunky calf and seemed to grow just as fast as the rest. Until she stopped. She grew to about 700 lbs. and then she just quit growing.
Nothing had changed in her life that warranted her growth stoppage; it was perplexing. Cycling normally for her age, I bred her. After setting her up; she had a heat, and I bred her through AI. Nineteen days later, another heat cycle. The breeding didn't stick. I put her with my yearling Angus bull, Branson, and let him breed her off a natural heat. And breed her he did, every month, for a year. And every month she'd come back in heat.
At first, I thought it could have been Branson's youth or operator error from his inexperience, but as the year went on, I realized he wasn't the problem. She was. This was disheartening because I never had problems getting my cows bred. I tried, with no success, to AI her a few more times. I put her with a different bull (Remi, my other Angus). No change. She cycled like clockwork; and every time, the boys did their job. I discussed this problem with several cattlemen. They all said "sell her", that she was a "cull cow", that she'd "never breed", but I couldn't bring myself to do it.
I love cows, but I breed, raise, and sell them for profit—not as pets. Not understanding why, I just couldn't bring myself to give up on Gracie and sell her. Sure I liked her, but I wasn't as attached to her as some of my other cows. I felt I shouldn't give up on getting her bred.
I started praying about it; Why God? Why is she not getting bred? What is wrong with her? Why won't she just stick? As months passed and she got older, I wondered if I made a mistake in keeping her. I mean, it wasn't a "money smart" decision to keep an open cow because, like several cattlemen had told me, I'd just be losing money. She slowly grew more, reaching almost 900 lbs. Yet she still wasn't getting bred. Over 27 months old and never bred; most of my cows would have already calved their first calf by that age. I considered giving up on her.
In what ways does God speak into your life?
Click To Tweet
I continued praying; asking God what He was trying to teach me through the situation. He began speaking to me; showing me how I was like Gracie. It would have made sense for God to have given up on me when I wasn't as far along in my walk with Him as I should be. I fail Him often but He never gives up. He believes in me. He sees my potential. It would have been way easier for Him to just move on to someone else, someone better, easier to work with. He chose me! The words of John 15:16 kept ringing in my ears.
"You did not choose Me, but I chose you and appointed you that you should go and bear fruit, and that your fruit should remain, that whatever you ask the Father in My name He may give you." (John 15:16, NKJV).
No matter how many times I do something and I mess up, God never stops believing in me. NEVER! No matter how long it takes, He'll always be waiting for me to succeed. God always gives me the opportunity to be who He has called me to be. And though I may not be there yet, He knows I can and sees my potential. He gives me chance after chance.
How does God's faithfulness bring you peace?
Click To Tweet
A verse I hold dear in my life is Lamentations 3:22. In it, the prophet Jeremiah spoke of God's faithfulness to His chosen people. "Through the Lord's mercies we are not consumed, because His compassions fail not." (Lamentations 3:22, NKJV) As Jeremiah points out in his writing, even though God had chastised the people of Israel by destroying Jerusalem, He did not destroy its people. God is merciful to those who love Him. He is faithful to complete His promised work of sanctification in our lives (Jeremiah 29:11 and Philippians 1:6).
Learning how God was always faithful; and that God would always be there to help me grow in my faith was a wonderful lesson. I was so encouraged by God's truth; amazed at what He showed me through a cow. Cows are my passion and it amazed me how God would show me His love by using something meaningful to me. He uses different tools and methods to teach different people. For me, it was a cow named Gracie.