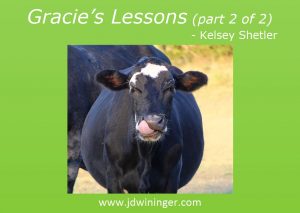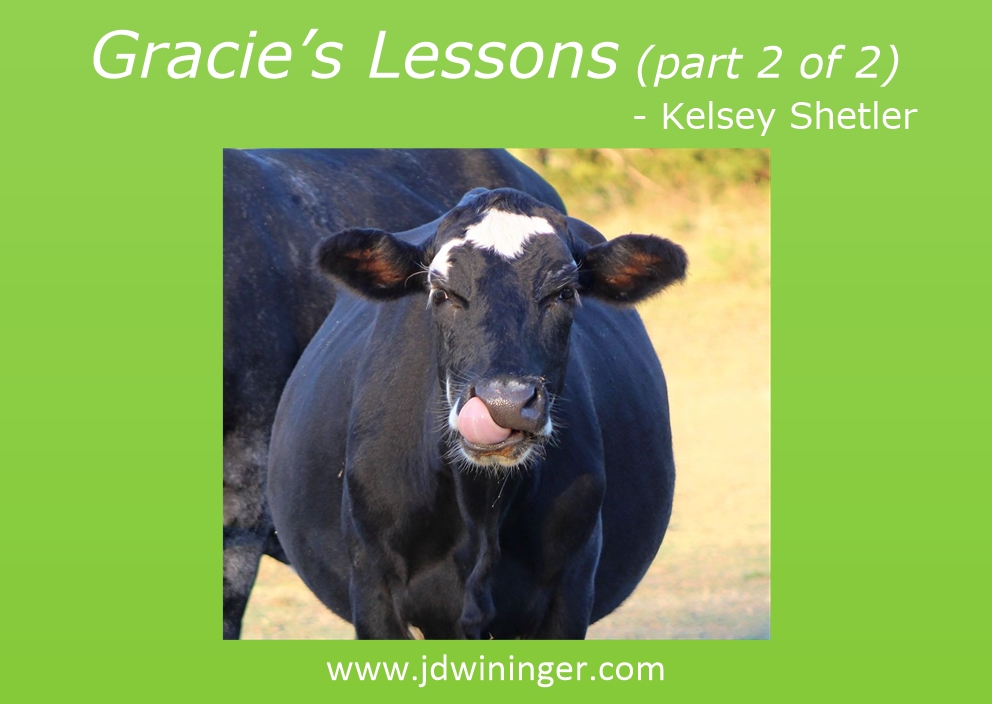 Last week, I introduced y'all to my friend Ms. Kelsey Shetler. This week brings, as Mr. Paul Harvey used to say, "the rest of the story." Seeing young people like Ms. Kelsey make a positive difference in this world and honoring God encourages me. To see the results of the love and devotion poured into them by parents and grandparents is a special blessing. I pray more people like this young lady rise to become our nation's future leaders. God's blessings. –J.D.
Now here's Part Two.
I chose the name Gracie because I liked the way it sounded. But after God used her to show me the truth about His faithfulness, I dug deeper into its meaning. Gracie is a derivative of the word "grace". What is grace? The Oxford Dictionary defines it as "the free and unmerited favor of God, as manifested in the salvation of sinners and the bestowal of blessings." Through grace, God manifests His power. In 2 Corinthians 12:9, Paul wrote "And He said to me, 'My grace is sufficient for you, for My strength is made perfect in weakness.' Therefore most gladly I will rather boast in my infirmities, that the power of Christ may rest upon me."
I don't have to be ashamed of my weakness for I can boast in the Lord. His grace is the reason I've come as far as I have. God's grace is the reason I will keep becoming who He wants me to be. I can't do it on my own. All I have to do is to let Him work in and through me. He'll meet me wherever I am and carry me forward. When we fall short of where He has called us to be, He forgives our sin. With forgiveness, He gives us another opportunity to continue in our walk with Him. While learning the lessons of grace God was teaching me, I discovered many scripture verses I hold dear in my life. These include:
"In Him we have redemption through His blood, the forgiveness of sins, according to the riches of His grace." (Ephesians 1:7)
"And God is able to make all grace abound toward you, that you, always having all sufficiency in all things, may have an abundance for every good work." (2 Corinthians 9:8)
"Let us therefore come boldly to the throne of grace, that we may obtain mercy and find grace to help in time of need." (Hebrews 4:16)
Nothing is an accident. God took over two years to show me this truth. He patiently waits as long as it takes for us to open our hearts to Him, to receive what He has to teach us. God never gives up on you. As I applied these lessons in my life, I saw Gracie as a blessing rather than a burden and disappointment. Each time I saw her in the pasture, it was a reminder of God's grace and mercy in my life. But it didn't stop there. Just as God has extended His grace and mercy to me, He was also leading me to extend that grace toward others.
People have failed and disappointed me many times in this life. God never has. I have also learned that the world will always fall short of my expectations. As I grew in Christ, I began extending grace to others with the same hope and expectation God had shown me. God taught me to extend to others the same expectations I had for Gracie, not giving up on her. God was teaching me not to give up on others in my life either. Instead, I learned to pray for them, in hopes they become all He has called them to be.
Grace gives us the strength we need to continue growing in Christ.
Click To Tweet
It's been said many times that God will not move you out of a certain situation until you have learned the lesson from it. I believe that to be true. One day, I realized something had changed. I had stopped focusing on what a failure Gracie was and began looking at the bigger blessing that having her open had produced in my life. Each time I looked out in the pasture and saw Gracie, I thanked God for not giving up on me. I would ask Him to help me not give up on others, rejoicing in the fact He was still doing a work in both them and me. Every time I'd see that "open" cow, I'd thank God for His faithfulness.
So often, we humans have in our own minds what is best, but what we think is best is not always what God wants to give us. If we let Him take control, we get His best, which is way more than anything we could have dreamed. I had learned the lessons of faithfulness and grace, receiving a larger blessing from Gracie than having her get bred right away could have produced. In learning God's lessons, I found great inner peace. When I stroll across the ranch, watch the sun setting across the pond, visit the cows, scratch Betty's ears, or play with Zayd, I connect with God. I find Him in all of His creations; and when I seek to be with Him, I find wonderful peace in Christ.
The next month, Gracie didn't have a heat. I sent off a blood pregnancy test and got it back a few days later; she was pregnant! I can't tell you how excited I was! That's when God's next lesson arrived. Never give up! Whether you call it tenacity, long-suffering, perseverance, or patience, learning to wait on God's timing brings reward. You may not know when the reward or change will come, but if you keep pressing on you will reach the goal, be it in His will and His time.
Patience is a fruit of the Holy Spirit. I came to understand how the spiritual fruit God produces in my life must mature before I can yield a harvest for Him. God used Gracie to teach me another important lesson. I was awestruck when I realized how God had brought His promises to life in me. "And let us not grow weary while doing good, for in due season we shall reap if we do not lose heart." (Galatians 6:9, NKJV)
Patience teaches us that God's best comes in His time, and is worth the wait.
Click To Tweet
God used that special, beautiful cow to help me grow closer to Him and stronger in my faith. I am moved to tears when I think of how He cares so much, and how He so wants to show us His great love. The length He went to reach me tells me I won't give up on you. Don't give up on others. And don't give up on yourself. In the past five years, Gracie has delivered multiple strong, healthy calves. I think of her often and thank God for how He used her to teach me such important lessons. For the rest of my days, I will echo the words of the Apostle Paul; "I press on toward the goal to win the prize for which God has called me heavenward in Christ Jesus." (Philippians 3:14, NIV)
I pray each of you embrace the lessons God wants to teach you, in whatever form those might come in. Let us live out the word of 2 Peter 3:18; "But grow in the grace and knowledge of our Lord and Savior Jesus Christ. To Him be the glory both now and forever. Amen"