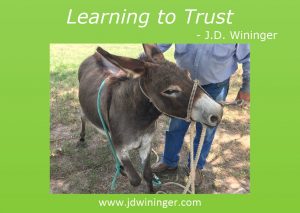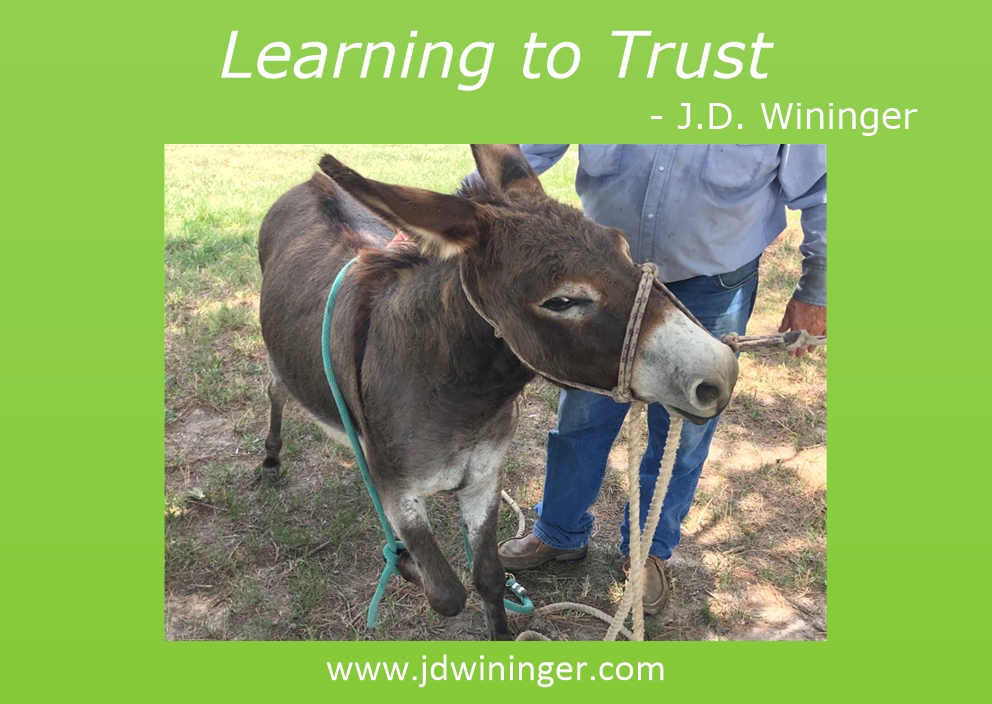 Every six to eight weeks, Bubba and Ryan, our farriers, come out to inspect the hooves on our donkeys, Magic and Elpis. When Magic, the "old man" of the duo, requires trimming, he gives his feet to them easily and enjoys a comfortable pedicure. Trimming Elpis, who is new to this whole process, is not yet as easy. In her defense, being handled, much less trimmed, is a new experience.
Social animals, when a donkey bonds with their caretaker, they become best of friends. Until then, their cautious nature requires lots of patience and understanding as they develop trust. When Elpis arrived here at the Cross-Dubya last year, it was two months before she would let me touch her. After six months, she finally trusted me enough to take a treat from my hand; before, I had to lay it on the ground and move away. Another month and she allowed me to place a halter on her. Two months after that, it was time to introduce her to hoof care.
A donkey's hooves differ greatly from a horse. Finding a farrier who understands this is important. The donkey uses the front of their hooves more than a horse and must be trimmed differently to maintain proper alignment and balance. Maintaining foot and hoof health, our farrier helps ensure they can walk, run, and play with more comfort. Long or untrimmed hooves are a major cause of stumbling and can cause great discomfort and lead to injury. In the wild, horses and donkeys almost never need trimmed because they walk or run everywhere. Kept equines normally spend their days in confined spaces with soft soil and grassy pastures, resulting in less hoof wear.
When the day came for Elpis' first trimming, Bubba and Ryan knew they were in for a long morning. Ryan (his apprentice) and I followed Bubba's lead as he used his many years of experience to work her around the barn. Once he could touch her, the halter went on with relative ease. Leading her outside the barn to work under the shade of the pine trees was another matter. With the aid of a lasso around her hind quarters, the three of us got her outside where it was cooler. When a 600-pound donkey decides she doesn't want to go somewhere, she's a force to be reckoned with. Having never left the safety of the fenced pasture and gated barn before, I could understand her timid behavior.
After securing her to a tree, I gently rubbed her soft muzzle and scratched her poll and ears. As Ryan prepared his tools, Bubba and I took turns loving on her as we worked to get her settled and used to others touching her. With soft cotton rope at the ready, Ryan began with one of the front feet. By squeezing her chest, she naturally lifted her foot off the ground. When he touched her fetlock, she immediately reacted. Instructed to "give it back to her", Ryan released and let her place her foot back on the ground. Reaching for her foot again brought another negative reaction. Before the next attempt, she shifted to one side so and placed all her weight on that leg. It was time to give her a break so she would understand we weren't trying to force or harm her.
Many people think donkeys are stubborn. That's just not true. They are actually intelligent and are fast learners. If you want to entertain them, give them a puzzle to solve. Mine open gates and turn on water hydrants if I don't secure them. They also love to sneak up behind me to steal a mouthful of feed or nip at my backside or shoulder. If I suddenly turn to face them while walking across a pasture, they gleefully scamper away and wait for me to resume. Today, Elpis realizes this is not play time.
Unlike horses, a donkey doesn't flee to escape danger. They often stand their ground and observe, almost analytical. Donkeys have a highly developed sense of self-preservation and aren't afraid to protect themselves when they feel threatened. With exceptional memories, donkeys will remember good and bad experiences and often base their behavior on those memories. A donkey doesn't see their behavior as being good or bad, only was it effective for them (i.e. did they get what they wanted?).
After a few more unsuccessful attempts, the farriers decide it's time to restrain her. As shown in the photo, this involves placing a soft rope around one of her legs and using it to help teach her to release her foot to the farrier. By repeating this up and down exercise, touching her leg, foot, and hoof, the farrier is showing her he is not a threat. If she resists, he allows her to have her foot back and offers reassurance. After a few minutes, trust develops, and she freely gives Ryan her foot. Now, she can be trimmed safely. Still tied to her foot, the rope now hangs limp.
While donkeys can't kick you with their front legs, those powerful rear ones can reach out and get you quickly from either a forward or backward position. With lots of patient movements and a calm voice, Ryan establishes a level of trust between him and Elpis. By the time he gets to the other side, the rope is no longer required.
Taking three times longer to trim than Magic, I recalled how he had to learn these same lessons five years earlier. Before leading her back to the barn, Bubba wanted to make sure this session ended on a positive note. At his urging, I spent several minutes leaning into Elpis, petting and stroking her, and giving her lots of handling, attention, and affection. You could almost feel her relaxing with each passing moment.
Packing up their gear, I realized Elpis wasn't the only one learning today. While my little donkey learned she could trust the farriers not to harm her, Ryan and I were also learning. Bubba guided his young apprentice on how to calm and teach a frightened donkey. In that, I saw many similarities to the way the Holy Spirit has calmly guided me to learn His lessons of trust and grace. Ryan is fast-becoming a superb farrier and Bubba proudly exclaims "Ryan will soon be a much better farrier than I am." In this apprenticeship, I see an example of how we more experienced Christians should endeavor to disciple those coming behind us. By restraining Elpis' movements, yet giving her the freedom to learn and decide, she quickly established trust with the farrier.
In what ways has God restrained you as you learned to trust Him?
Click To Tweet
Making sure the session ended with a positive memory reminds me of how God rewards us as we learn His ways. It reminded me the great thing about valleys is that they're surrounded by mountaintops. If I am faithful to make it through the valley of learning, God is faithful to reward me with the next mountaintop.
In the coming months, I suspect Elpis will have her challenges as she learns how to further trust the farrier. With each lesson, I pray she, and each of us, grows to trust a bit more.
God's blessings,

Please join me each Thursday evening at 9:30 Eastern as host Coach Mark Prasek and I take a trip Around the Cross-Dubya on PJNET TV. We discuss this week's blog post, offer insight about the lessons learned, and enjoy the fellowship of friends in the live chat room. Hope to see y'all there.