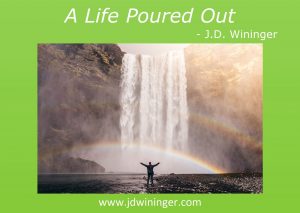 What would a poured out life look like? Strange question to ask yourself when driving seventy miles per hour with a pickup bed full of cattle feed. The answer, I suppose, would be as different as the person answering the question. What I am certain of is this; what is poured into your life is what pours out.
Through much of my life, I poured out the same worldly poisons that had been poured into me. They didn't come out as physical and mental abuse suffered as a child. Instead, they came out as angry words, lies, mistrust, and self-abuse such as drinking and smoking. It took twice as many years of nurturing, kind, and caring godly love being poured into my life to overcome much of those early years. Sad to say, there are still remnants of those scars that come out under times of duress. I'm not proud to admit that, but my life is like the words I write, a work in progress.
Since finding my way back to my faith in Christ in 1996, God has poured a river of blessings into my life. Even before that time, when I was walking in darkness during my crisis of faith, God continued His watch care over my life. God blessed me with a loving Christian family who adopted me as their own; who poured His love into every aspect of my life. He protected me during my military service. He blessed me with a loving wife; and He waited patiently as my life began to unravel. Most of all, He was there when I cried out from "the bottom of the pit" in anger, fear, and pain.
God came into that little one-bedroom apartment in St. Charles, IL (so far from my home) and brought me back to His home. He restored my faith and began refilling me again. He started slowly at first, gradually increasing His presence and control in my life. It took Him almost twenty years of patient growing; with lots of pruning, deep tilling, and re-planting until He achieved His goal. His goal you might wonder? I think it the same for each of us; my willingness to surrender my life to Him. I was then ready for His use.
Since "discovering" the world of Christian writing a few years ago, I've read several posts from other writers about a Writer's Prayer or an Editing Prayer. I've saved several of these for reference during my journey. Recently, while driving and listening to one of my favorite worship songs, my own Writer's Prayer sprang forth. Through the tears of my Heart Hug, I prayed these words aloud.
Fill me with your wisdom Lord. Help me understand the message you want me to share and show me the audience you want me to share it with. Pour me out Lord, onto the pages You want others to see. When You've used me up Lord, I pray you allow me to come home and be with you for eternity. To rest in your bosom. To gaze into your loving eyes and know that I gave my all to serve You precious Father. Help me hold nothing back in my life, but to give all that You have made me to be over to your will. In the name of my loving Christ I pray.  -Amen
Since being called to become a Christian writer, God has continued pouring blessings into my life. Many of them come in the form of those of you reading this post today. He has sent wonderful teachers, mentors, prayer partners, patient editors, and gracious friends into this new season of life. Some of you are fellow Christian writers. A few of you are ministers of God's word, shepherding His flock until His return. Some are spouses, parents, farmers, and ranchers. All of you are blessings in my life; and I thank God for you each day.
How do you ask God to pour into your life?
Click To Tweet
So let's get back to my original question. What do I want my poured out life to look like? I pray God uses every drop of living water He's poured into me to help someone else in their journey. I fervently hope something I am led to write or speak helps others find their way to a submissive surrender to God's will in their lives. I pray God refills me as many times as He sees fit; and uses me until His mission for my life is complete. Then, as I lay exhausted on the field of battle, having given my all for Him, He allows me to come home. Whether that homegoing is peaceful, or it happens at seventy-five miles per hour with my hair on fire, home is all I long for.
What do you do with all the blessings in your life?
Click To Tweet
Thinking about this post, the words of the Apostle Paul kept coming to mind. In letters to the Church at Philippi and in his second epistle to Timothy he spoke of being poured out as a drink offering. I can't think of any words more eloquent to express my heart than his. "Yes, and if I am being poured out as a drink offering on the sacrifice and service of your faith, I am glad and rejoice with you all." Philippians 2:17 (NKJV)
God's blessings,