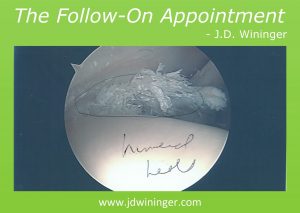 In early August, I met with my orthopedic surgeon for my six-week follow-up on left shoulder surgery. During the visit, Dr. Graves showed me footage of the Before and After of my shoulder. He also provided several sheets of still photos taken during the operation. I was taken aback by the amount of damage and how extensive the repairs were. I understood why it had caused so much pain; and why it would take a minimum of six months to return to normal use.
In the photo above, you can see a frayed end of what used to be my rotator cuff. Today, my new rotator cuff is crisscrossed and anchored on both ends by four metal and plastic anchors. Getting through airport security just became more fun! Besides my rotator cuff, the surgeon explained repairs to a tendon in the shoulder's rear and another one that connects my biceps muscle to the bone.
In viewing the video and photos taken during the surgery, I learned just how damaged I was on the inside. Seeing the reality of what my shoulder looked like and all the damage motivated me to work harder toward a full recovery. My goal is to become, if you will, better and stronger than before. It'll take a lot of hard work, painful days, and dedication to reach my goal, but I'm confident it will all be worth it. What is my goal, my reward, for all this hard work? I hope to be fit enough to stay at the Cross-Dubya ranch for a few more years.
I hate the thought of having to one day sell the ranch, part with the animals I care for and have grown to love, and move to a much smaller home. A new home with no view of nature and pasture land would, for this old rancher, be a fate worse than death. I wonder where I would ever get writing inspiration living in a city or suburban area with sirens, constant noise, and busyness all around me. Many writers can thrive in that environment. I'm not sure I could.
All this reflection caused me to think about how damaged my soul was before my salvation. I realized it can become again if I don't work just as hard to maintain my spiritual health. I'm told my shoulders became damaged through use. Decades of sitting at a desk in a sedentary office environment, combined with working with arms over my head for years and lifting lots of heavy objects (including weights) through the years had taken their toll. When moving to the ranch and lifting dozens of sacks of feed and seed, combined with lots of other chores each week, pushed them past their breaking point. As the doctor explained it "You did nothing wrong, you just wore them out."
I'll be working hard in the coming weeks and months to restore my physical health. Stretching only until October, and then I can train with light weights. It will take time to get back my strength, but I'm motivated to do so. I have asked God to help me strengthen my spiritual health at the same time. It takes every bit as much discipline and determination to get into top spiritual condition as my body will require.
Are you committing as much time to your spiritual health as you are your physical health?
Click To Tweet
Today, I am exercising my shoulder four times per day. I stretch, flex, and move it to keep breaking down the scar tissue that is forming. I must keep moving it so I don't end up with frozen shoulder. If we fail to stretch and exercise our faith muscles, then our souls can harden and perhaps become frozen in place. How am I working to prevent spiritual atrophy? I spend time with God throughout the day, I study His word, pray for His guidance, and I put His principles for living into practice in my life. I pray you join me in doing the same. Have you had a follow-up appointment with God lately?
God's blessings,