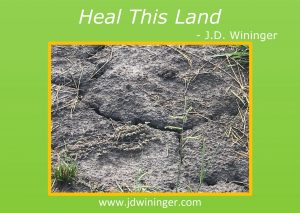 "For I will pour water on him who is thirsty, and floods on the dry ground; I will pour My Spirit on your descendants, and My blessing on your offspring;"  Isaiah 44:3 (NKJV)
As late July rolled around, summer came into full swing. As the summer sun often does here in Texas, it reminded me of how parched the land I care for can become.
With no discernible rain in almost two months, my normally lush green pastures turn faint hues of yellow and brown as parched summer grasses thirst for a cooling drink. Dust clouds blow up from our country roads or neighbors cultivating their fields, preparing them for cotton or wheat planting. Cattle seek whatever scant areas of shade they can find, opting to lay and rest rather than forage during the heat of the day. Although, a few of my cows wade in the pond (up to their necks), then go to the barn and stand in front of the 48-inch fan. I've got some smart and resourceful cows.
What moves me most about summer is looking down as I drive across what was once a lush, thick pasture of clover and grass. My pastures reduced to bare ground with large cracks running across it. The geological folks tell me this is because the land is dry. As the clay beneath the topsoil runs out of its stored moisture, it contracts. The more the soil dries out, the more the ground cracks. I've seen some cracks grow to more than two inches wide and three feet deep. All I know is the ground is dying of thirst and it makes a great place for snakes to hide.
One particular morning, I looked at the cracked, dry ground and thought of how our souls can become parched and cracks in our faith appear when that happens. I thought about this not only individually, but as a "Family of Faith" and a nation. I see myself, like my land, become thirsty for God's living water (John 7:38).
This happens when I become try to balance my Christian walk with the busyness of everyday life. My "cracks" appear when I realize my everyday life is not aligning with my Christian walk. My journey in faith provides me with the nourishment I need for everyday life. It's when I spend too much time in the world and not enough time in the Word that I become spiritually dry.
In those moments, I recall Psalm 62:8 (NKJV); "Trust in Him at all times, you people; pour out your heart before Him; God is a refuge for us. Selah." When I visit with God for a while, He pours out His living water and restores the balance I need in my life. God is our refuge, and in Him, we find all we need to sustain our lives. Needing His life-giving refreshment yesterday, I found it while mowing the grass. Hot, sweaty, and covered in grime, the Holy Spirit sought me out as I was praying for His comfort.
There, among the pine trees near the barnyard, a cool breeze mixed with the fresh scent of pine filled my soul. I knew my calls for His presence were being answered and I stopped the mower; opting to spend several minutes with Abba. Our connection restored, my thirst relieved, He immersed me in His peace, grace, and love as the trials of my day vanished.
How often do you drink from the well of God's living water?
Click To Tweet
I am reminded we can live without food for several weeks, but humans can only survive without water for three to four days. I wonder how many professing Christians today only hope to get a drink of living water on Sunday mornings. How can they hope to survive another seven days without seeking the refreshment of time with God?
When the rains come; and they always do, the land is healed. The cracks disappear and the nitrogen in the rain water restores life to the grasses. I find my spiritual thirst is best vanquished when I seek communion with God throughout my day. In the same way I drink water throughout the day; I must partake of God's living water with the same frequency to stave off spiritual thirst. I pray each of you make time each day to allow the Holy Spirit to fill you to overflowing.
God's blessings,