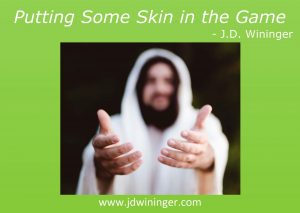 A friend turned a phrase in one of her blog posts earlier this year that struck a chord with me. She wrote about putting skin on the hands and feet of Jesus when referring to her participation in a women's prison ministry event. I hadn't heard it put quite that way before. Her words helped me see how what we do in Christ's name helps make Him more real to others who don't yet walk with Him each day.
I've heard and used the phrase skin in the game many times, but I never thought about its deeper meaning. I've always considered the phrase to mean "If you're not invested in the cause, then your opinion shouldn't matter that much." For most of my life, right or wrong, that's how I saw things. My friend's post caused me to search for a better understanding.
I searched different sites for a definitive explanation and perhaps the origin of the statement. The definition I've come up with is "Having skin in the game is to incur risk (financial, safety, reputation, or other) by being involved in achieving a goal."
Next, I focused my attention on the word game. While I've never thought the cause of Christ to be a game, the Collins English Dictionary gave me pause to consider. One of their definitions for game, when used as a noun, is "any test of skill, courage, or endurance." That did it for me, as I believe we need all three to be successful witnesses for Christ. My thoughts came full circle and I found a deeper understanding of my friends words. When we are witnesses for the cause of Christ; when we show His love, mercy, and grace in this world, we put "skin on the hands and feet of Jesus."
How much skin do you put in the game?
Click To Tweet
I thought more about my Christian game, my witness for Christ, and how much have I invested in His cause. More than some? Perhaps. Less than others? Certainly. I considered Christ's original twelve apostles. Of them, ten were crucified or martyred for the cause of Christ. Judas Iscariot, who betrayed Christ, hung himself. John (often described as the beloved apostle) died a natural death.
It saddened me as I thought of others who have undergone much persecution and even death because of their Christianity. Then, as I was praying through it, I realized this was not what I was called for. While I may one day be asked to become a martyr for Christ, I believe I am called to be His witness. We all are.
Whatever role we are called to serve, as writers, speakers, visitation team member, Sunday school teacher, or pastor all require three key things. Serving Christ requires skill, courage, and endurance. Skill comes in many forms. We can learn to become more effective writers, leaders, and speakers, but the skill I think most needed is becoming well-grounded in God's word. Much more than knowing scripture, we must apply it to our lives to become effective servants. When I think on this, the words of 2 Timothy 2:15 come to mind. "Be diligent to present yourself approved to God, a worker who does not need to be ashamed, rightly dividing the word of truth." (NKJV)
Being a witness for Christ requires great personal courage. Many Christians today are afraid to speak out about their beliefs because the secular world around us tries to silence Christians. We are told we must accept other religions and customs, but when we stand on the truth of God's word, we are labelled bigots, zealots, and racist xenophobes. Courage doesn't imply we must get in people's faces and try to shout louder than they do. It means to stand firm in what you believe in. To not give ground on what you know to be true and right.
Words that have long ringed true for me were spoken by Moses when he announced Joshua as the new leader of Israel in Deuteronomy 31:6. "Be strong and of good courage, do not fear nor be afraid of them; for the Lord your God, He is the One who goes with you. He will not leave you nor forsake you."
Being a Christian today, as it always has, requires endurance. When I think on persevering, on endurance, I can't help but think of the Apostle Paul. First Corinthians 9:24 is one verse I hold close in my life. "Do you not know that those who run in a race all run, but one receives the prize? Run in such a way that you may obtain it." How can we think on this verse and not think of his words in 2 Timothy 4:7 when he wrote "I have fought the good fight, I have finished the race, I have kept the faith." Oh how I pray I'm able to speak these words as I lay this life down for eternity.
What are you willing to risk to further the cause of Christ?
Click To Tweet
Yes; being a Christian today requires us to put some skin in the game. To serve God and be the witness for Christ in this world His children are called to be, we must be willing to risk it all so we might gain it all. My prayer for each of you today is that we'll one day stand together before our Judge and hold our heads high; knowing we took the risk and met the challenges of overcoming this world through Christ.
God's blessings,