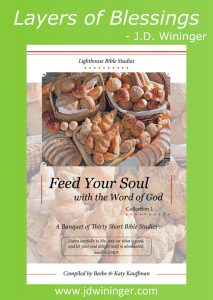 In June of this year, I was blessed by my inclusion in a Bible Study compilation entitled Feed Your Soul with the Word of God. I was excited to be a part of this wonderful new Bible Study. It was humbling to see my name listed alongside many of my writing friends, some of which I had read long before I ever started writing. Another blessing was how this book allowed me to add another publishing credit to my Amazon and Goodreads author pages.
I'm always surprised when I see my name in a published article or book. Perhaps it's because I still can't believe God chose to use me in this way. My greatest satisfaction comes from learning how something I wrote has helped someone in their journey of faith. Each time I read an email, a review on-line, or a statement made, I thank God for allowing me to help bring someone a blessing. What I didn't realize was that with this book, my blessings were just beginning.
Through the kindness of an amazing young friend, Ms. Katy Kauffman, came another blessing when she took a copy with her to the Blue Ridge Mountains Christian Writer's Conference. While hoping to attend this year, impending surgery prevented my travel. She invited many of my fellow authors to sign that copy of the book for me during the conference. Upon receiving it, I affixed an "Author's Copy" label to it and gave it a place of prominence in my bookcase. The next morning, I began reading each of the twenty-nine other studies included in this book.
Incorporating them as part of my "God time" each morning, I spent the whole next month, receiving blessing upon blessing, one short study at a time. With each day, I would turn to the next one, run my fingers across the author's byline or signature, and pray for them. I consider each of them a member of my "Family of Faith" and friend. I may never meet some of them in person on this earth, but I'm certain we'll be working together in heaven one day.
With each study, I found new insight into the lives of my writing friends, and I came to gain a better understanding of each one. As each layer of blessing arrived through study, learning, and prayer, I couldn't help but feel overwhelmed with blessings from this book. With each passing day, the blessings built upon the other. About day ten, I realized that, as the book's title promises, I was feeding my soul with God's word. Applying the lessons taken from each study will take time, but the nourishment received from each has already begun.
I've long incorporated Bible reading into my "God time" each day. The stories in these studies help me see new ways I can apply God's word in my life. From this exercise, I found a new source of inspiration to help me grow spiritually, my friends' blogs. They give me layers of blessings as I spend time with friends each morning, reading their thoughts and prayers. Each of my friends' blog posts are mini stories I incorporate into my daily devotional time. What a wonderful blessing of discovery this has been.
What are some of your favorite ways to Feed Your Soul?
Click To Tweet
Each study I read in this book provided a "behind the curtain" peek into some of my writing friends lives. They gave me pause for reflection, and inspiration to want to become the quality of writer so many of these wonderful folks are today. If you haven't yet discovered the joy that awaits you in Feed Your Soul with the Word of God, Collection 1, I pray you consider ordering your copy today. I hope each one of you who reads this collection of God's wisdom, mercy, and love finds as many layers of blessings as I did. Click here to order your copy from Amazon.com.
God's blessings,