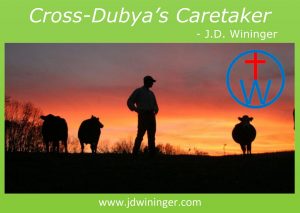 What's the first three things people notice when you hand them a business card? According to research by business card designers it's the logo, name, and title. Like most business cards, the ones for our Cross-Dubya ranch includes those things; along with address and contact info.
I like to tell people "My brand is my brand." I chose my ranch's registered brand to be the logo. Not only do I use it for my cattle and my business, but you might have noticed I use it in the marketing for my Christian writing too. When people see it for the first time, they remember it. More than a great ownership symbol on the side of my livestock, it tells the story of our ranch.
To most, the "Cross" is self-explanatory. It represents the most influential human in the history of mankind. Our Lord, Jesus Christ, is the man who died on a cross to ransom us for His Father.
The word "Dubya" (pronounced dub-yah) confuses many; even here in Texas. "Dubya" is how Texans pronounce the letter "W". Since our last name is Wininger, the Cross-Dubya ranch just made sense in my simple mind. The important thing I want everyone to know about our ranch is right there in its name. At the Cross-Dubya ranch, we put Christ first in everything we do. In every seed we plant, calf we produce, and bale of hay we cut; we do so for God's glory.
Our names are straightforward, but there's one thing that makes people look at the card, look at us, glance at the card again, and then ask us the question. For Diane, her job title is "Chief Cook & Cardmaker." It's what she does. When we purchased our first home together, we made the deal we honor to this day. Diane is in charge of all things inside the house, I'm in charge of all things outside the house. While she'll sometimes open gates for me around the ranch, or hold a greasy rag while I tighten something up, mostly, she stays inside our air conditioned home.
How do you define your role in God's kingdom?
Click To Tweet
Likewise, my job title defines my position. It's one word, but it speaks volumes. That word? Some of you may have already guessed, is "Caretaker." It's who I am, it's what I do, and it's the most amazing conversation starter you could ever imagine. Remember the question I alluded to earlier? Every time I hand someone my business card, I'm asked the same question. "Who owns the ranch?" I smile and state "God. God owns the Cross-Dubya ranch and all that's on it. I'm just tryin' to take care of it the best I can until He returns."
Some of you just let out a breath and commented to yourself about how cheesy that sounds. It might, but it's the best way I know to have someone invite me to share my testimony for God's glory with them. I remember the day I made my deal with God and gave this ranch its name. It was a few weeks after we closed on the property and I drove into the northeast pasture near the barn. It wasn't fenced and had a round pen for the horses. Deep crack covered the late July ground. Where cracks had not yet formed, the ground was covered with every weed imaginable.
As I sat there in the ATV, I thanked God for leading us here. As I prayed, I stated "Father, there's so much potential here. If you will send me the knowledge needed, resources required, and the strength to do it, I will work to restore this land to all You created it to be." As I sat in silence, a cool breeze began to stir. I felt my chest tighten; and I listened to this thought reverberating in my head. "For My glory, you must place Me first." In that moment, the Cross-Dubya ranch was born.
From that day forward, I knew my job was to be this ranch's caretaker. I've learned to take better care of the soil and restore it to its most productive state. God has sent wonderful teachers and mentors to help me learn how to care for all living things here on the ranch. The best lesson of all is my increased reliance on prayer. I'm certain people driving by wonder how crazy that old farmer is when they see me standing out in the middle of a field or pasture with arms raised in praise at the start or end of a day.
When friends and neighbors come to visit, they're no longer surprised to hear me speaking to each animal by name. They know that if I'm leaning on a fence with my head down to approach in silence. They also know they're always welcome to join me in prayer.
How do you care for all that God has blessed you with?
Click To Tweet
I've led companies, served as President, Director, and held lots of other job titles in my life. Besides being Diane's husband, and one of God's adopted children, the job title I cherish most is Caretaker. For as long as God chooses to leave me here on this special little plot of land I refer to as "God's Country", I will do my best to care for the land and all that's upon it; as caretaker of the blessings He's given me.
All I do, all I want, all I desire is to give Him the glory due… for all He's done.
God's blessings,